Best Artificial Grass 2023: Expert Insights and Top Picks for Your Product Lines
Artificial turf offers a low-maintenance alternative to natural grass, but finding the best artificial grass can be a daunting task. With countless options available in terms of appearance, characteristics, and prices, how can you make a well-informed decision?
This article will guide you through the essential factors when choosing synthetic grass. We will also share our top picks for various applications, assisting you in narrowing down your options and finding the perfect fit for your specific needs. Let's begin the journey to your ideal artificial grass!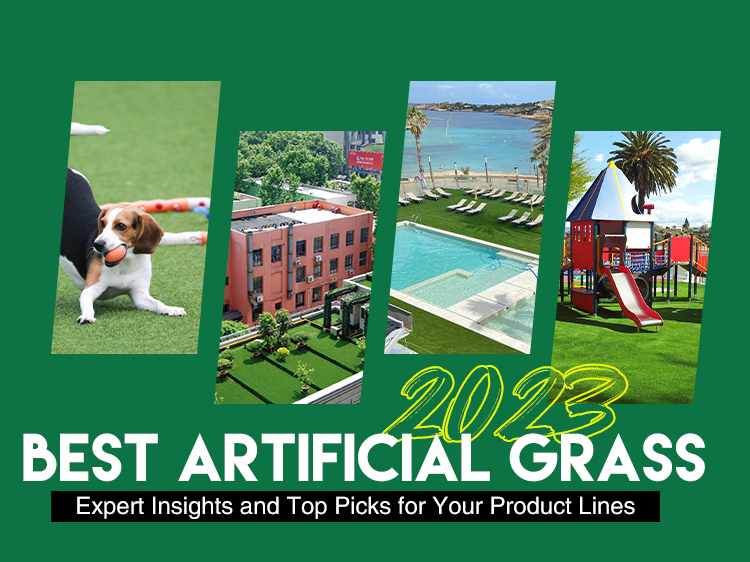 Essential factors for choosing the ideally best artificial grass
Yarn material
Artificial grass is composed of yarn made from three primary types of synthetic materials: polyethylene, polypropylene, and nylon.
Polyethylene: Polyethylene is the preferred material for artificial grass, thanks to its versatility and ability to strike an ideal balance between durability, aesthetics, and softness. It is an exceptional choice for a wide range of applications, including residential lawns and sports fields.
Polypropylene: Often employed as a thatch layer, polypropylene enhances the realistic appearance of the turf and provides a comfortable foot feel.
Nylon: Despite being the most durable, it's also the most expensive and has a stiff texture, making it less desirable.
Natural & inviting look
To achieve a natural and attractive look with artificial grass, consider both the physical characteristics and visual resemblance. Pay attention to pile height, density, thatch, and infill, as these factors contribute to a lush and full appearance.
Use samples or photos from neighboring lawns as a reference for selecting the color and texture, ensuring a seamless match with the surroundings and enhancing the overall natural aesthetics of your outdoor space.
Durability
When choosing the best artificial grass, durability becomes crucial due to its constant exposure to weather conditions and heavy foot traffic. To maximize the lifespan, opt for turf engineered to withstand the climate in your region, providing resistance to both hot and cold temperatures. Additionally, emphasize a high stitch count and strong backing as they contribute to the overall quality and durability of the grass.
UV resistance
UV-treated artificial grass will be more resistant to fading, guaranteeing that it retains its color and beauty even under prolonged exposure to sunlight. CCGrass artificial turf products utilize the best UV inhibitors, tested to UVA 5000h and UVB 3000h by SGS, exceeding industry standards.
Safe & health
A top-quality artificial grass should prioritize the safety and well-being of those who use it. It should be free from harmful chemicals and toxins that could pose health risks, especially for children and pets.
Rest assured, our artificial turf products undergo rigorous Health Tests (REACH, EN71-3, ASTM, DIN, etc.), confirming their safety by excluding hazardous components like heavy metals and substances of high concern.
Proper drainage
For proper water flow and to avoid water buildup, the best artificial turf requires an efficient drainage system. There are two common types of turf backing: "Hole-Punched" backing with evenly spaced drainage holes and 100% permeable backing for high drainage needs.
CCGrass provides backing options such as latex and PU, which have been popular for a long time, as well as RCX, a 100% permeable and recyclable backing that ensures optimal drainage performance.
Reputable & trustworthy artificial turf suppliers
Look for a reliable artificial grass factory with robust manufacturing capabilities, strict quality control, extensive industry experience and proven track records. They always provide premium quality artificial grass products and services, also offer warranties, expert advice, and save you time and effort.
Top picks for different uses: best artificial grass recommendations
Having explored the essential factors for selecting high-quality artificial turf, let's move on to our top picks for specific applications. Whether you want to enhance your backyard, create a pet-friendly area, or design a putting green, we have got you covered.
Best artificial grass for backyards or gardens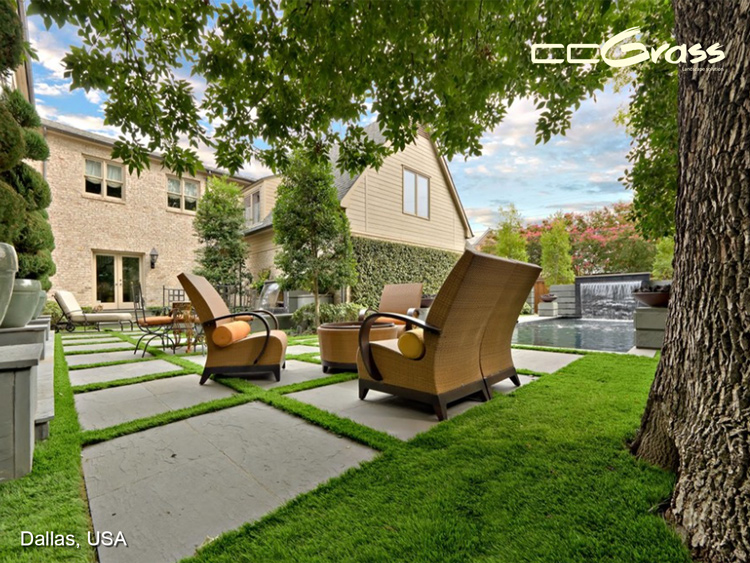 The ideal fake grass for backyards or gardens should possess a high face weight and long pile height, thereby providing a plush and comfortable surface that can withstand constant foot traffic.
In regions with high precipitation or areas prone to heavy rainfall, we recommend using our fully permeable RCX backing for maximum drainage, particularly if the terrain requires effective water management.
See our top picks for artificial grass that will beautify your yard: https://www.artificialgrasslandscape.com/product/artificial-grass-for-garden/
Best artificial grass for dogs & pets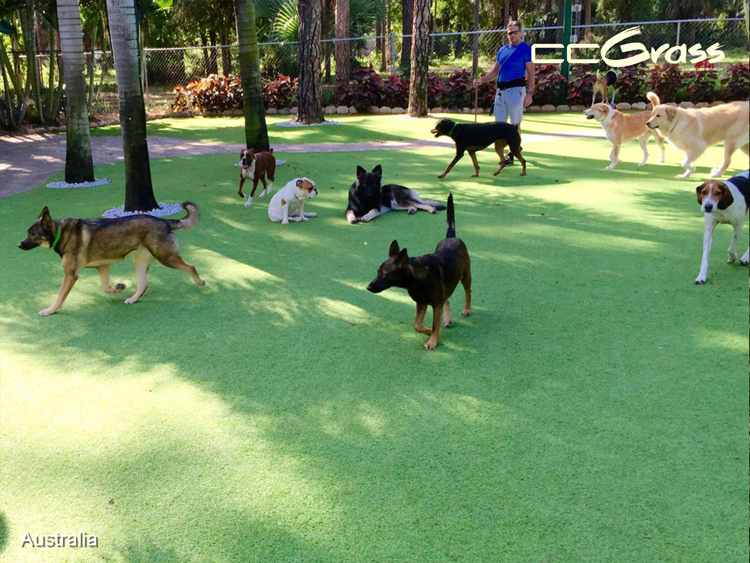 When selecting synthetic grass for dogs and pets, prioritize durability and ease of maintenance. CCGrass Argo Grass with AegiPro technology is a great option, as it effectively inhibits the growth of bacteria and mold, ensuring a clean and fresh lawn. Additionally, our recommended RCX backing provides superior drainage, allowing for quick removal of pet urine and simplifying cleanup.
It's advisable to choose turf with a short pile height, especially when dealing with solid waste. Also, ensure the chosen turf is resistant to wear and tear caused by pet activities like running, digging, and playing.
Discover The Most Comprehensive Buyer's Guide on Artificial Grass for Dogs & Pets, which provides extensive insights into selecting, installing, and maintaining pet turf.
Best artificial grass for putting greens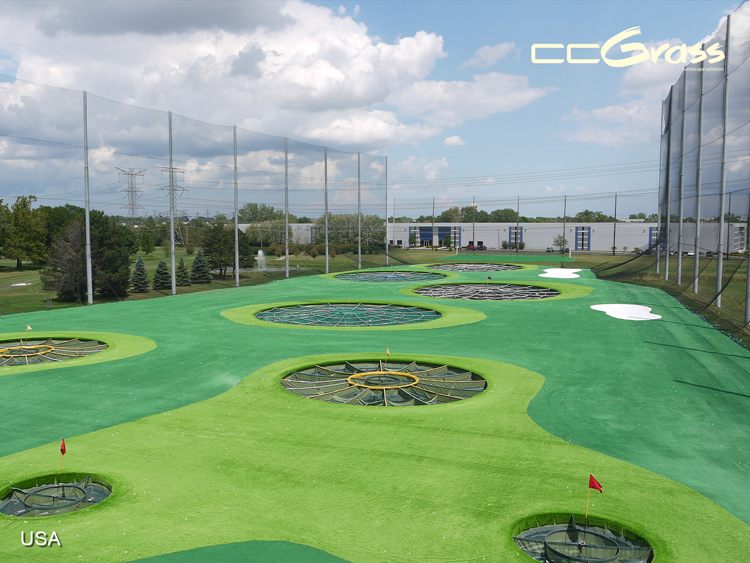 To create a pristine and professional-looking putting green, consider artificial grass specifically designed for this purpose. Opt for turf that offers consistent ball roll and realistic playability, mimicking the characteristics of natural grass. The perfect artificial putting green turf typically has a pile height of around 13mm and a face weight between 50 and 70 ounces per square yard.
Our FastPro HF is an advanced and best-selling putting green turf that features the latest technology texturised monofilaments with dense stitches, providing a true and unmatched golf experience.
Furthermore, for those interested in transforming their backyard into a personal putting paradise, we have prepared a comprehensive guide on creating a backyard putting green.
Best artificial grass for playgrounds
When it comes to playgrounds, safety and durability are top priorities. Look for turf specifically designed for playground use and compliant with safety standards. It should provide cushioning and impact absorption, reducing the risk of fall-related injuries. On top of that, prioritize turf with antimicrobial properties to promote a clean and hygienic play environment.
Our playground turf not only meets the aforementioned requirements but also offers exceptional durability surpassing any other alternative on the market. With a wide range of vivid colors available, our playground grass effortlessly integrates into playgrounds with various themes, enhancing the visual appeal and creating an inviting play environment.
Visit our Playground Turf page to explore more detailed information about our synthetic turf options for play areas.
Best artificial grass for roofs, terraces & patios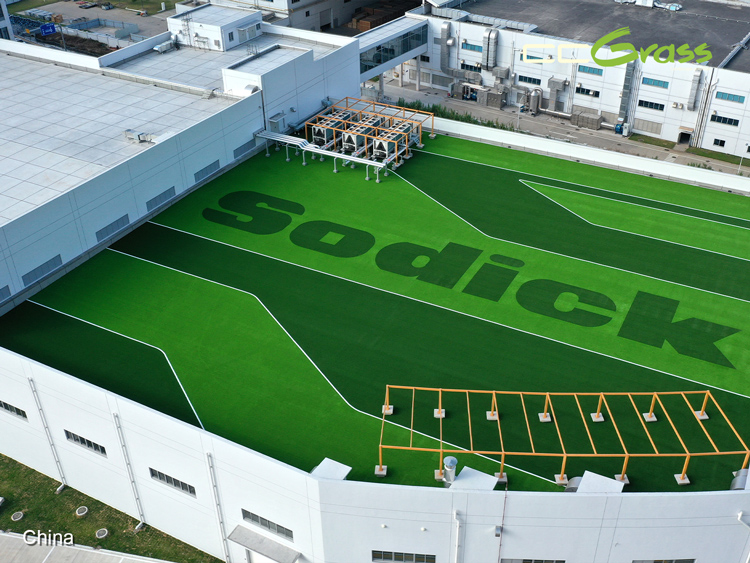 Elevate your rooftop, terrace, or patio into a stunning outdoor haven with our recommended choice: Thermalproof Grass. Specifically designed for high-temperature areas, this turf excels with its remarkable anti-UV abilities. By increasing sunlight reflectance and reducing thermal absorption, it helps reduce the power consumption used in cooling.
Check out more recommendations on the ideal artificial grass for terrace and patio scenes here.
Best artificial grass for poolside areas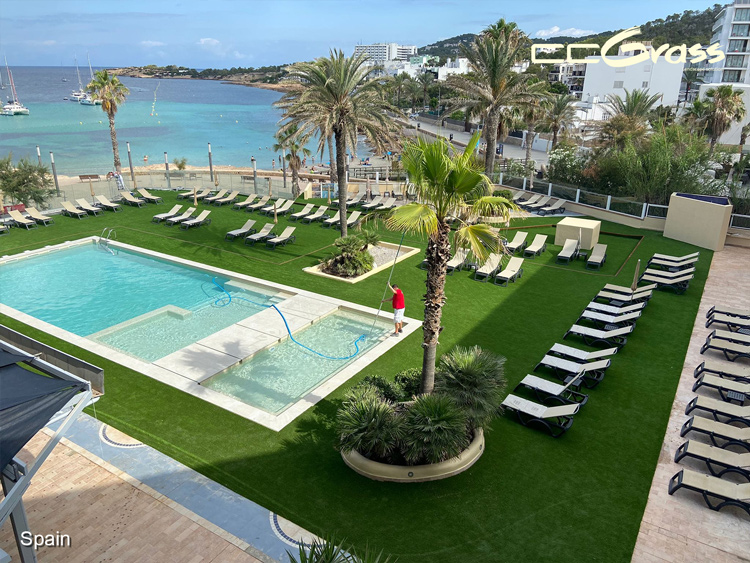 For artificial grass around pools, key factors to consider include water permeability, slip-resistance, resistance to pool chemicals, and optimal comfort for bare feet.
CCGrass SP Grass is a top-notch selection that offers a worry-free and visually appealing solution. It boasts 100% permeability, ensuring a dry and non-slip surface. Moreover, chlorine-resistant properties protect against damage from pool disinfection, eliminating concerns about grass discoloration.
Read further: https://www.artificialgrasslandscape.com/artificial-grass-around-pools/
Best artificial grass for balconies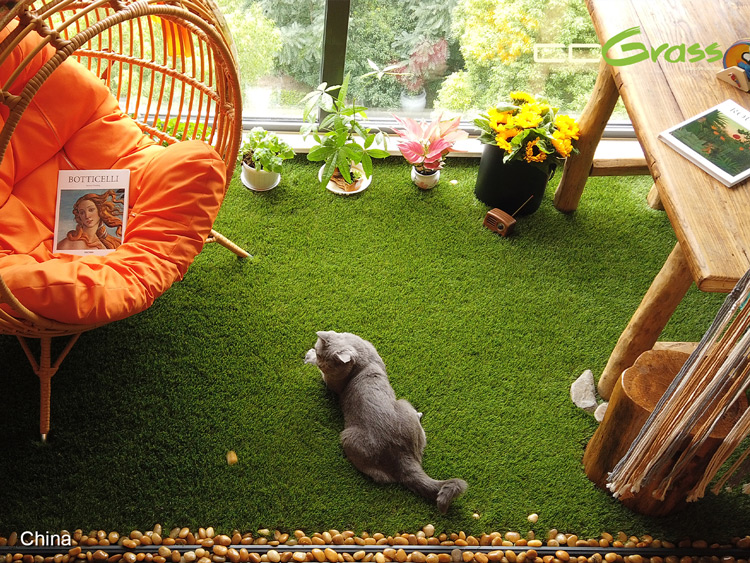 Opt for a soft and comfortable texture that enhances the cozy atmosphere of your balcony space. Antibacterial artificial turf is great for balconies frequented by pets or children, as it minimizes bacterial spread and maintains a cleaner environment.
CCGrass artificial grass is chosen by global branded chain stores for DIY installation. Our RCX Series is an excellent choice for its ultra-lightweight, softness, and ease of installation, with the added advantage of lower transportation and delivery costs.
To find the turf style that best suits your needs, visit our Artificial Grass Balcony page.
Conclusion
Intrigued by the synthetic turf products we mentioned earlier? As a premier artificial grass supplier, owning three world-leading factories, CCGrass offers a distinct advantage in providing wholesale and factory direct prices.
This guide has unveiled the epitome of artificial turf, spanning every category from pet-friendly options to perfect putting greens. With these exceptional recommendations, you're sure to find the best artificial grass to enrich your product lines and expand your business.
Don't hesitate to reach out to us at 86 25 6981 1666 or email us at [email protected] to request free samples and experience the exceptional quality of our products firsthand!