Discover More Ideas of Artificial Turf for Pets
For pet owners, they are always pursuing a superior life environment for their pets. If you're looking for creative spaces for pet areas on your balcony or in your backyard or anywhere else, it's time to choose artificial turf for your pets, which will surely become your perfect solution.
Benefits of installing artificial grass for pet areas
Low maintenance
Different from nature grass, installing artificial turf for pet areas won't need complicated nursing steps, such as watering, fertilizing or killing insects. Moreover, with the pet artificial turf mats, you will get other outstanding advantages that are requiring fewer baths and tick treatments. You and your pet friends can surely spend more time playing on the grass lawn as you wish.
Easy to clean
The special design backing layer structure of our artificial pet grass can reduce the generation of odor and prevent the growth of bacteria. The drainage holes are also specially designed which ensure high permeability, making the artificial grass mat easy to clean and fast drying. Just wipe the dust or wash with water, then dry.
UV resistant
When it comes to durability, anti-UV property should be taken into consideration, which is one of our top priorities for quality. CCGrass products are manufactured by 100% pure and high quality raw material. What's more we use the best UV inhibitors to guarantee the materials with stable anti-UV ability to ensure the grass yarn not be damaged by prolonged exposure to sun-rays, even if in extreme climate areas. So for outside pet spaces such as in backyard, patio or garden, you can choose artificial grass for pet areas free of worry.
Bite and wear resistant
Also, your cute pets always love to chew on grass. If using a natural grass lawn, you may need to clean it frequently. CCGrass artificial grass has a strong backing system, which is one of the most important factors affecting the longevity and durability. Our strong tuft lock ability ensures maximum tuft lock ability, supporting the dimensional stability, turf bond and life cycle of artificial grass for pet areas.
Why your pets prefer artificial pet grass?
Safe material
The best artificial grass for pets must be safe and non-toxic. Our artificial turf is made from the highest quality raw materials and has passed a number of internationally recognized rigorous health tests, such as REACH, EN71-3, ASTM, DIN. Thus, your pets can have fun on the grass lawn even if they happen to lick or chew on it.
Anti-bacteria design
CCGrass artificial pet grass of is specially designed with AegiPro tech, which inhibits the growth of bacterial and mold on the grass surface, as well as prevents the generation of odors. What's more, our pet fake grass is 100% permeable, which guarantees a superior drainage. With no doubt, your pets can enjoy themselves on the grass lawn to the greatest content.
Soft and comfortable
Artificial grass mats have realistic colors, soft and dense grass silk, which highly imitate real lawn. All of our grass products are inspired by nature but go beyond nature. The premium raw materials bring petal-like touch and lushness to the pet grass. The fluffy yarns invite you and your pets to relax on the soft lovely lawn comfortably.
Free of muddy paws
Artificial turf is pet-friendly. It can't be dug up or hurt by pets. When your pets enjoy themselves on artificial pet grass, there will be mud-free, no matter the weather, it completely eliminates all issues with mud. No more puddles on your lawns or mud paws on your floors.
Build the Artificial Grass Paradise for Your Pets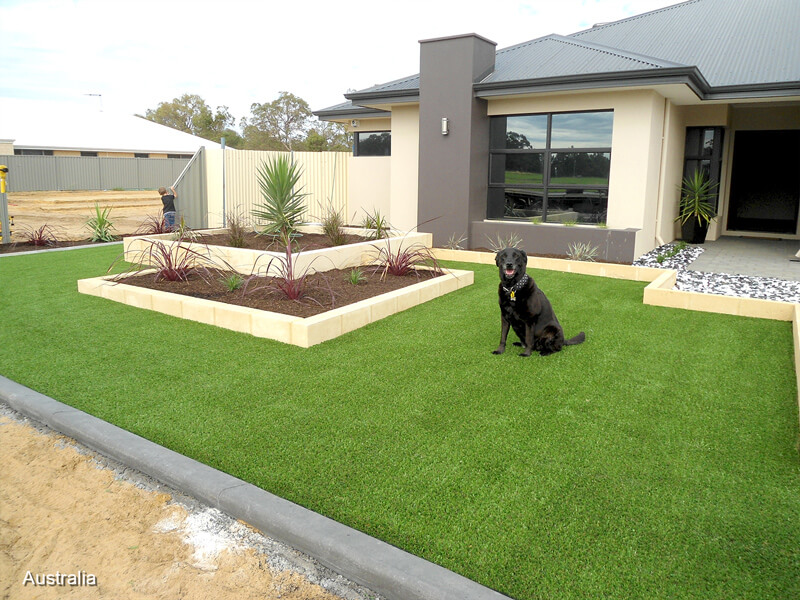 Garden & Backyard
With no doubts, pets prefer bigger space to playing. Why not convert your backyard into a dream space for them? Artificial grass is suitable for any scenarios, you can cut it into different sizes you like. Not only is our pet turf a friendly surface designed for pets, it's also ideal for upgrading residential landscapes.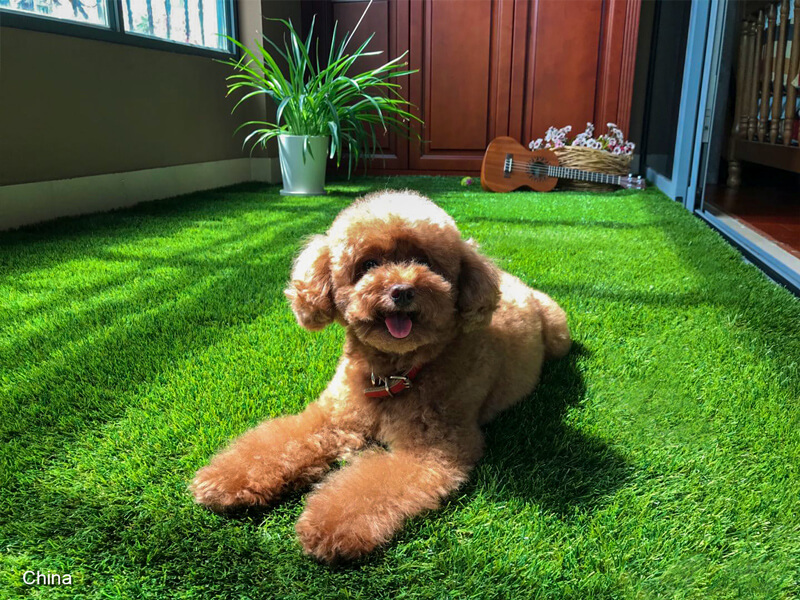 Balcony
For apartment dwellers who do not have a large yard, finding an outdoor space would be a challenge. If you want to create a small pet-friendly space, try installing artificial grass for pets on your balcony. Synthetic turf is a fun addition to your pet's nest, allowing them to enjoy the green at home anytime!
FIND MORE PRODUCT SOLUTIONS