DISCOVER THE BENEFITS OF
PET-FRIENDLY ARTIFICIAL GRASS FOR PETS
With exceptional drainage, bite and wear resistance, and a mess-free solution, our artificial turf for pets shines in a variety of spaces, from bustling commercial pet facilities to energetic dog runs and cozy corners at home. Enhance your offerings with CCGrass, delivering top-tier pet-friendly solutions that exceed client expectations. Partner with us to set your brand apart in the competitive pet-friendly landscaping market.
Effortless pet-friendly turf
Synthetic grass provides a low-maintenance solution, eliminating the need for complicated care routines such as watering, fertilizing, or insect control. Unlike natural grass, this synthetic alternative requires pets to have fewer baths and tick treatments, allowing you and your furry companions to enjoy more playtime on the turf.
Safe and anti-bacterial
Our artificial pet grass prioritizes safety with high-quality, non-toxic materials, passing rigorous international health tests (REACH, EN71-3, ASTM, DIN). Thus, your pets can have fun on the grass lawn even if they happen to lick or chew on it. Additionally, featuring AegiPro tech, our pet turf is designed to inhibit bacterial and mold growth, providing a safe and enjoyable space for your furry friends.
Soft and comfortable
Boasting realistic colors and soft, dense grass fibers, our artificial turf for pets closely mimics the natural look and feel of a lush lawn. Inspired by nature but surpassing its limits, synthetic turf products utilize premium raw materials to provide a petal-like touch and lushness. The fluffy yarns invite you and your pets to comfortably relax on our soft, lovely lawn.
Exceptional drainage
Whether it's rainwater or pet urine, our pet- friendly fake turf offers 100% permeability thanks to its special design backing layer structure—5 times faster drainage than standard artificial grass. This outstanding feature not only makes cleaning a breeze but also ensures swift drying, offering a hassle-free solution for pet owners.
Bite and wear resistant
Concerned about your adorable pets nibbling on the grass? CCGrass artificial grass is up for the challenge. Our robust backing system plays a crucial role in enhancing longevity and durability. With strong tuft lock ability, it supports the dimensional stability, turf bond, and overall life cycle of the artificial lawn in pet areas.
No mess, no fuss
Our synthetic turf is a pet-friendly solution that withstands pets' activities without being dug up or damaged. Bid farewell to muddy paws, regardless of the weather—our turf grass eliminates mud-related issues, leaving your lawns and floors clean for a delightful environment.
CREATE YOUR PET'S PARADISE
WITH CCGRASS PET-FRIENDLY TURF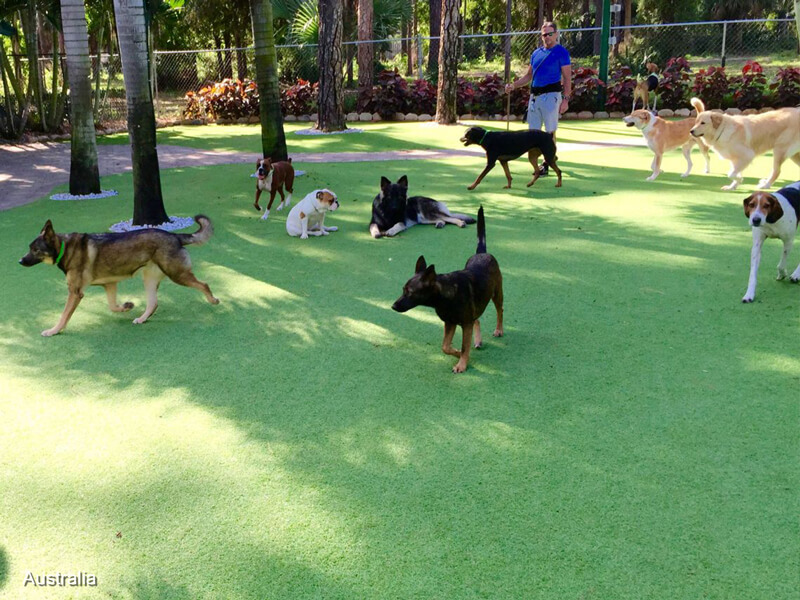 Commercial pet facilities & shelters
Step into a world where commercial pet facilities and shelters are transformed with CCGrass artificial turf for pets, enhancing spaces where pets play, socialize, and find comfort. In these bustling spaces, including pet boarding facilities, kennels, and doggy day care centers, the shift from cold concrete to our lush turf creates a home away from home for every furry friend.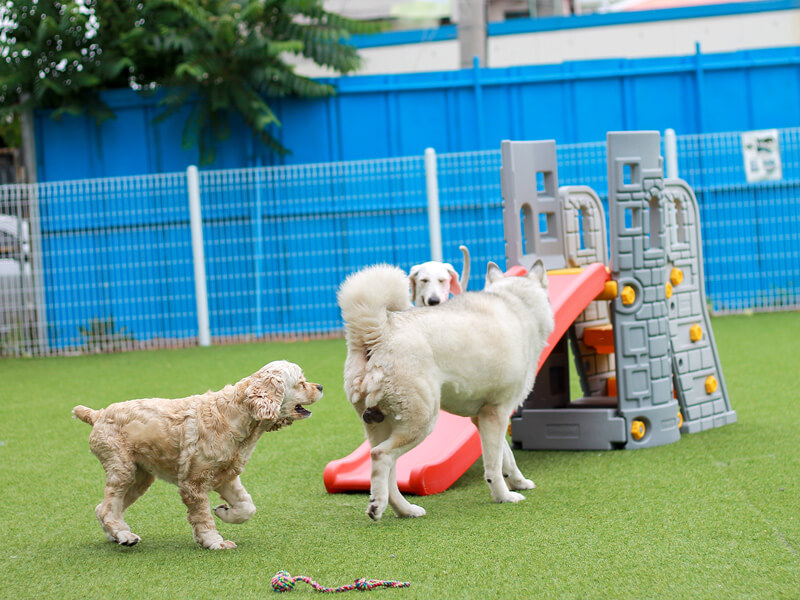 Dog parks
In any vibrant community, dog parks are indispensable. Our pet-friendly astro turf effortlessly handles the vigorous playfulness seven days a week, eliminating dust, mud, and drainage issues in dog parks. Make it a haven where tails wag freely, and paw prints tell stories of boundless joy.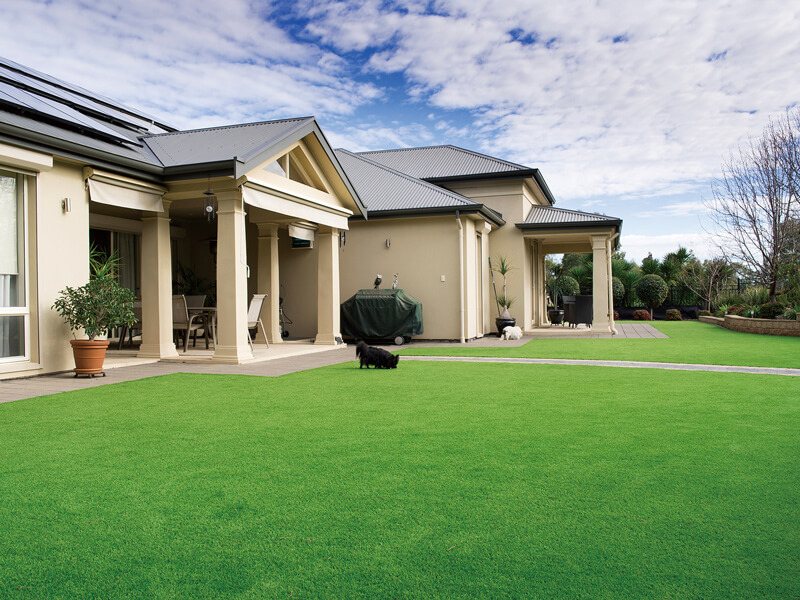 Residential backyard
Undoubtedly, pets prefer to frolic in larger spaces. Utilize your entire backyard or a significant portion of it to provide an expansive play area for your energetic dogs. Our artificial grass for pets blends practicality with aesthetics, offering a versatile surface that serves as a safe, comfortable haven for pets to thrive while enhancing your residential landscape.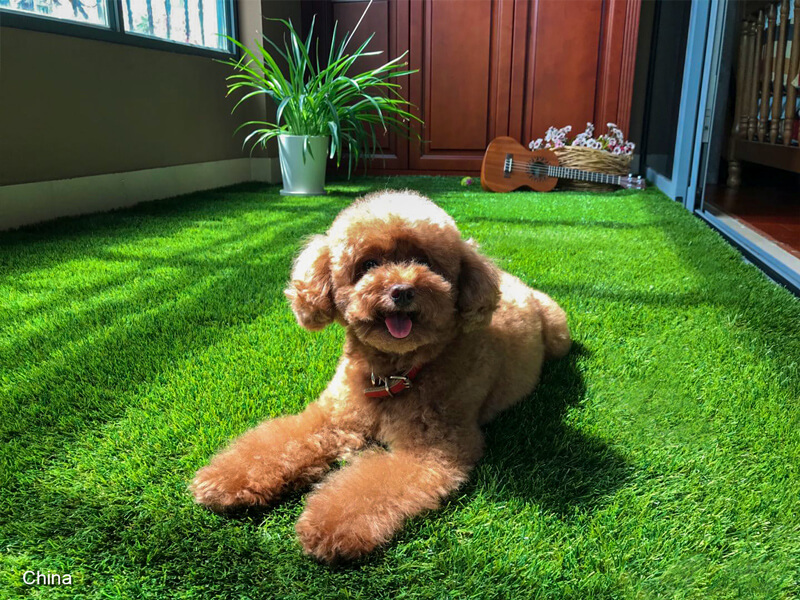 Small spaces & apartments
In some cases, a large pet space isn't necessary—especially for smaller, less energetic furry pals. Consider opting for artificial pet turf, mimicking a natural grassy feel. Even if your yard is tiny or you live in an apartment, you can create a cozy spot for your pet in minimal space, providing them a retreat of their own.
FREQUENTLY ASKED QUESTIONS
ABOUT ARTIFICIAL TURF FOR PETS
Real grass vs. artificial turf: what's better for pets?
Real grass offers a natural playground but demands consistent upkeep and can develop brown patches. Fake grass requires minimal upkeep, eliminating toxic chemicals but may get hot in summer. Base your decision on personal preference and lifestyle to create a safe, comfy outdoor haven for your pet to play and explore freely.
Is artificial grass safe for pets and kids?
Absolutely! Our synthetic grass is 100% safe, passing rigorous health tests like REACH, EN71-3, ASTM, DIN, guaranteeing it's free of harmful substances. With less natural material, it means fewer bugs, less mess, and fewer germs—a win for pets, kids, and the whole family!
Bonus: it produces no pollen and eliminates the need for pesticides, herbicides, and fertilizers, creating a healthier environment for your loved ones.
Pet turf vs. regular turf: what sets them apart?
Pet turf is a specialized artificial grass designed for pets, featuring enhanced drainage, durability, and odor resistance. Unlike traditional turf with spaced hole-punched backing, pet-friendly turf has a fully permeable backing that allows efficient water and pet urine flow, preventing liquid accumulation and unwanted odors. Moreover, high-quality pet turf often includes antibacterial protection, ensuring a safer, more hygienic, and comfortable environment for your beloved pets.
How to choose the best artificial turf for dogs & pets?
Choosing the ideal artificial turf for pets depends on different climates and surroundings. Rather than a singular "best" choice, prioritize these key features:
Short pile height (approx. 25mm) for easy waste cleanup
Fully permeable backing for superior urine and water drainage
Antimicrobial protection for a fresher, hygienic environment
UV-resistant turf for longevity and fade prevention
For more in-depth information, refer to The Most Comprehensive Buyer's Guide on Artificial Grass for Dogs & Pets
Does CCGrass pet turf have antimicrobial protection, and how does it work?
Antimicrobial protection has become a prevalent feature in high-quality pet turf products. CCGrass Argo Grass is specially designed with AegiPro tech, which inhibits the growth of bacteria and molds on the grass surface and prevents the generation of odors. The antimicrobial additives are incorporated into the pet turf during the manufacturing process, ensuring a permanent feature that doesn't wear off or diminish over time.
Can synthetic turf withstand dogs digging?
Certainly! While understanding that some dogs love to dig, our pet turf is designed, manufactured, and tested to resist even the most persistent diggers, ensuring durability and longevity. Say farewell to worries about your furry friends causing damage – fake turf makes digging virtually impossible.
Can dogs pee and poop on artificial grass?
Of course! Your pets can comfortably relieve themselves on artificial lawn without any impact. The turf is permeable, allowing urine to drain through easily. For solid waste, it's best to promptly scoop it up, just as you would with natural grass. Rinse the area with water for a fresh and pet-friendly environment.
How to maintain synthetic grass for pets?
Keep your dog turf clean with routine care. Remove debris like leaves and sticks using leaf rakes or blowers. Promptly pick up solid pet waste—the sooner, the better, especially in multi-pet households. For dog and pet urine, a weekly hose spray is recommended.
Regularly groom the grass blades to keep them upright and remove any clinging dog fur. To tackle any unwanted odors, a mixture of equal parts water and vinegar does the trick. Follow up with a hose rinse for a burst of freshness.
FIND MORE PRODUCT SOLUTIONS