The Most Comprehensive Buyer's Guide on Artificial Grass for Dogs & Pets
Artificial grass for pets is increasingly used in gardens, backyards, balconies, and commercial pet facilities. It stays beautiful and lush all year round, no more muddy paws, dog holes, and endless mowing, fertilizing, watering. Your pet is part of the family and you can establish a special bond with it by giving it a fun, hygienic and comfortable leisure playground.
Let's take a look at the best artificial grass for pets, along with some knowledge about installing and maintaining the pet turf.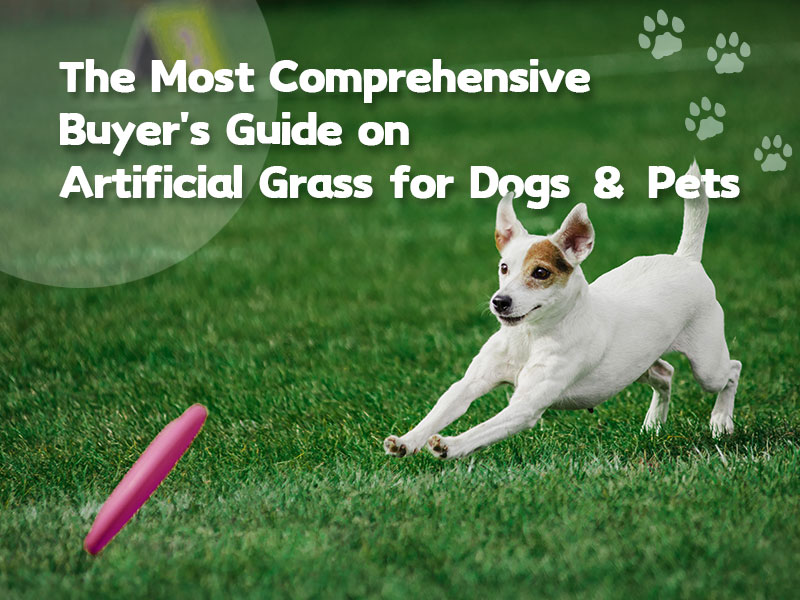 Is artificial grass safe for pets?
The safety of artificial turf is a top concern, especially when choosing a lawn for your pet. Good quality artificial grass is absolutely safe for pets, and sometimes even safer than real grass. CCGrass has the reliable health protecting solution, providing 100% safe artificial grass for dogs and pets.
Premium raw materials & professional health tests
CCGrass is very strict in the selection of raw materials, using 100% pure and high-quality raw materials. All our artificial turf products pass the Health Tests including REACH, EN71-3, ASTM, DIN, etc., which can prove our grass doesn't contain any harmful components, such as heavy metals and substances of high concern. So it's fine even if your pet occasionally licks or chews them.
Antibacterial & mildew proof
CCGrass artificial grass for pets is specially designed with AegiPro technology to inhibit the growth of bacteria and mold on the grass surface and prevent the generation of odors. The built-in antibacterial technology keeps the antimicrobial agents from washing off or wearing out, giving your pet long-lasting protection.
Reducing the risk of skin problems and infections for pets
Fleas and ticks, grass burrs and pollen in natural grass pose a potential infection threat to pets. Artificial grass greatly reduces the risk of skin problems and infections in pets. Moreover, fake grass care does not require chemicals such as fertilizers and herbicides, and pets can be in close contact with the turf.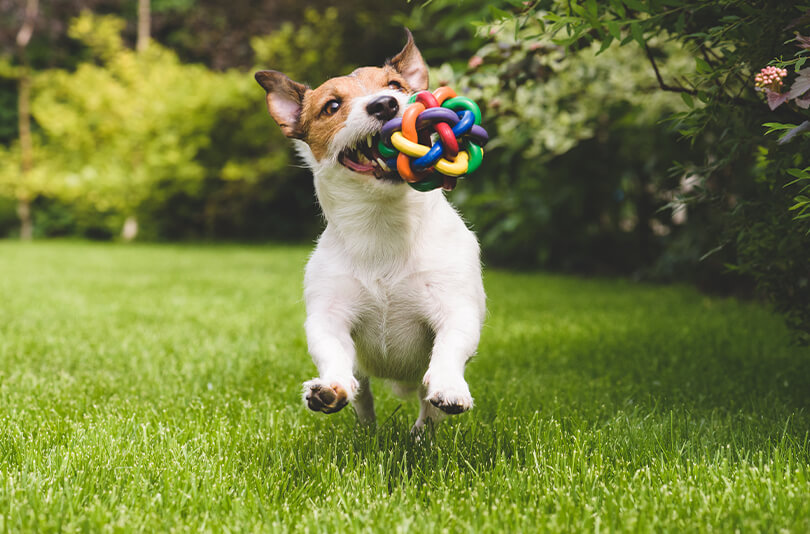 Benefits of choosing artificial grass for pets
Realistic look and feel
Our artificial grass for pets comes in multi-tone colors with soft and dense grass silks that look and feel like natural grass. Your dog will love our artificial pet grass, letting it at home can feel like a real outdoor lawn, while also providing you with year-round green and turf enjoyment.
Environmentally friendly & save money
No mowing, no fertilizing, no weed control. Artificial turf is a sustainable, environmentally friendly option. From lawn mowers to fertilizers to the time it takes to maintain the lawn, choosing to install artificial grass for pets makes excellent economic sense in the long run.
Superior resilience and durability
It is almost impossible to maintain natural grass in areas where a large number of dogs play. Our artificial grass for dogs is resilient, UV resistant, weatherproof and not easy to fall off. Your furry friends can play, run, jump and stretch on it.
Easy to clean
You don't have to worry about your dog peeing or pooping on the turf, because it's easy to clean up. Dog urine will drain entirely through the permeable backing, use a bag or poop shovel to remove solid waste, and then rinse with water. Furthermore, you will no longer see dog holes in the garden and spend time cleaning up muddy paw prints on your floors.
How to choose artificial grass for dogs?
There are countless pet turf products on the market, how to choose the best fake grass for your dog? We have listed some important features to look out for when buying artificial grass for dogs. Let's take a look.
Pet turf materials
What is artificial grass made of? At first, fake grass was made from nylon (PA), and now mainly polyethylene (PE) and polypropylene (PP). Nylon is too stiff and usually not considered.
Polyethylene grass is soft and durable, making it an ideal choice for artificial grass for dogs. The curly, soft thatch layer is usually made of polypropylene used to increase the realistic look of the turf while providing a comfortable paw feel for pets.
Short pile height
You'd better choose artificial grass for dogs with a pile height of about 25mm. Short pile height grass is more suitable for high-frequency use and can quickly and easily clean up solid waste.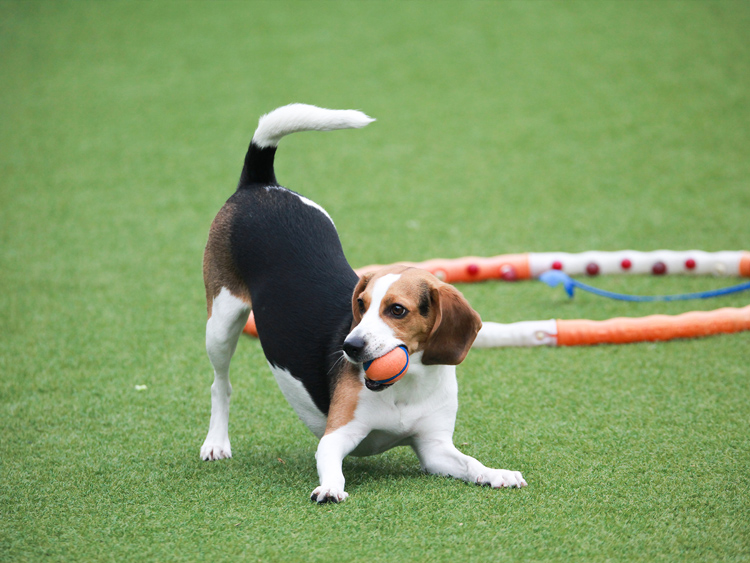 Face weight
The face weight of artificial turf is the weight of grass fiber per square yard but does not account for the weight of the backing. Face weight is generally linked to durability. The higher the face weight, the more durable the product. Depending on the paws and foot traffic on your grass surface, choose the face weight that best suits your needs and budget.
100% permeable backing
CCGrass is available in different backing options – latex, PU, PRT or RCX. The latter two are our innovative backings that offer the benefits of super water permeability, full recyclability, ultra-lightweight and strong tuftlock. Choosing a fully permeable backing ensures that dog urine can be discharged smoothly and prevent odors from building up on the turf.
Antibacterial artificial grass for dogs
Not all artificial grass for pets is antibacterial. Bacteria can multiply on any surface including artificial turf, and dog poop and pee make it even easier for bacteria to grow. That's why you should choose antibacterial artificial grass.
At CCGrass, our pet grass has passed SGS laboratory tests, and the AegiPro tech effectively inhibits the growth of bacteria and mold, helping to keep the lawn clean and fresh. It is worth mentioning that our backing has also passed the antimicrobial test, which is an essential and often overlooked aspect. The antibacterial function allows your furry friend to enjoy a very clean play environment and avoid health issues like allergies or infections.
Recommendations for the best artificial grass for pets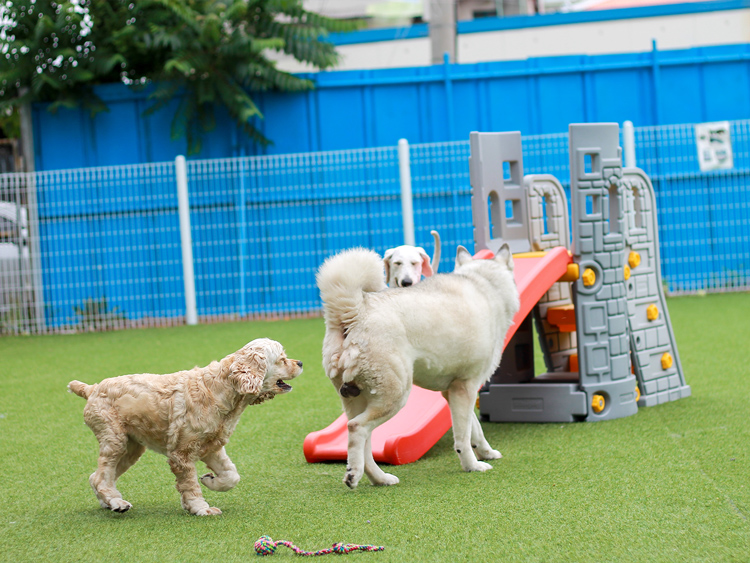 Ideal Argo Grass for pet facilities
Argo Grass is a pet favorite and is comfortable for even the most sensitive paws. Designed for pets, it's ideal for long hours of play and is a top choice for commercial pet facilities such as doggy daycares, dog parks, and pet play areas.
Model: Argo Grass
Specially designed for pets
Strong and durable
Easy installation and low maintenance
Preventing the generation of bacteria,mold and odors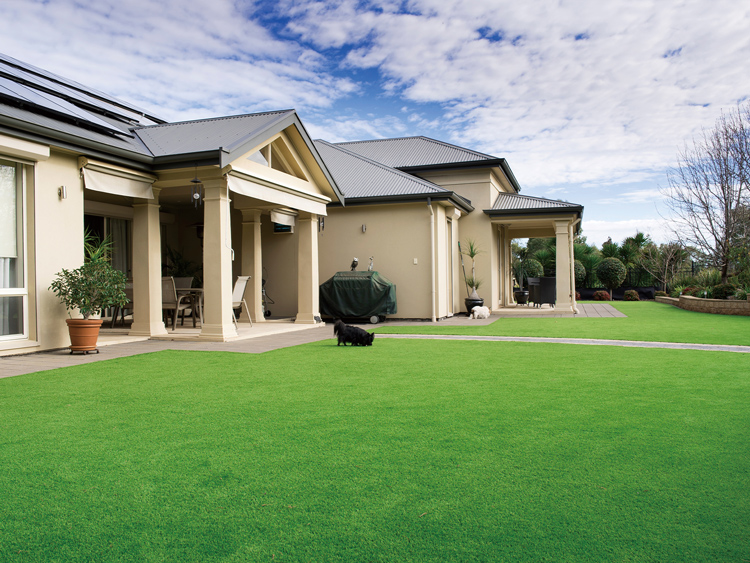 Gorgeous garden with artificial grass for pets
Whether you choose an artificial lawn for pets or install one of our popular garden grass products, you and your furry friend will love having a beautiful, tidy and lush yard.
Model: Oasis
Monofilaments of various different shapes and colors
Wide and slender collocation
Healthy and safe
Low maintenance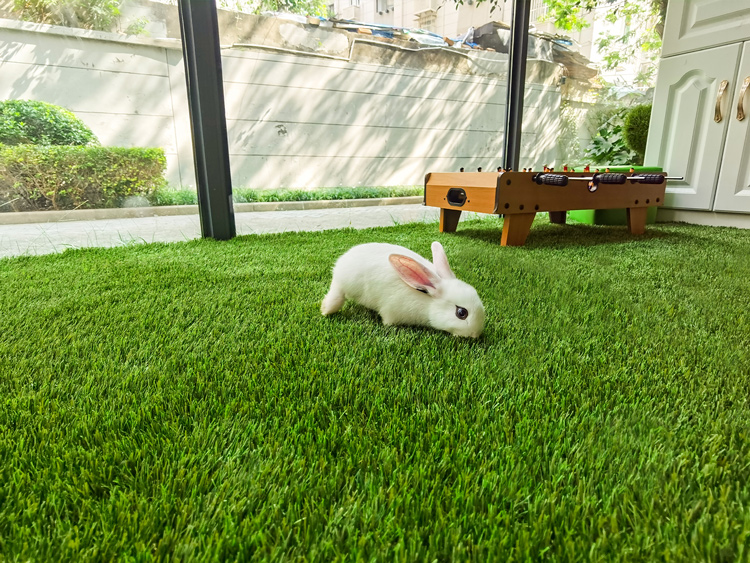 Balcony pet paradise
Every pet loves nature! If you live in an apartment, make the most of the artificial grass to create a little paradise for your pet. At the same time, it will also be a small world for you and your family to relax and entertain.
Model: Delicate
Free direction
Ultra-natural look and sense of feeling
Antibacterial and odorless
Easy to clean up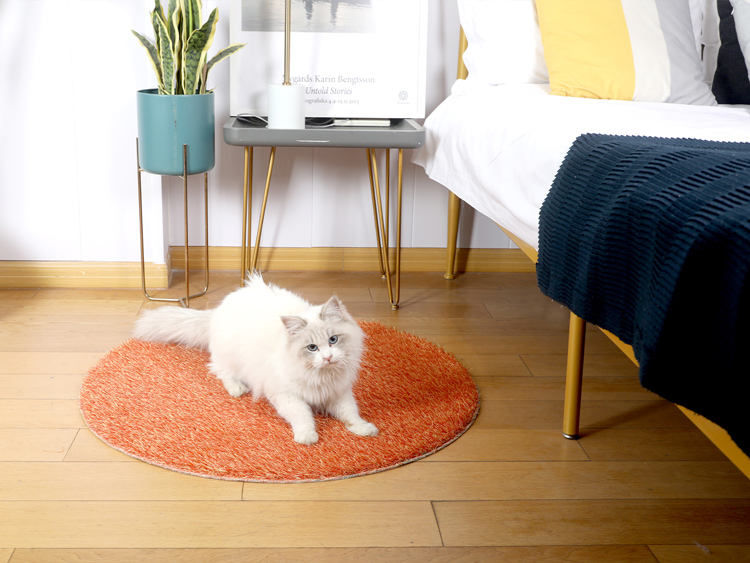 Exquisite pet grass mat for indoor use
If you want to set up a small play area for your pet indoors, our hot-selling Pet Mat series will be your perfect option. Our pet grass mats are available in a variety of colors and sizes.
Model: Pet Mat
Pet-friendly and portable
Safe and antibacterial
Easily and quickly rinse to clean
Different stylesfor choice
How to install artificial turf for dogs in the backyard?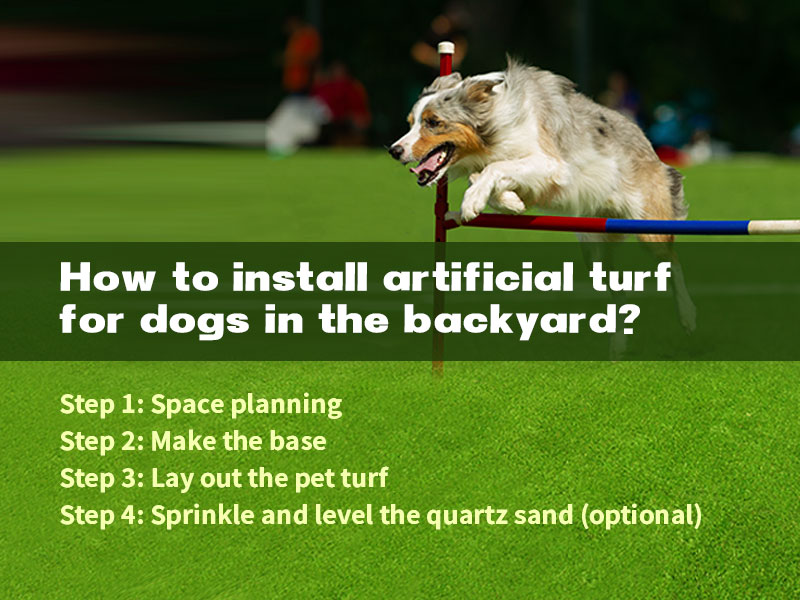 Step 1: Space planning
The first step for pet turf installation is to plan out and measure your backyard, figure out how much artificial grass you will need.
Step 2: Make the base
After removing surface weeds, get rid of the top layer of soil, about 3 inches, level and place a weed barrier on top. Then put the crushed stone into the area and spread it out evenly, compacting with a roller or vibrating plate to create a smooth, flat base.
Step 3: Lay out the pet turf
Unroll the turf making sure if you have multiple pieces you're facing the blades in the same direction. With the turf pieces are in place, you can start cutting the seams and gluing them together. This step is only necessary if you have multiple pieces. Next, stretch and nail down the turf every foot or so along the perimeter of the lawn.
Tip: Lay your pet turf flat in the sun for a few hours to allow it to stretch – this will remove creases and the fibers will be in better condition.
Step 4: Sprinkle and level the quartz sand (optional)
The final step for installing fake grass for dogs is spreading the quartz sand infill. This helps the grass stay springy and upright. Then use a power brush to even out the infill across the turf and you're ready to take your dog out and enjoy your new backyard!
How to maintain synthetic grass for pets?
Can dogs pee and poop on artificial grass?
Of course they can. The backing of artificial grass for dogs is well permeable and allows urine to drain. Regular rinsing is necessary to control odor. It's also easy to remove poop, pick up solid waste and throw it away, and rinse it off with water if there is any residue. You can train your dog to potty in a specific area to ease the maintenance.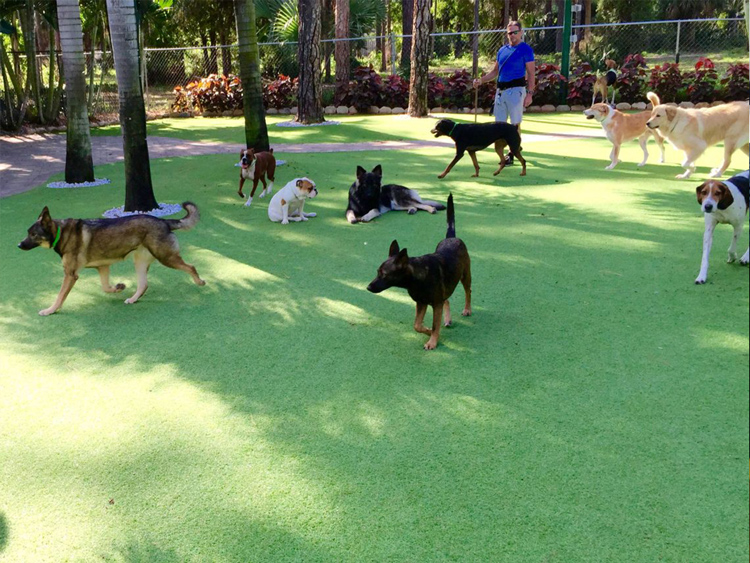 Daily maintenance
It's best to get rid of pet waste as soon as possible. The longer it stays, the harder it is to clean up. If there is any lingering odor, simply spray the area with a solution of equal parts white vinegar and water and rinse it off.
Weekly maintenance
Use a grass brush or a bristled broom to clean up the fallen leaves and other debris on the lawn.
How often you water depends on the size of your lawn area, how many dogs you have, and how often they use the lawn. In general, we recommend hose-rinsing the area at least once a week.
Monthly maintenance
Use brush or broom to groom fibers into their upright position. For commercial pet facilities like doggy daycares where there is a lot of dog traffic, it is recommended to increase the frequency of brushing, not only to keep your grass upright and beautiful, but also to ensure the longevity of your artificial turf.
Conclusion on buying artificial grass for pets
CCGrass is one of the first artificial grass manufacturers and designers in the world. We have developed wide applications for artificial grass including residential, commercial, playground, DIY, pets and golf. Our products have been installed in more than 140 countries and are widely accepted by millions of families around the world.
If you want to build your pet paradise on your balcony, backyard or anywhere else, CCGrass artificial grass for pets will definitely be your perfect solution. Call us at 86 25 6981 1666 or email us at [email protected] to ask for free samples now!