A Step-by-Step Guide on Artificial Lawn Installation for Your Garden/Backyard
If you're tired of spending your weekends mowing and watering your natural grass, then artificial lawn installation might be the perfect solution for you. Not only does synthetic turf require minimal maintenance, but it also provides a lush, green landscape all year round. In this step-by-step guide, we'll walk you through the process of artificial grass installation, so you can create a beautiful outdoor space without all the hassle.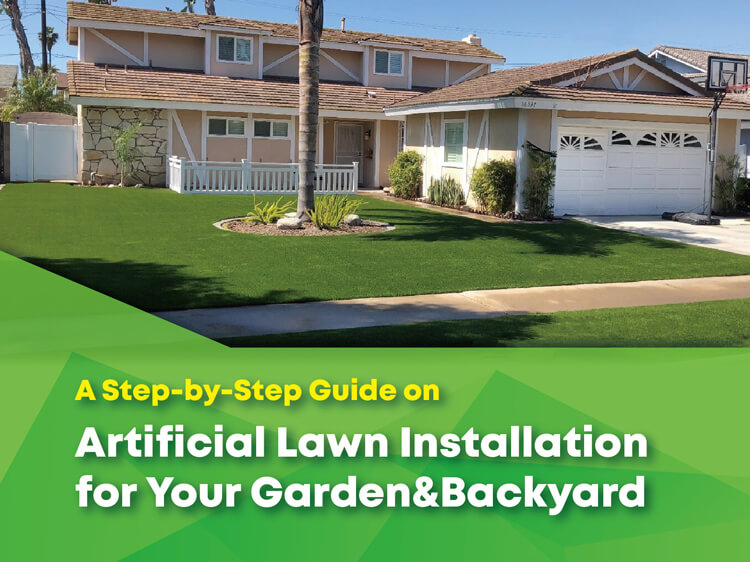 Tools required for artificial lawn installation
The tools required for artificial turf installation depend on the scale and complexity of the project. While some elements are essential, others may be optional. Ensuring that all necessary materials are available and properly utilized is critical to achieving a successful, long-lasting installation.
☆  Tape measure
☆  Gloves
☆  Carpet Knife
☆  Shovel
☆  Hammer
☆  Pins or nails
☆  Grass brush
☆  Quartz sand
☆  Weed barrier
☆  Sub-base material
☆  Adhesive jointing tape
☆  Roller or vibrating plate for compacting (both can be hired)
☆  Shockpad (optional)
How to install artificial grass on the soil surface?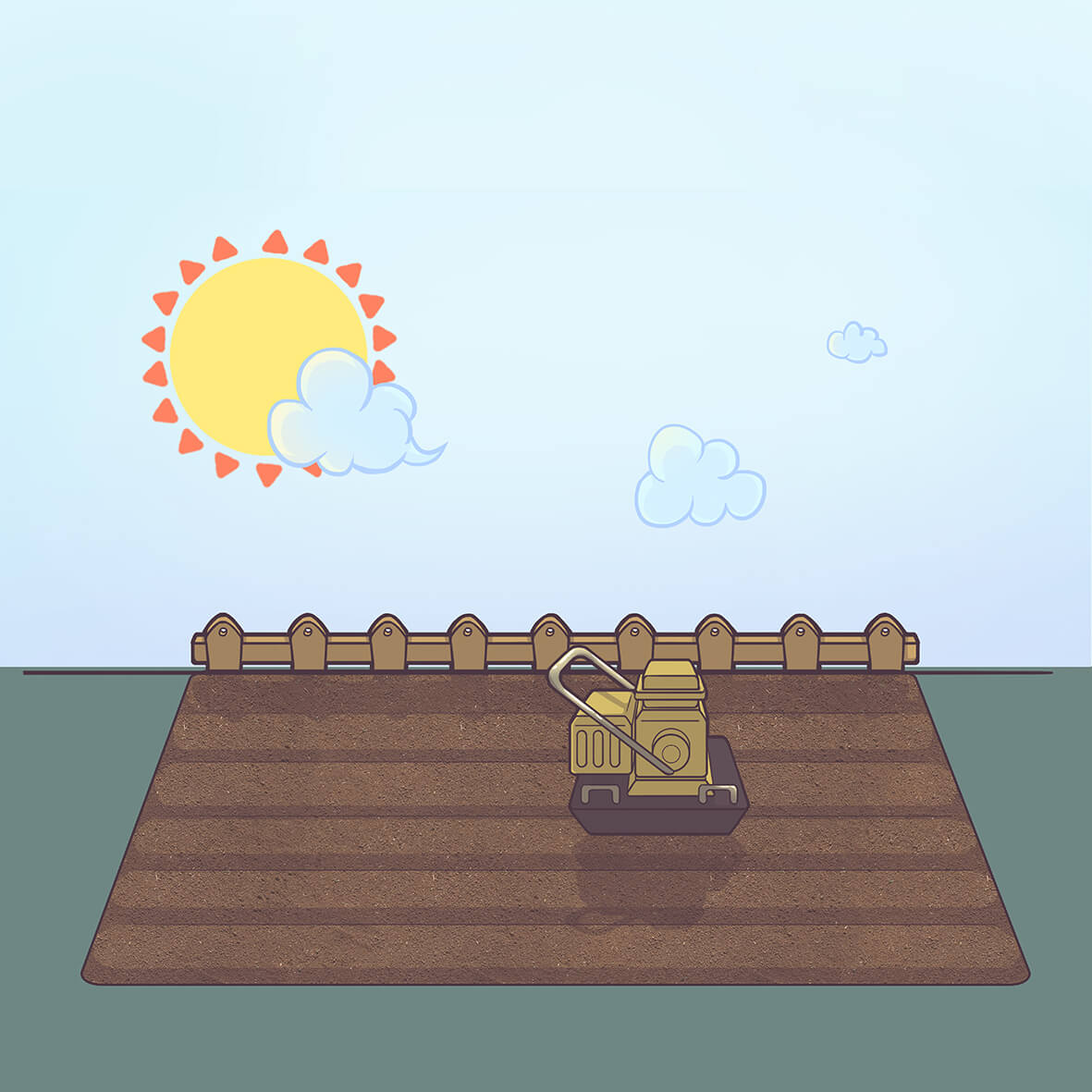 Step 1: Base Preparation
The first step in artificial lawn installation is preparing the base. It's time to clear any existing grass, roots, and debris from the surface using a shovel.
Next, dig into the soil to a depth of around 2-3 inches, and level and compact the soil.
Finely crushed rock is then placed in the area and spread evenly, compacted with a roller or vibrating plate to form a smooth, level base.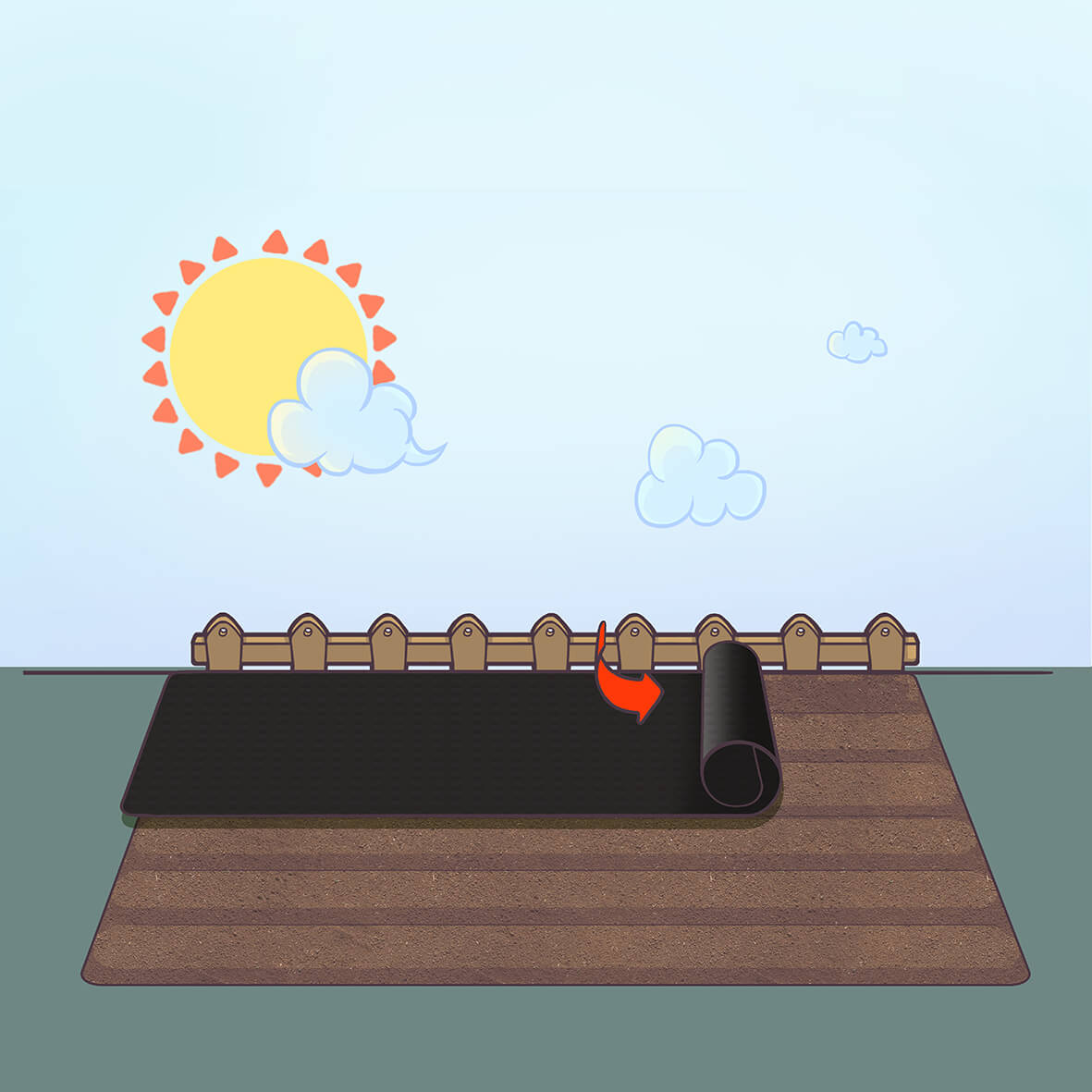 Step 2: Lay out the weed barrier
To prevent any unwanted vegetation from growing through the turf, lay out a weed barrier fabric.
Cut the fabric to fit the area, and ensure there is a small overlap between each piece.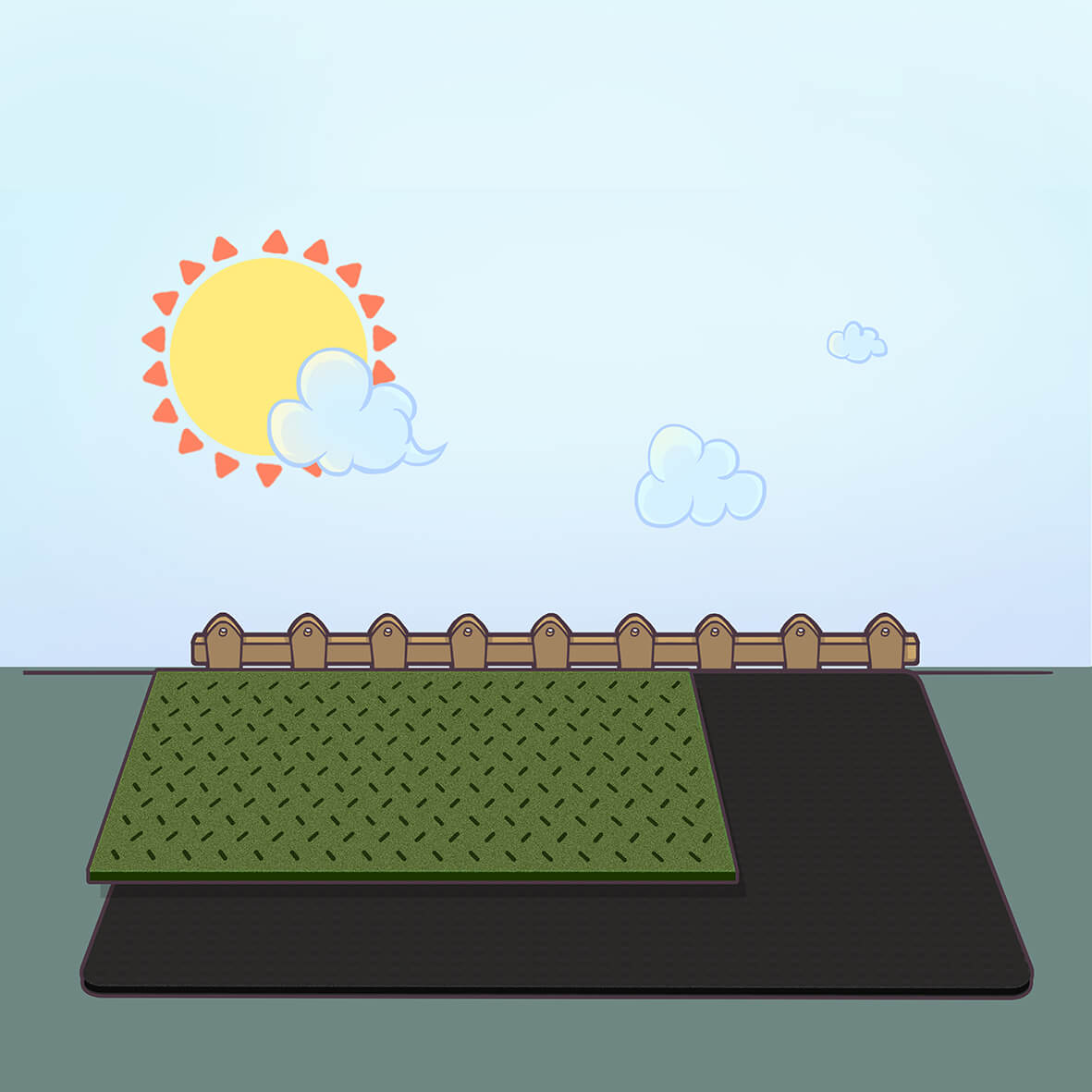 Step 3: Lay down the shock pad (optional)
If you want a softer surface for your artificial turf, lay down a shock pad over the weed barrier.
This is an optional step but can provide extra cushioning and durability for your turf.
Step 4: Lay out the grass roll
Unroll the artificial grass over the shock pad or weed barrier, making sure it is properly aligned with the area you want to cover.
The turf is usually stored rolled up, so it's best to let it sit in the sun for a few hours to acclimate to the temperature and flatten out any wrinkles.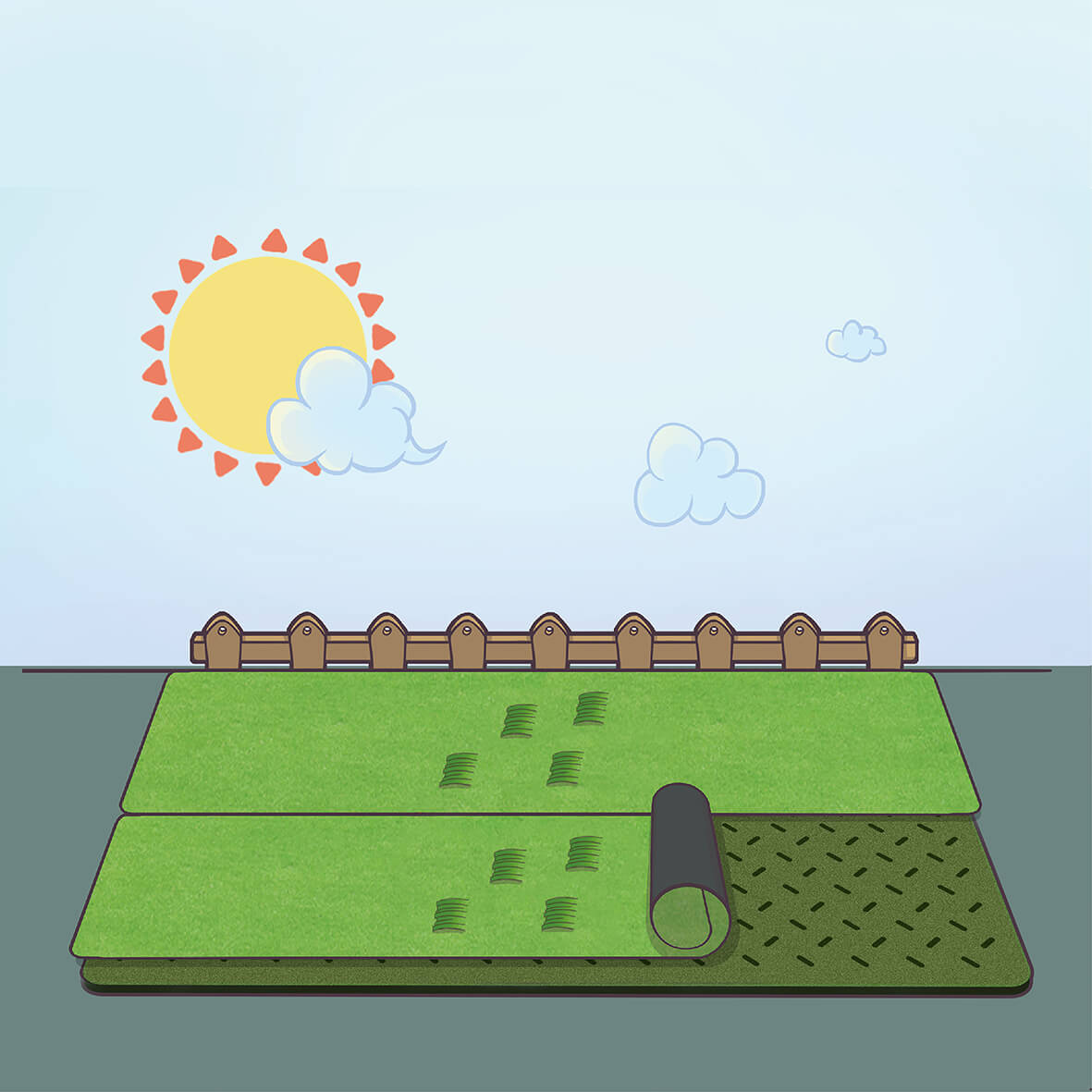 Step 5: Keep the yarn direction consistently
To ensure a natural and appealing look, align the blades of each piece of artificial turf in the same direction when laying multiple pieces side by side to cover a wide area.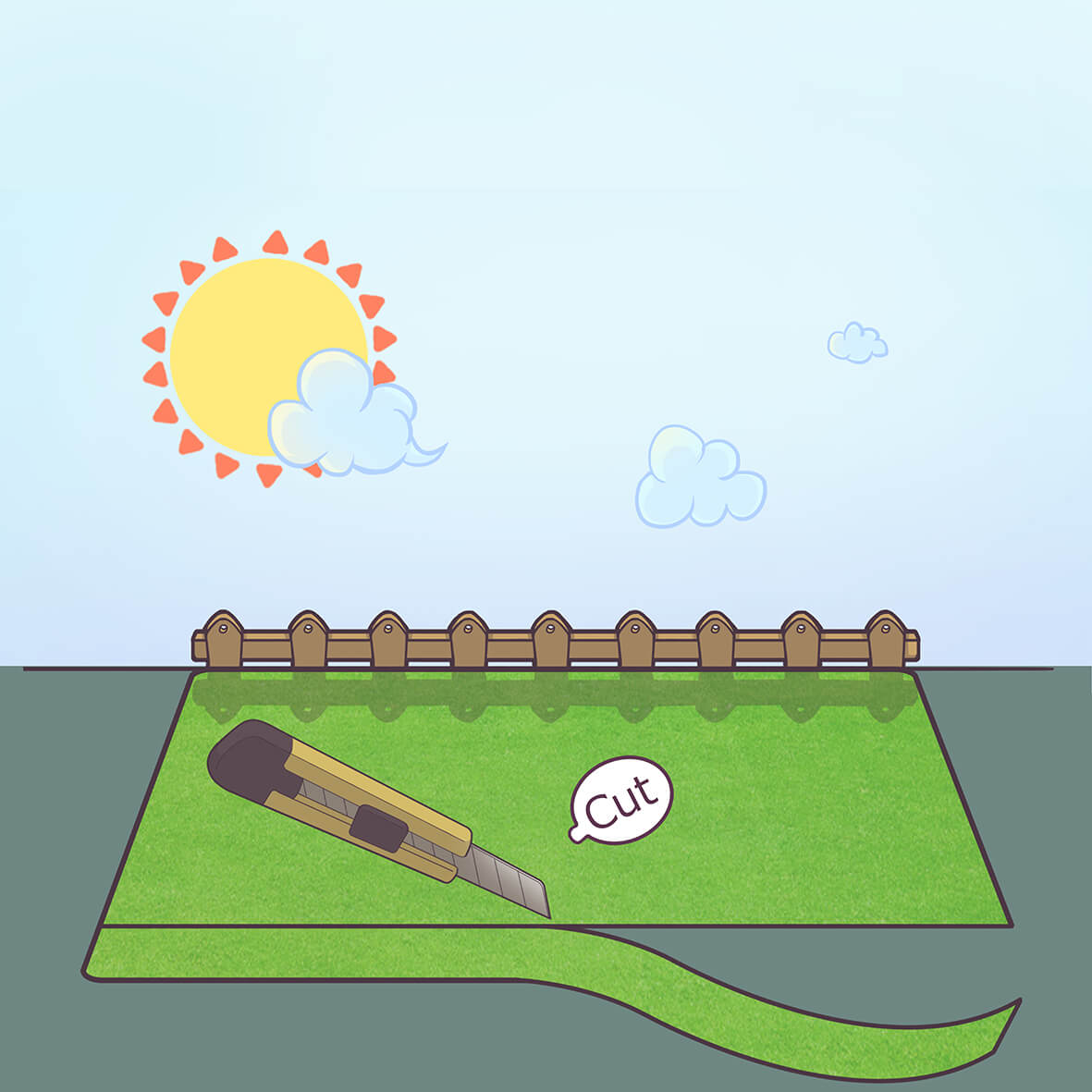 Step 6: Trim edges
Use a carpet knife to trim the edges of the lawn to fit the desired area (from the back, being careful not to cut the grass blades).
Leave a few inches of excess around the edges to ensure complete coverage. You can always trim unwanted excess.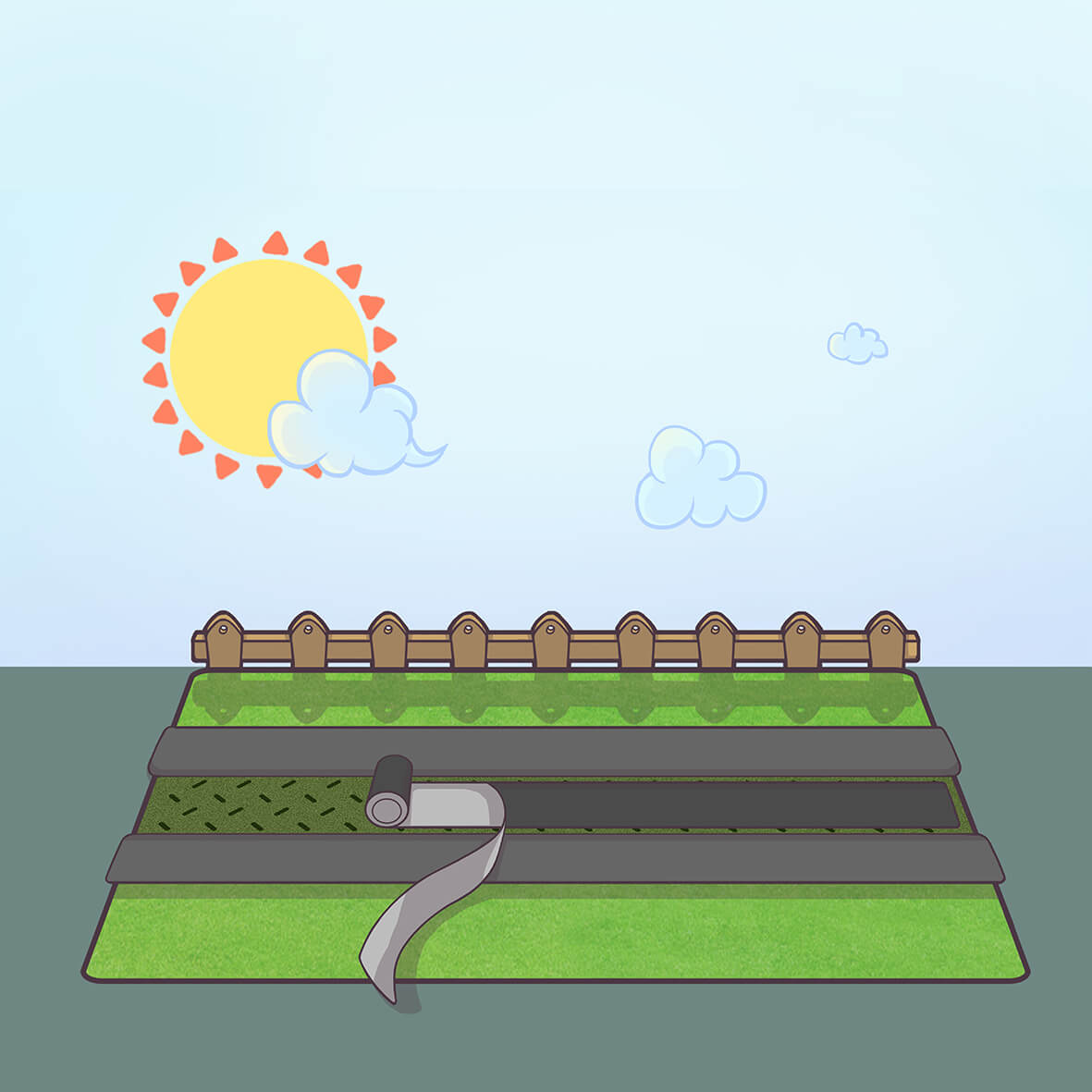 Step 7: Apply adhesive tape (if required)
When using more than one roll of artificial turf, you need to seam them together.
Use a utility knife to trim the edges of each piece, and align the two pieces edge-to-edge at the seam. Pull back the grass and lay adhesive tape along the length of the seam.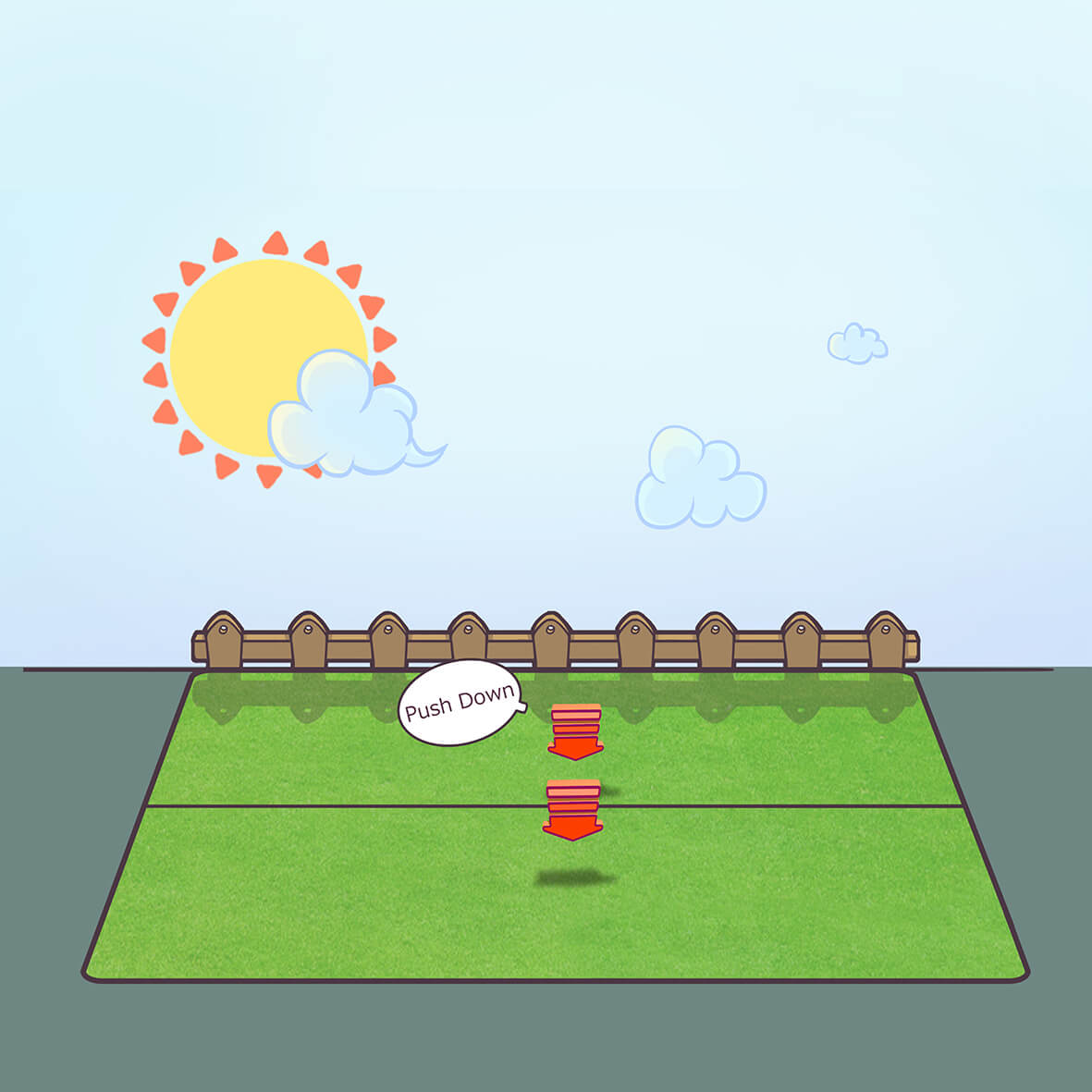 Step 8: Join the turf pieces together
Slowly join the two turf pieces together, starting at one end, making sure the seams match up without any gaps.
Carefully walk along the seam a couple of times to tamp down the joint, which will further secure the turf.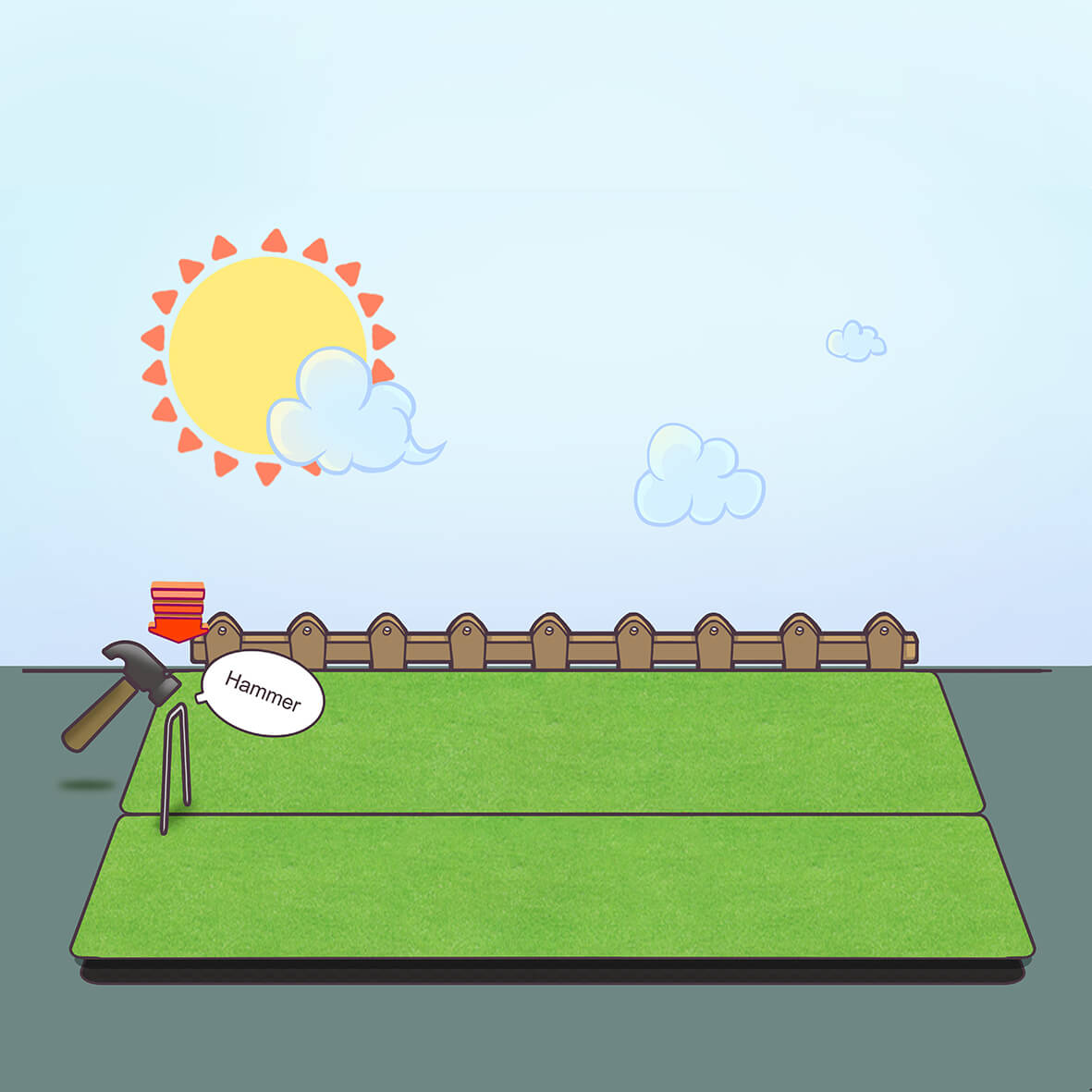 Step 9: Nail the lawn in place
We recommend placing a handful of pins/nails along the seams to reinforce these areas. Now that the turf is laid, ensure that it is stretched tight and leveled.
Then, secure the turf perimeter with pins/nails, placing them every few inches to ensure that the turf stays in place.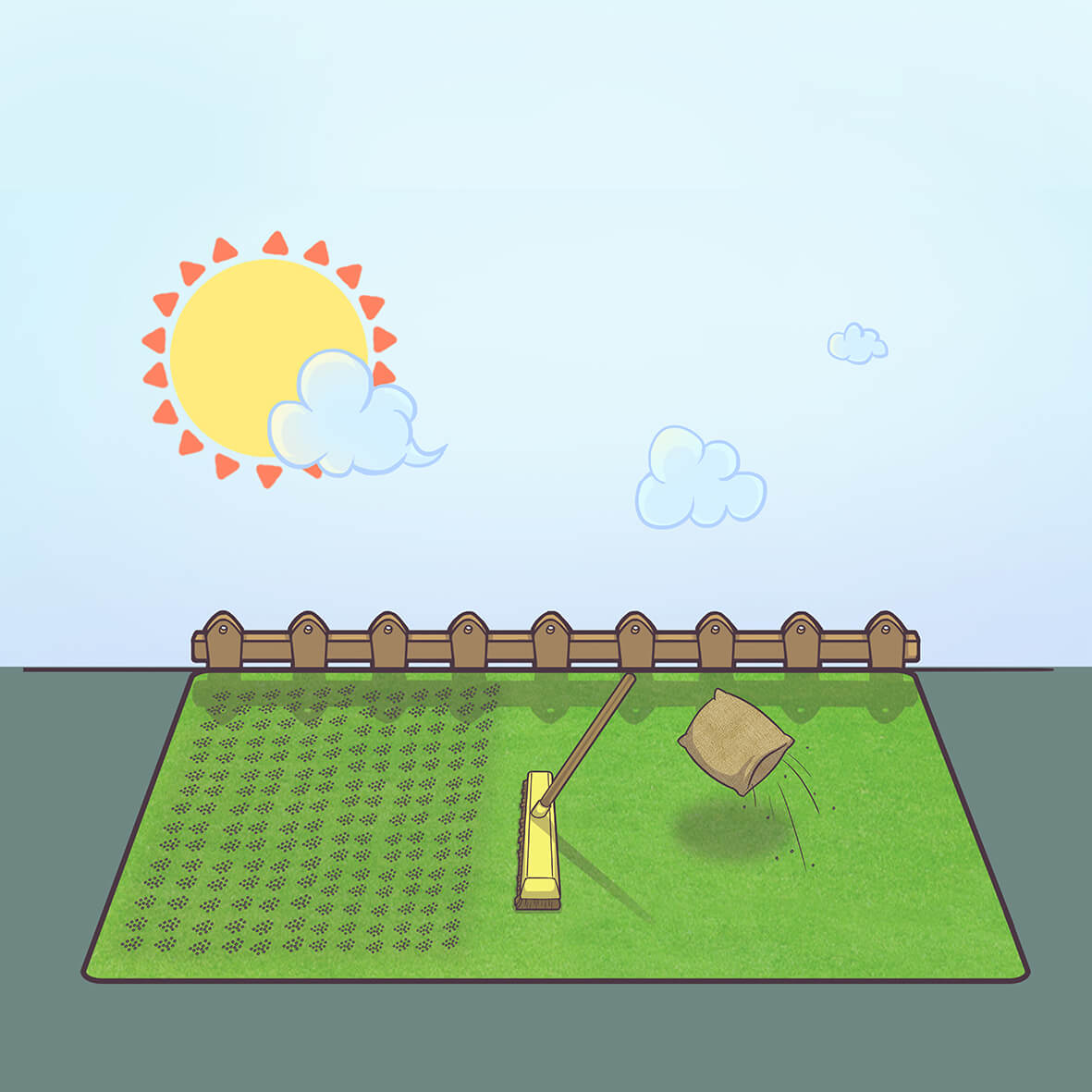 Step 10: Sprinkle and level the quartz sand
To prevent the artificial grass from being flattened by foot traffic, spread the silica sand evenly over the entire surface.
Use a grass brush to work the sand deep into the grass fibers, which will help them stand up and give your lawn a natural look. Make sure to brush in the same direction across the grass to maintain a uniform appearance.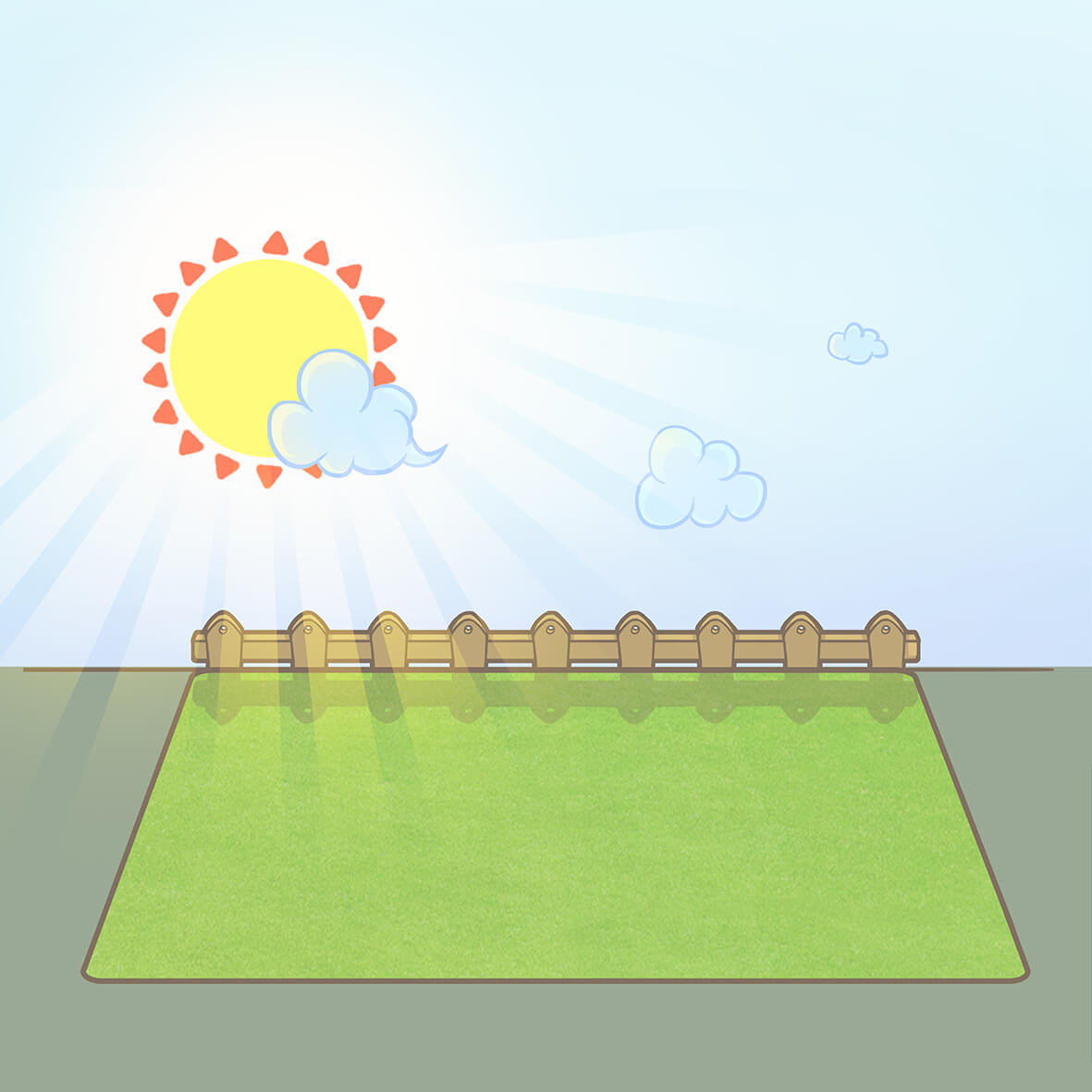 Step 11: Enjoy
Now the artificial lawn installation is finished and you can take pleasure in the beauty of your new artificial lawn!
With regular care and maintenance, your synthetic turf will keep its pristine appearance and durability for many years.
How-to video: A visual guide to artificial lawn installation
The video below provides a visual demonstration of the step-by-step process of artificial lawn installation. It offers a helpful visual reference for those who prefer to learn by watching, and it can be used as a guide to ensure that you are following the correct procedures.
Consider hiring a professional for the perfect artificial grass installation
Artificial turf installation can be a challenging task for those without experience. If you're not confident in your DIY skills, or simply don't have the time to install an artificial lawn yourself, consider hiring a professional installer.
Professional installers have the experience and tools necessary to ensure a high-quality installation that will last for years to come. They can also provide valuable advice on selecting the right type of artificial grass and infill for your specific needs.
While it may cost more upfront to hire a professional, the investment can be well worth it in terms of time, effort, and long-term satisfaction with your new artificial lawn.
Transform your garden/backyard with CCGrass artificial grass
In conclusion, installing artificial grass can transform your garden or backyard into a visually pleasing and low-maintenance space. It's a great alternative to natural grass and can provide long-lasting benefits for an extended period. Whether you're a DIY enthusiast or prefer to leave the job to the experts, taking the time to study and review step-by-step instructions is crucial for achieving a successful artificial lawn installation.
As a leading artificial grass wholesaler and factory direct supplier, CCGrass has extensive experience in designing and manufacturing top-quality artificial grass products.
Our products have been installed in over 140 countries and are trusted by millions of households worldwide. We guarantee the durability and quality of our products.
If you have any inquiries regarding artificial lawn installation or would like to request a free sample, please do not hesitate to contact us at 86 25 6981 1666 or email us at [email protected].