12+ Stunning Artificial Grass Landscaping Ideas to Transform Your Space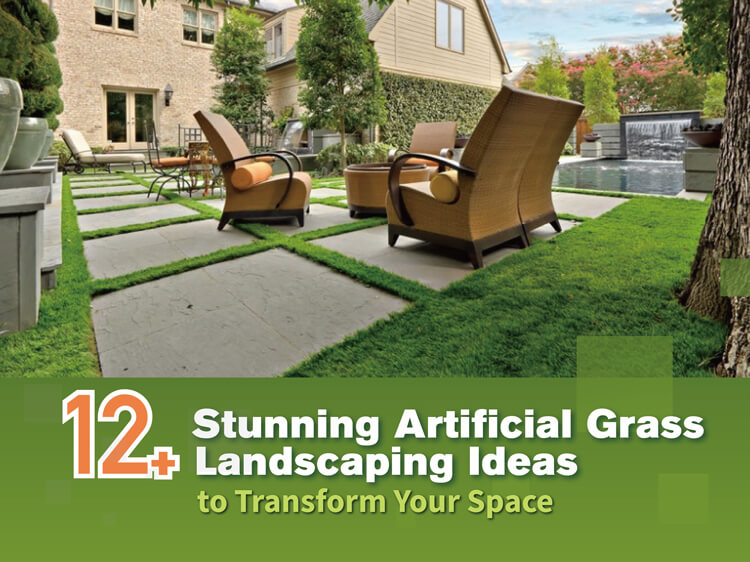 Are you tired of the endless maintenance that comes with a natural lawn? Look no further than artificial grass landscaping ideas, the perfect low-maintenance and durable solution to elevate your property.
From adding a touch of green to a concrete balcony to creating a child-friendly play area in your garden, artificial grass can transform any space into a lush and inviting oasis.
Its versatility also extends to commercial landscapes, where it can provide an eye-catching and eco-friendly option for businesses looking to enhance their exterior aesthetic.
In this article, we will explore the many possibilities of artificial grass and provide inspiration and artificial grass ideas for garden, regardless of size or style. Let's dive into the different artificial grass landscaping ideas and see how they can revolutionize your property!
Upgrade your front yard with artificial grass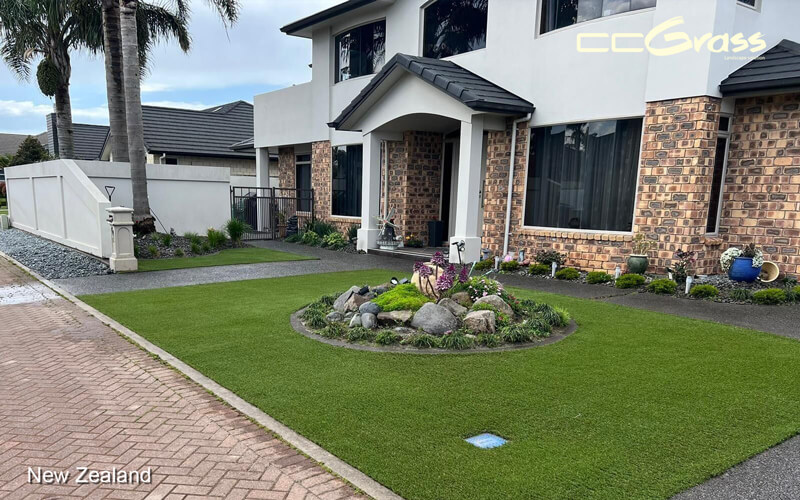 Upgrade your front yard with an evergreen synthetic turf that requires minimal upkeep. Paired with carefully selected plants, flowers, and decorative elements, an artificial grass landscape can create a charming and welcoming ambiance, making a great first impression on visitors and neighbors alike.
Realistic and lush artificial grass for a garden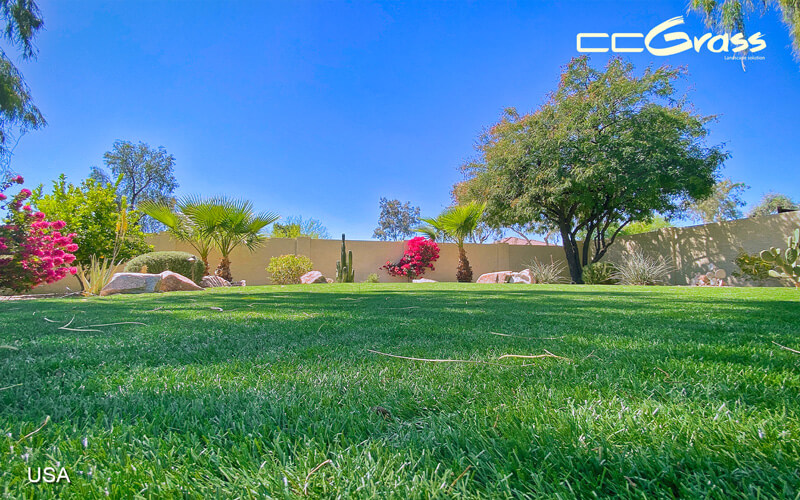 Bathed in the warm glow of sunlight, the artificial lawn brings a vibrant and realistic touch to this garden oasis. With its lush and fluffy appearance, the synthetic grass imbues the space with year-round verdant energy, inspiring a sense of natural beauty and tranquility that complements the garden's existing flora and picturesque scenery.
Sophisticated artificial grass design enhances your yard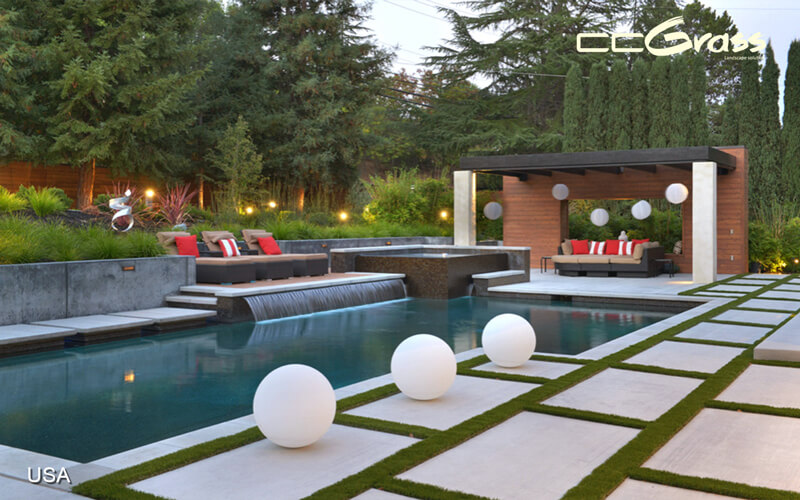 Our artificial grass installation techniques offer a myriad of design possibilities, including embedding them around the tiles to create a unique and sophisticated aesthetic. The lush grass between the cool concrete pavers provides a soft and comfortable surface for post-swim relaxation while lending a sense of elegance to the open backyard.
Leisurely artificial turf garden oasis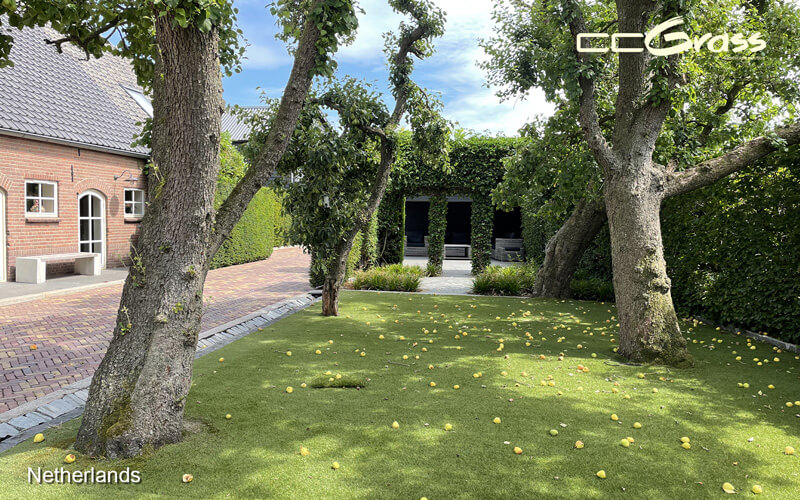 The vibrant living greenery, from the trees to the scattered fallen fruit, seamlessly merges with our artificial grass, making it difficult to distinguish between the two. This stunning fusion of natural and artificial elements creates an idyllic garden haven that is sure to impress any viewer.
Transform your backyard into a recreational area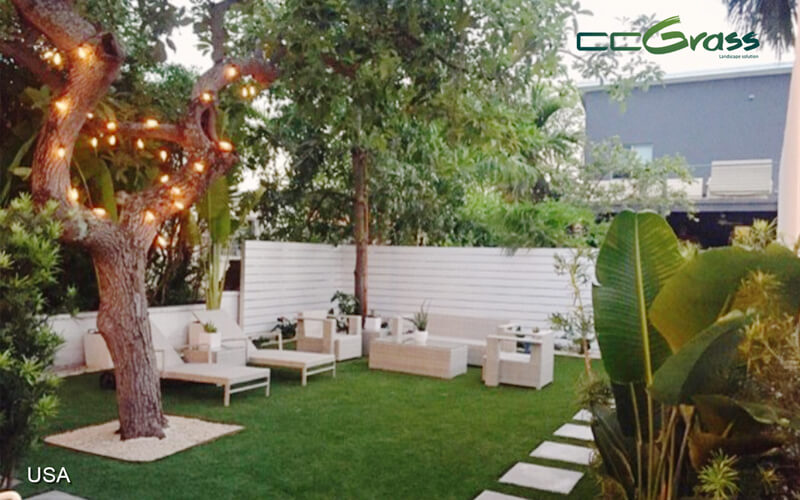 The natural, green appearance of the artificial grass complements the minimalist, solid-colored design of the rattan furniture, creating a cohesive and stylish outdoor space. You can spend more time enjoying outdoor activities and less time on upkeep, thanks to the low-maintenance properties of artificial lawns.
Family children's paradise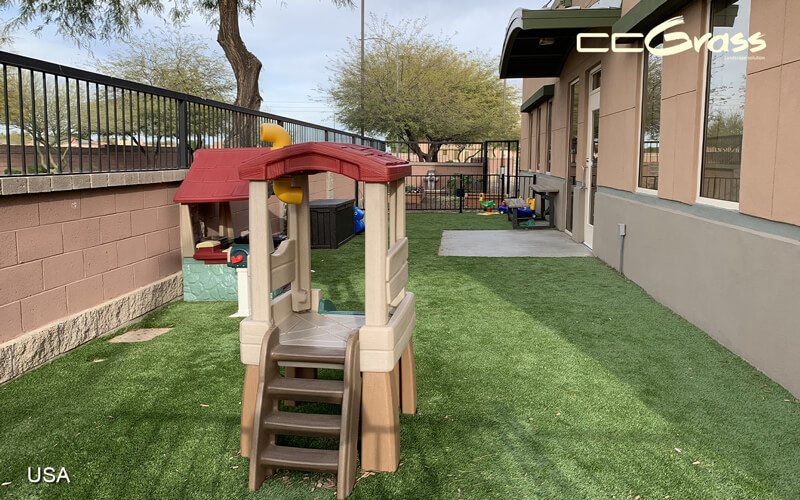 Artificial turf is a perfect solution for families seeking a safe and enjoyable play area for their children. Its soft and cushioned surface mitigates the risk of fall-related injuries. Additionally, it is mud-free, durable, and can endure the wear and stress of play equipment.
Artificial grass putting green at home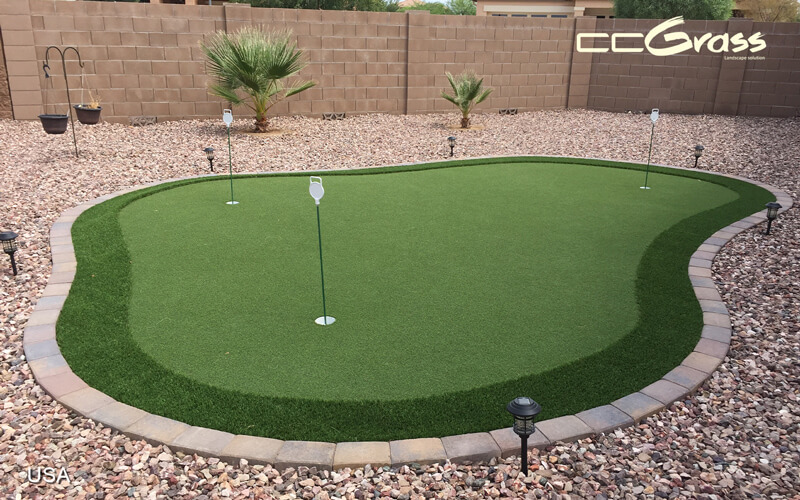 Creating a putting green at home with artificial grass is an excellent way for golf enthusiasts to improve their skills while enjoying the comfort of their own space.
With a custom-designed putting green in your backyard, you can practice your techniques and master your swing anytime. Plus, invite family and friends over for a round of golf, making your backyard a fun entertainment spot.
Modern porch design with synthetic turf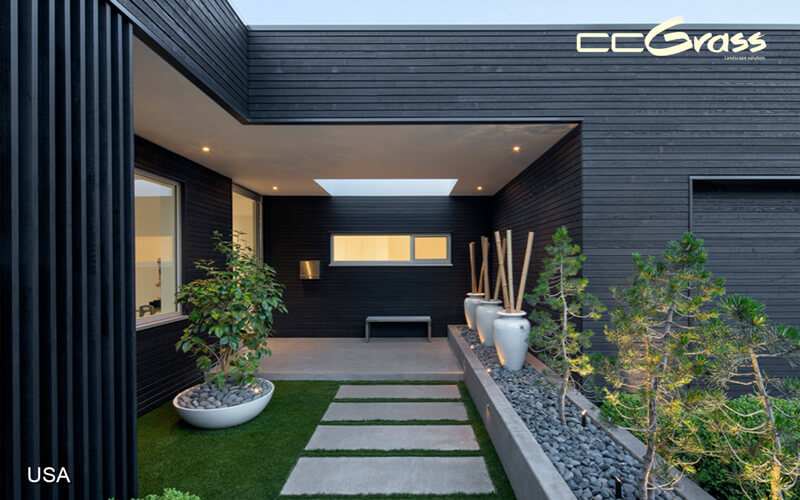 This porch serves as an excellent example of a contemporary landscape, characterized by its clean lines, neat turf, potted plants, and pebble decor, which create a modern look and give a homey feel. Fake grass can withstand heavy foot traffic, making it perfect for a porch area where people often gather and walk around.
Create a cozy balcony oasis with artificial turf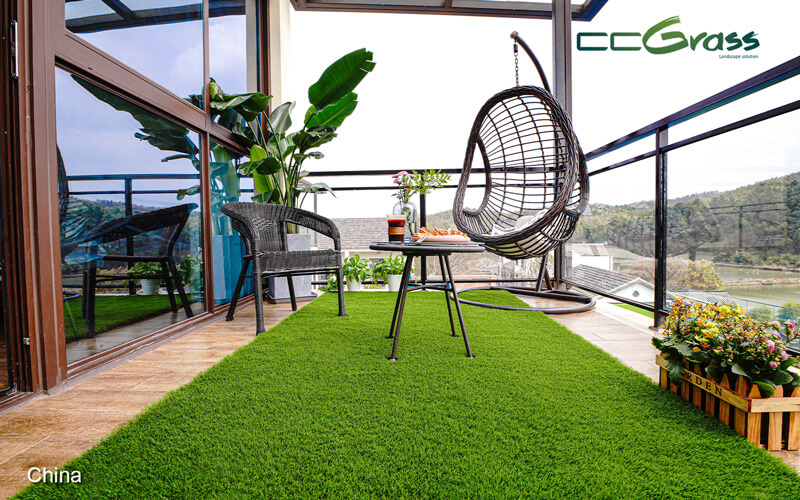 Artificial turf is an excellent choice to make the most of your balcony space and turn it into an inviting and cozy place to relax. With the addition of some potted plants and stylish furniture, a small leisure world can be created for activities such as reading, enjoying a cup of tea, or simply taking in the view.
Artificial grass landscape on the rooftop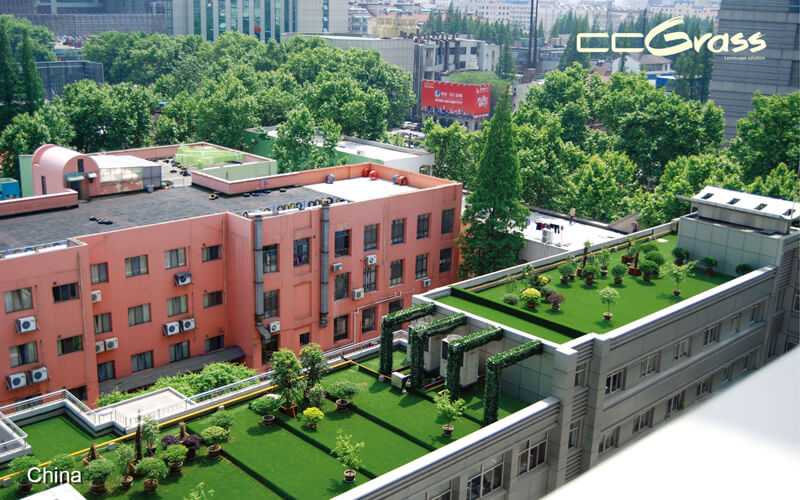 The installation of artificial grass on the rooftop of the apartment complex creates an urban oasis and enhances the building's visual appeal. The lush greenery of the roof turf creates a refreshing contrast to the concrete jungle, offering a peaceful retreat for socializing, relaxation, and exercise, contributing to the resident's quality of life.
Exquisite artificial grass landscape in a hotel's pool area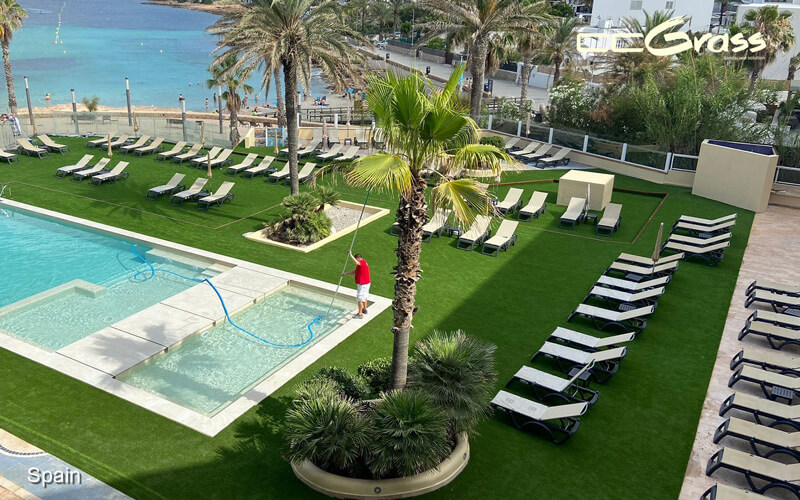 Incorporating artificial grass landscaping ideas into a vacation hotel's pool area is a smart choice. The artificial lawn around the pool provides guests with a more comfortable and hygienic experience compared to traditional concrete or tiles.
The realistic look and feel of the turf ensure that guests can relax and enjoy the scenery without concerns about slipping or getting scraped on rough surfaces.
Stunning artificial grass landmark design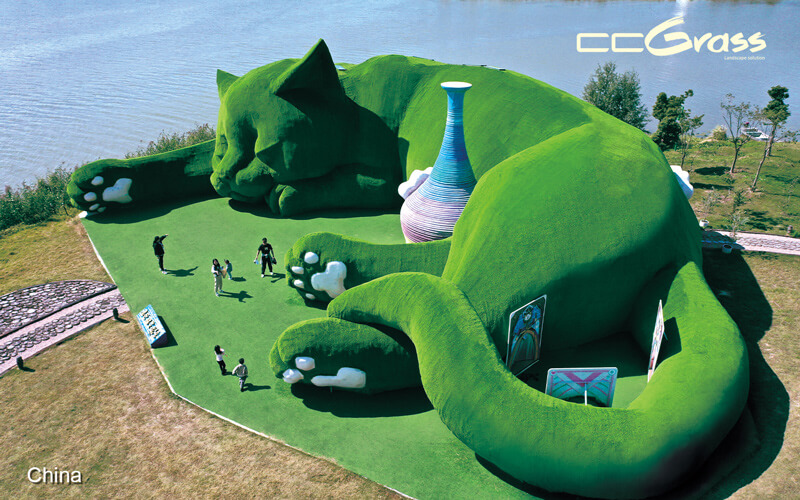 The landmark of Fat Cat Island is a 30-meter long, 8-meter tall giant cat-shaped building designed with artificial grass. The exterior is adorned with CCGrass 100% recyclable PRT series turf, which is soft and easy to shape, perfectly fitting the "cat" surface. Its superior anti-aging performance ensures that it remains lush and green despite exposure to wind and sun.
Explore endless artificial grass landscaping ideas and create your dream space today
If you're feeling inspired by the 12 artificial grass landscaping ideas we've shared in this article, then you'll be delighted to know that there are many more design ideas available in our gallery. Our gallery features a variety of artificial grass installation examples, from gardens to mats. Let's explore together!
Artificial grass is a versatile and practical landscaping option that can be applied in various settings to create beautiful and low-maintenance recreational areas. So why settle for a dull space when you can unleash your creativity and take advantage of the endless possibilities artificial grass offers? Start your journey toward a stunning space today!
Choose CCGrass as your preferred artificial grass supplier
As a premier artificial grass supplier owning three world-leading factories, CCGrass's advantages lie in wholesale and factory direct prices.
Also, we are renowned for our unparalleled expertise in designing and manufacturing top-quality artificial turf products. Our products have been installed in over 140 countries and are trusted by millions of households worldwide.
If you're interested in wholesaling our high-quality artificial grass products or have any questions, please don't hesitate to contact us at 86 25 6981 1666 or email us at [email protected].
Our sales team would be happy to provide you with free samples and quotes upon request. Choose CCGrass as your trusted partner and let us help you with your business!