A Comprehensive Buyer's Guide: Artificial Grass for Rooftop, Terrace & Patio
If your only yard is your rooftop, terrace or patio, you can have beautiful outdoor living space too! Our artificial grass for rooftop, terrace & patio creates a cozy, stylish look that easily transforms an ordinary space into a garden, a mini oasis, adding an organic feel.
So how do you choose the best artificial grass for rooftop, terrace or patio? Below, we've come up with a comprehensive guide to help you learn more about roof grass and find the perfect artificial turf for your roof, terrace or patio.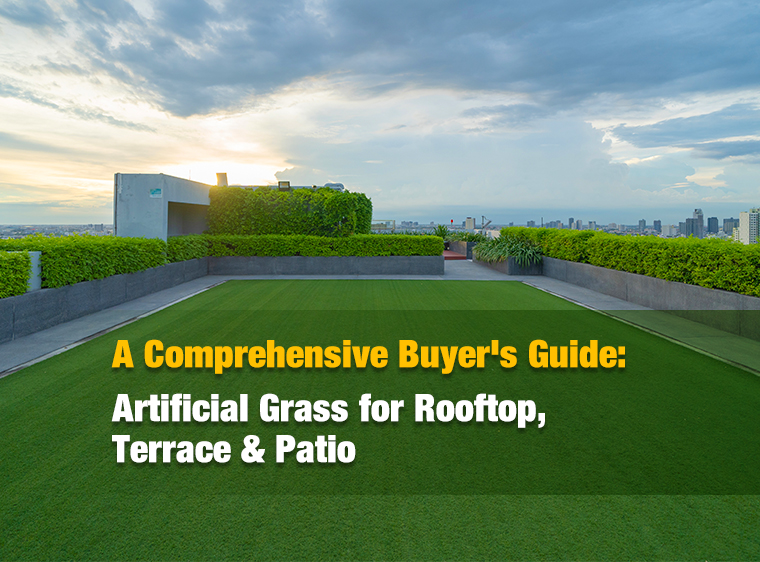 How to choose artificial grass for rooftop, terrace & patio?
Common material of turf for rooftop, terrace & patio
Our artificial grass products for outdoor applications including rooftops and terraces are usually made of the highest quality polyethylene (PE) and polypropylene (PP) yarns for excellent resilience and durability.
Grass height
Typically, the choice of grass height depends on your preference and how you plan to use the lawn. If you like your lawn to look lush and luxury, you'd better choose high-pile (30mm upwards) artificial grass. For areas with frequent usage and high foot traffic, it is recommended to choose short-pile turf.
Face weight
The face weight of fake grass is the weight of the yarn in one square yard of grass. It tells you how much material is used in the face portion of the product. Higher face weight means denser and more durable turf products. Look for products with high face weight to ensure they're durable enough for the job.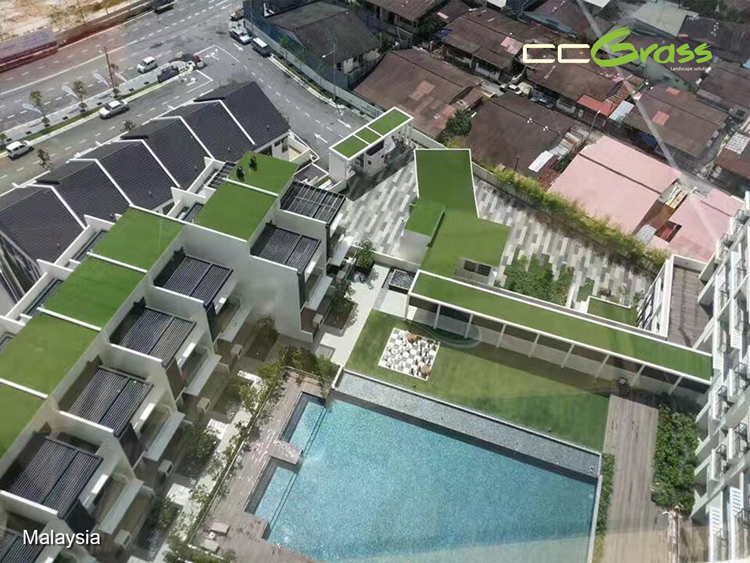 Anti-UV ability
Our artificial grass adopts anti-UV technology that won't fade, so it will continue to look lush and green after years of direct sun exposure. In addition to the usual UVA testing methods, CCGrass also conducts UVB testing simulating outdoor use to ensure product longevity. Our artificial grass for rooftop can last up to 10 years.
Turf backing
The role of the backing is to ensure that the fibers stay where they have been tufted. CCGrass has different backings to choose from – latex, PU, PRT, or RCX. We recommend the PU backing, which is a "hole-punched" backing, waterproof and durable, ideal for tile and concrete floors.
Artificial grass drainage
Don't worry too much, most rooftops, terraces and patios are designed and built with water drainage in mind. And artificial grass has its own very effective drainage solution, such as the "hole-punched" backing mentioned above.
We do not recommend installing artificial lawn in any area where standing water is an issue. Before installation, you need to confirm that there is somewhere for rainwater and other liquids to go.
Benefits of installing artificial grass for rooftop, terrace & patio
Attractive & natural look
Our stylish artificial grass creates a charming oasis where you can enjoy nature away from the hustle and bustle of city life. With multi-tone color, soft and lush, our roof grass looks and feels like real grass, providing you year-round green and turf enjoyment.
Easy and flexible installation
Artificial grass is perfect for roof gardens as you can cut it down to the size and shape you need. Whether it's a round, rectangle or irregular area, synthetic turf can be easily cut to fit any space.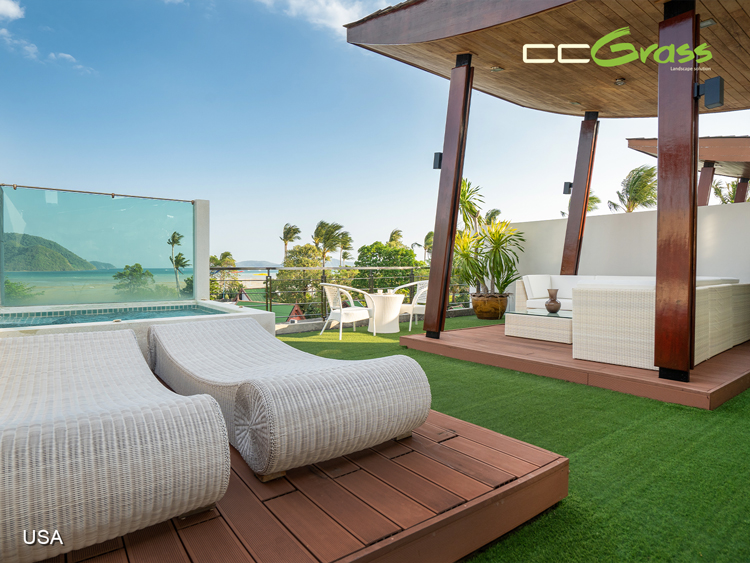 Flame retardant
CCGrass offers roof grass with flame-retardant properties, making it safe enough to protect your family and qualified for commercial use. The fire retardancy test of our turf is conducted by the authoritative laboratory SGS in accordance with the EN ISO 11925-2:2010 fire reaction standard to ensure its reliability.
Truly versatile
Add artificial grass to your rooftop, terrace or patio so there is a new place where you, your family, friends and pets can enjoy outdoor living. Artificial grass on roof protects the roofing material underneath from the bad weather, thus extending its lifespan. Plus, the sound-proof qualities of the turf allow you to party without disturbing the downstairs.
Discover more benefits of artificial grass rooftops on our Roof Turf page.
Recommendations for the best artificial grass for rooftop, terrace & patio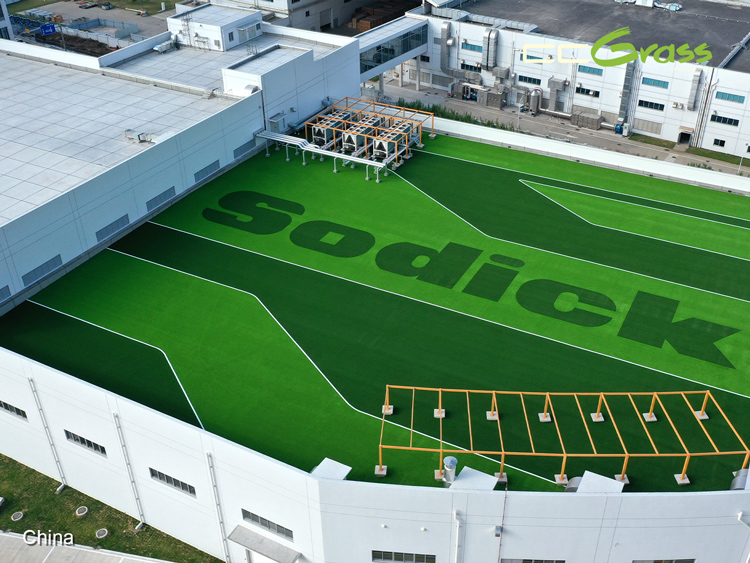 Artificial grass roof for commercial
This artificial grass rooftop offers employees views and entertainment, bringing a new natural look to the company. The roof turf design incorporates the brand name, looks cool and will undoubtedly become the company's iconic landscape.
Model: Roof Grass
Make your rooftop standing out
Enduring good looks
Minimal maintenance
Increase leisure space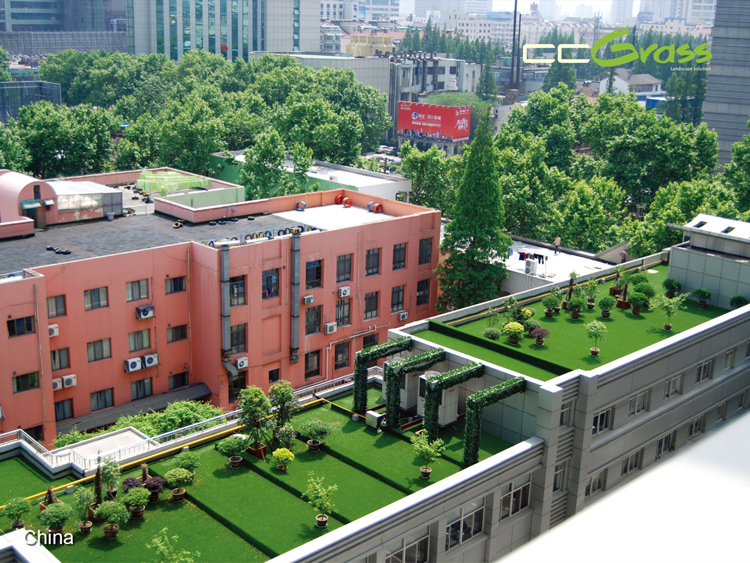 Artificial grass roof garden
The artificial grass garden on the roof of the building brings people together for socializing, relaxing and exercising, creating many advantages for residential and urban life.
Model: Thermalproof Grass
Works as an effective insulator in summer and winter
Excellent standing stability
Strong and durable
Add value to the real estate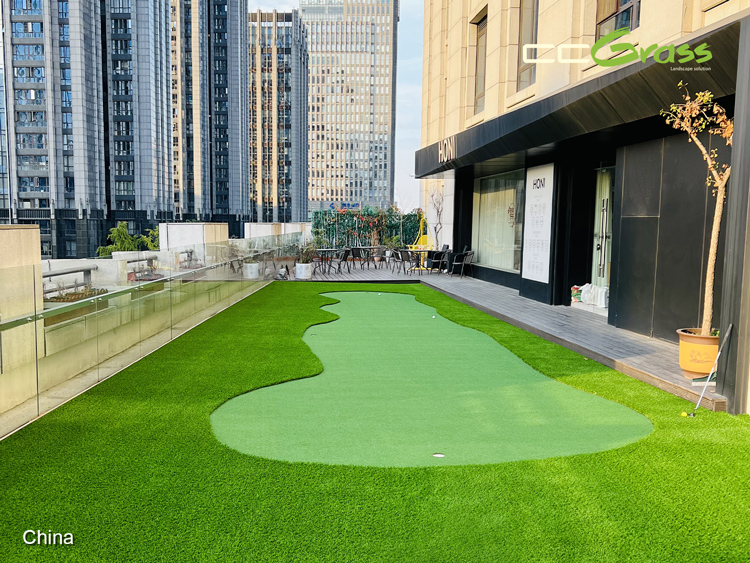 A fancy terrace for golf & leisure
You can customize your artificial grass putting green on the terrace and practice your golf swing anytime, anywhere. Artificial grass for terrace offers many benefits by turning your ordinary space into a lush, green leisure space, as well as a guest entertainment area, pets and children's play area.
Model: Omega 38 & FastPro HF
Great wrinkle resistance and durability
Professional sports product
Realisticgolf experience
Add value to your property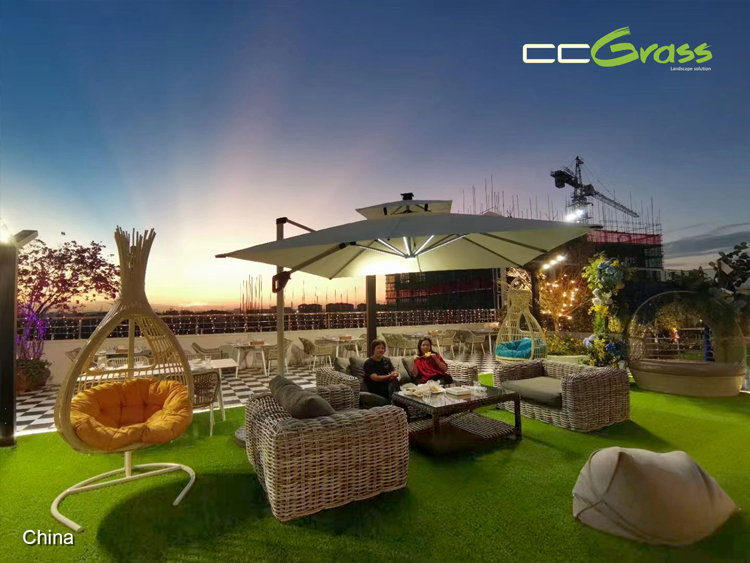 Impressive rooftop garden restaurant
The rooftop terrace restaurant is ideal for hot weather days. Music, open gathering space and impressive artificial grass area make this a popular hangout for locals. Besides that, the rooftop offers a great place to enjoy sunset vistas or star-filled nights.
Model: Bonus
Fluffy and realistic looking
Advanced tufting technique
Cost Effective
Longer service life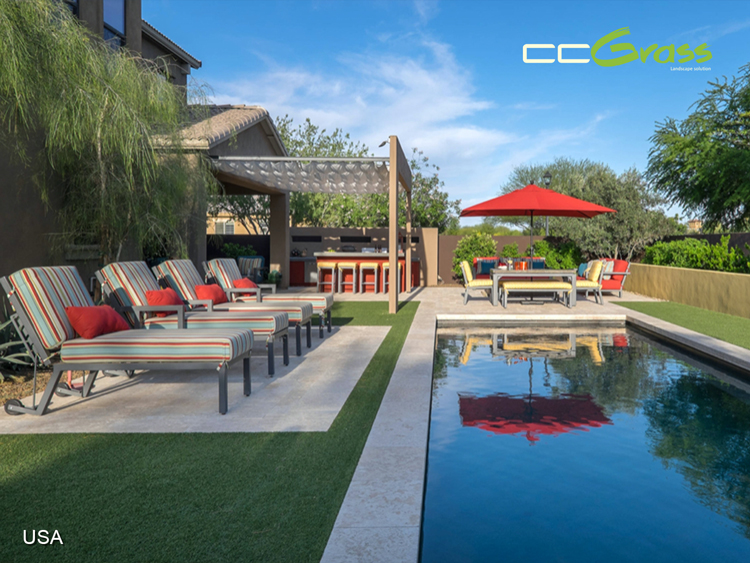 Poolside patio with turf landscaping
The patio boasts a pergola bar, a separate dining area, and a pool with lounge chairs, providing space of room to relax. The artificial grass landscape around the pool offers texture and defines the space.
Model: Classic
Amazing appearance
Superior drainage
Soft and resilient
Antibacterial & mildew proof
Conclusion on choosing artificial grass for rooftop, terrace & patio
If you are lucky enough to live in a big house, or apartment with rooftop, terrace or patio, we recommend that you decorate it properly with artificial grass to transform this mundane area into a haven for outdoor living. The faux grass roof garden can not only amaze your neighbors and guests, but also serve as a peaceful place to unwind after a tough day.
Our artificial grass for rooftop also brings a new natural look to the rooftops of commercial venues, to make functional place for utmost, and has been widely adopted by restaurants, hotels, companies and apartment buildings.
If you've got any further questions about artificial grass for your roof, terrace or patio or would like a free sample, please call us at 86 25 6981 1666 or email us at[email protected].