Artificial Grass Rugs: Top Advantages & 7 Popular Applications (2023 Guide)
Bring your own with artificial grass rugs to lay or play on! These versatile rugs offer the perfect solution for creating a lush green spot anywhere, whether indoors or outdoors. With the realistic appearance of grass and the durability of a rug, they provide a convenient way to transform your patio, deck, RV, or any other area into a bright and inviting space.
In this article, we'll explore the benefits of artificial turf rugs and showcase their endless possibilities through captivating applications that are sure to catch your eye.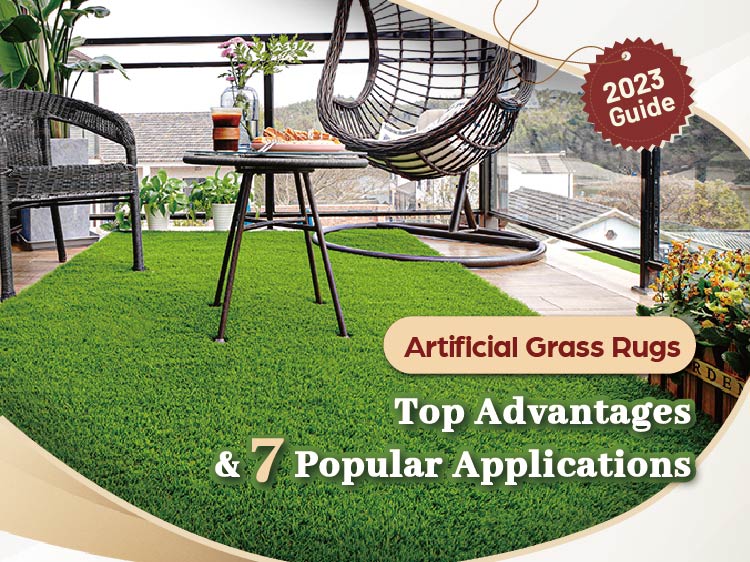 Top advantages of artificial grass rugs
Vibrant and stylish
Artificial grass rugs come in a variety of colors, with lush green shades being the most popular. These vibrant hues create a refreshing and cozy ambiance, enlivening both your indoor and outdoor spaces. The turf rugs effortlessly enhance any setting with a trendy, nature-inspired aesthetic, infusing a touch of elegance.
Kid & pet friendly
Children and pets can enjoy a safe and comfortable experience on artificial grass rugs. These rugs are non-toxic, allergen-free, and pest-resistant, suitable for sensitive individuals and to ensure a hygienic option for homes. Fake grass rugs offer a practical and worry-free solution, as they withstand life's unpredictable messes caused by little ones or furry friends.
Easy to clean
Cleaning artificial turf rugs is a breeze. You can easily rinse the grass rug with a hose to remove debris and restore its vibrancy. Alternatively, shaking the rug vigorously helps dislodge loose dirt and debris.
For more stubborn stains, spot cleaning with a mild detergent and water solution is effective. These simple cleaning techniques ensure that artificial grass rugs remain fresh, debris-free, and visually appealing.
Waterproof and non-slip
Artificial grass rugs are water-resistant, thanks to the use of durable materials that do not degrade when exposed to water. They also often come with a non-slip backing, ensuring safety and stability, especially in high-traffic areas.
Equipped with a perforated or porous backing, turf rugs allow for quick water drainage, preventing the formation of puddles or stagnant water and creating a safer environment.
7 popular applications for artificial grass rugs & mats
After exploring the highlights of artificial grass rugs, let's now delve into where these versatile rugs can be used to transform and enhance the surroundings.
Turf rugs for picnics and camping trips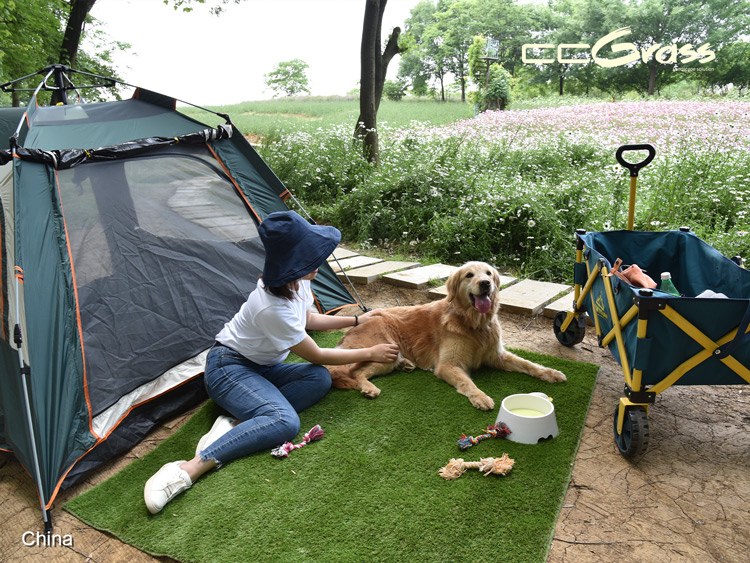 Turf rugs serve as fantastic companions for picnics and camping trips, offering a practical and comfortable surface to relax and enjoy outdoor activities. These artificial grass rugs provide an alternative to traditional blankets or mats, as they are durable, moisture-resistant, and can be easily folded and stored in your car.
Whether you're having a picnic in the park or setting up a cozy outdoor living room at your campsite, a turf rug provides a clean and convenient surface.
Elevate your outdoor space with grass rugs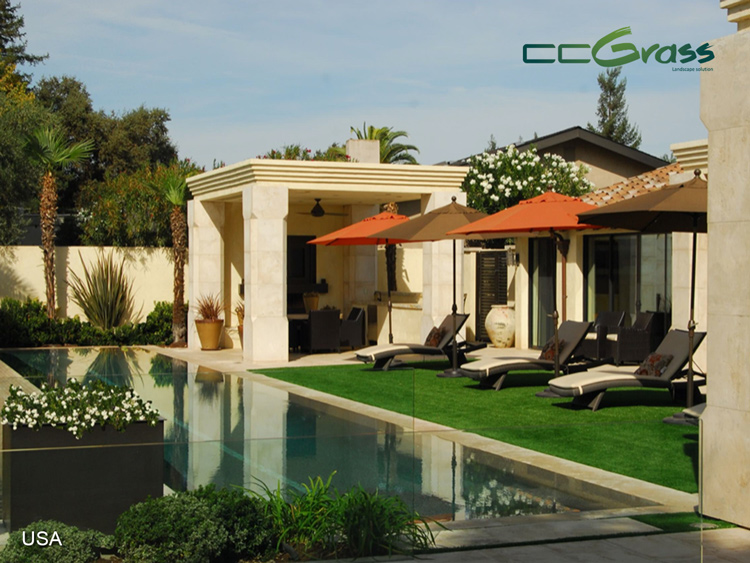 Artificial turf rugs can easily add a touch of extra green to your outdoor space. Enhance the allure of your beloved patio furniture or transform your cozy balcony garden by incorporating an artificial turf carpet as the ideal final flourish.
If you're looking to enhance the appeal of your pool area, consider placing an artificial grass rug next to it to create a safe and comfortable seating spot. For added convenience, CCGrass offers innovative RCX backing that ensures 100% permeability, enabling fast drainage and keeping your turf resistant to mold and mildew.
Versatile artificial grass rugs enhance home corner
You have the option to choose synthetic grass rugs in various lengths, ranging from short and streamlined blades that give a modern and sleek appearance, to long and fluffy blades that provide a luxurious sensation underfoot. Pair your grass rug with cozy throw pillows and sunlight streaming through the windows, creating a tranquil oasis for you and your family to relax and unwind.
Moreover, fake grass rugs are ideal for workout and fitness areas as they offer a comfortable and sound-absorbing surface for exercise. These rugs are incredibly versatile, effortlessly bringing a natural aesthetic into any room and transforming dull corners into vibrant and visually appealing spaces that breathe life into your home.
Paw-friendly artificial turf mats for pets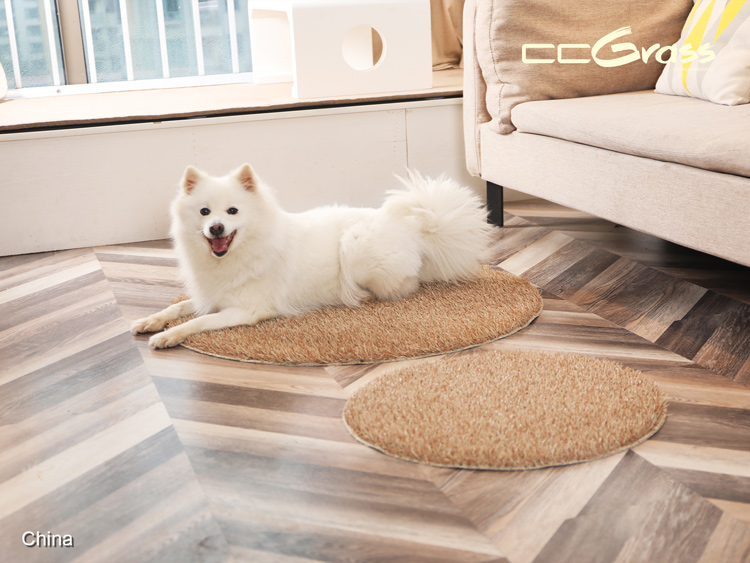 Pets deserve a dedicated space, even if it's limited. Opt for paw-friendly artificial grass mats that offer a soft and comfortable area for your furry friend. These mats are gentle on their paws, enabling them to lounge, play, and explore. Thanks to their durability, they can withstand your pet's playful antics without any issues.
Anti-slippery fake grass door mat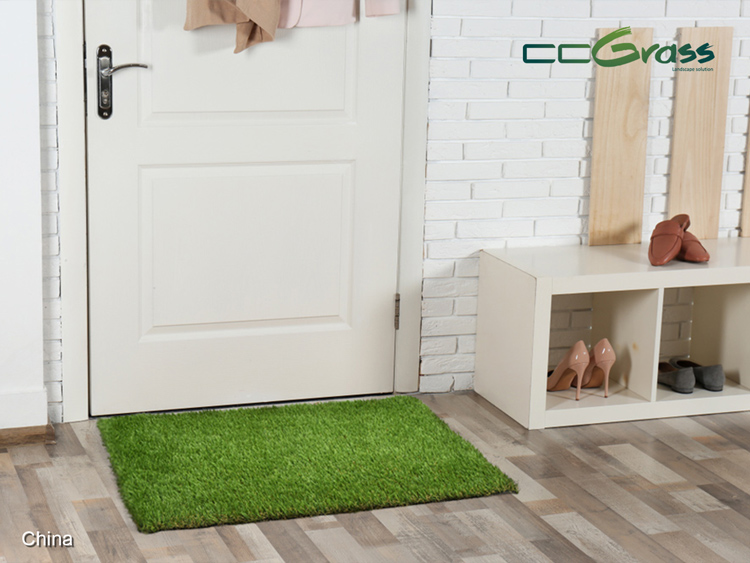 Fake grass door mats offer a blend of aesthetics and practicality. Their dense, textured surface effectively removes dirt from shoes, promoting indoor cleanliness. These mats provide stability and safety in wet conditions due to their non-slip backing. Besides, they are hard-wearing, enduring heavy foot traffic while maintaining good condition.
Artificial turf rugs at events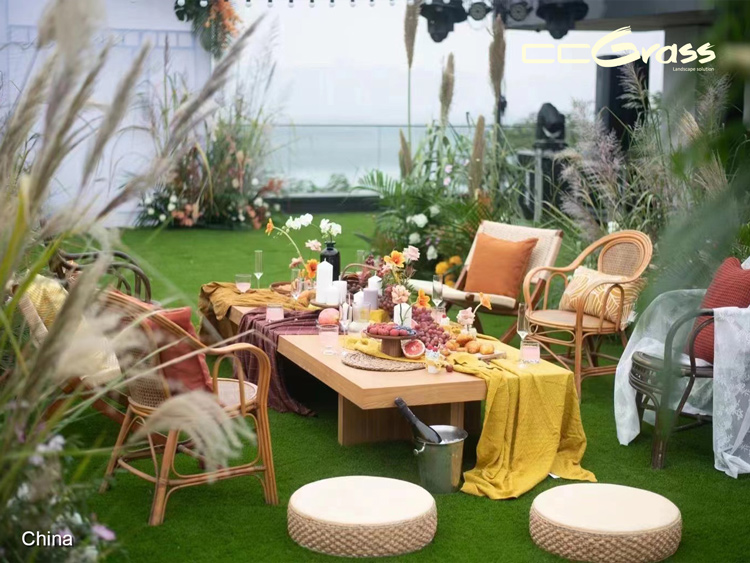 Artificial turf rugs infuse events with a unique and inviting ambiance, perfect for small outdoor gatherings, backyard parties, or corporate events. These rugs serve as comfortable flooring, offering a soft surface for guests to walk, stand, or sit on.
With their lush green appearance, they introduce a natural and refreshing element to outdoor settings. Additionally, artificial grass rugs boast durability and weather resistance, ensuring they can withstand the foot traffic and unpredictable weather conditions that frequently accompany events.
Beyond the floor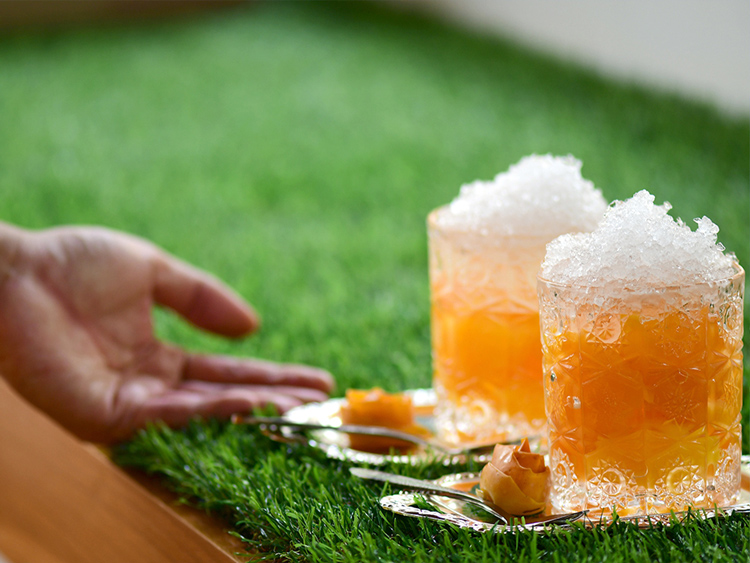 Synthetic grass rugs offer versatile options beyond traditional flooring, allowing for creative applications in different settings. With some creativity and smart cutting, you can transform them into captivating wall or table decorations. These innovative uses bring a fresh, natural vibe to offices, retail spaces, or event venues.
Discover CCGrass & our products
For more information on the products featured in these application cases, visit our Artificial Turf Mat page and explore our wide range of options. Find the perfect artificial grass rug to to expand your sales category and product line.
As a premier artificial grass landscape supplier owning three world-leading factories, CCGrass's advantages lie in wholesale and factory direct prices. Call us at 86 25 6981 1666 or email us at [email protected] to ask for free samples now!