Discover the Projects of Artificial Grass for Playground
Playgrounds are great places for children to play and use their imaginations, and parents always want their kids to have fun on safe and clean surfaces. There are a variety of surface options for children's playgrounds, including rubber, concrete, wood floors, real grass and artificial turf. More and more playgrounds are choosing to install artificial grass as it is safer, more aesthetically pleasing and more cost-effective.
Key benefits of artificial grass for playground
Safest play surface for children
For a start, children are less likely to trip or suffer accidents on flat and non-slip surfaces. A high-quality artificial turf surface will make it safer for children to play on. Synthetic turf surface absorbs impact better than other surfaces, so it is far preferable that a child falls on artificial grass than on a hard surface such as cement or wood floors. What's more, you can also choose to install high-performance shock pads under the artificial turf for added cushioning.
All our artificial turf products pass the Health Tests including REACH, EN71-3, ASTM, DIN, etc., which can prove our grass doesn't contain any harmful components, such as heavy metals or substances of high concern. Let our children play on the grass surface free of worry.
Unparalleled durability
Specially designed for long-term and outdoor application, our artificial turf for playground applies the highest level of UV defense ability to ensure that the turf won't fade and damage in the summer heat, while great stability avoids cracking during the winter.
Featured grass fiber type
FastPro HF series is our recommended artificial grass for playground that is 100% PE curly monofilament with dense stitches. The thick and flat artificial grass surface creates a full, compact and extremely durable playground area, desirable for all kinds of outdoor and indoor playgrounds.
Colorful, creative and engaging playgrounds
Artificial playground turf has the look and feel of natural grass, maintaining the natural beauty of the outdoors in all seasons, so that your children can always feel connected to nature.
CCGrass artificial grass for playground is available in a variety of colors to fulfill the diverse needs of different projects, allowing you to creatively design your playground space. We also offer artificial grass designs, assorted patterns and hopscotch games that can be inserted into playground surfaces.
A cleaner play area surpasses natural grass
Mud and grass stains are inevitable when playing on real grass, and there are some potential threats. There may be chemical residues such as fertilizers and herbicides on the natural grass surface, while natural plants themselves may become allergens for some children, let alone common insect bites.
Playgrounds paved with fake grass will be free from all these mud, chemicals, allergens and insects, providing cleaner, healthier play areas for kids.
Featured projects using artificial grass for play areas
With our quality and versatile artificial grass products, CCGrass is able to provide you with the best playground turf solution. Our playground turf has been chosen by numerous clients, applying for both residential and commercial facilities, and bringing the safest and most practical playground solutions.
Artificial turf for playground in commercial areas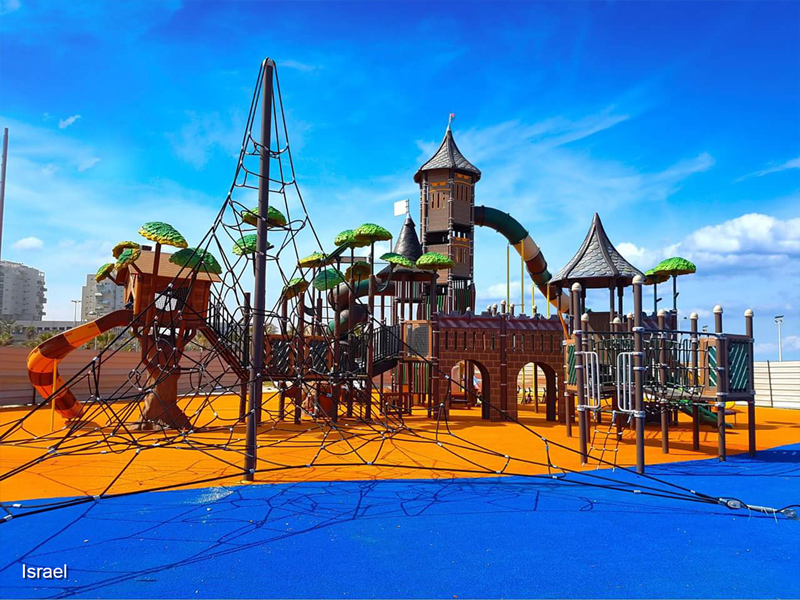 Our Fast Pro HF is a great choice for commercial playgrounds, offering a more durable and easier-to-maintain playing surface than any other option available. This playground turf product comes in a variety of colors to help create different theme playgrounds, like blue is perfect for a Marine theme, and white creates the feeling of a winter wonderland.
Model: FastPro HF
• Multiple Colors
• 100% PE curly monofilament
• Top performance versatile turf
• Extreme UV stability and durability
Artificial grass for playground in backyard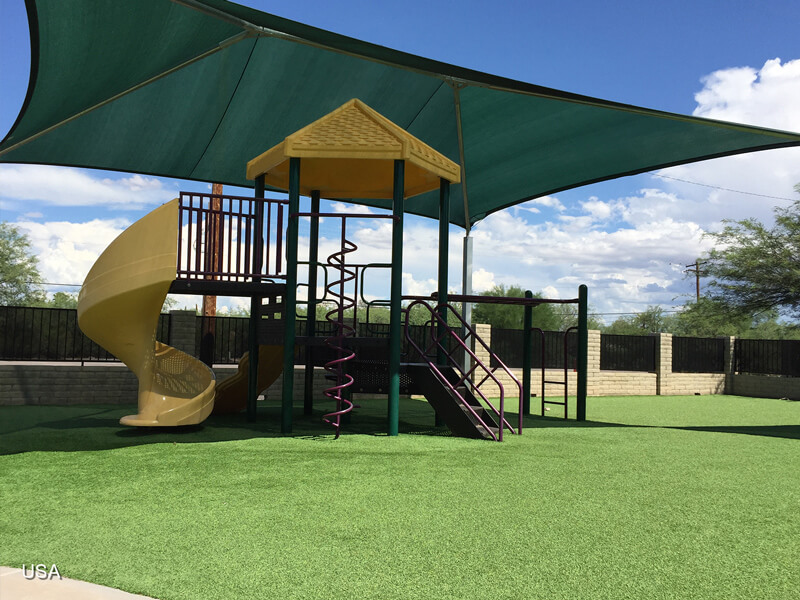 You can easily create a beautiful and comfortable artificial grass play area in your backyard. There is no problem in installing your children's favorite playground equipment, such as swings, climbing frames, slides, etc., on the artificial grass surface.
Model: Classic
• Special C-shaped with Dual-Arch structure
• Vibrant green and plentiful thatch layers
• Soft and resilient surface
• Pet-friendly artificial turf
Artificial grass for playground in schools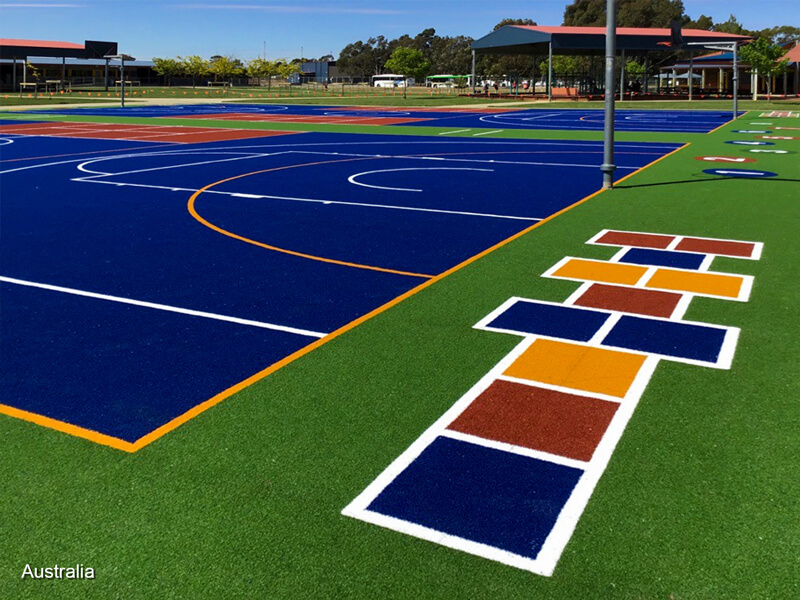 By adding extra play lines, a multi-sport pitch can cater for several different sports. Our multi-purpose turf systems have been used by a large number of schools, for they maximize function and minimize cost.
Model: FastPro HF & Portable Hopscotch
• For hockey, tennis and recreational sports
• Vivid colors and pattern
• Hard-wearing yet soft
• Children's favorite playground
Artificial turf playground in nursery schools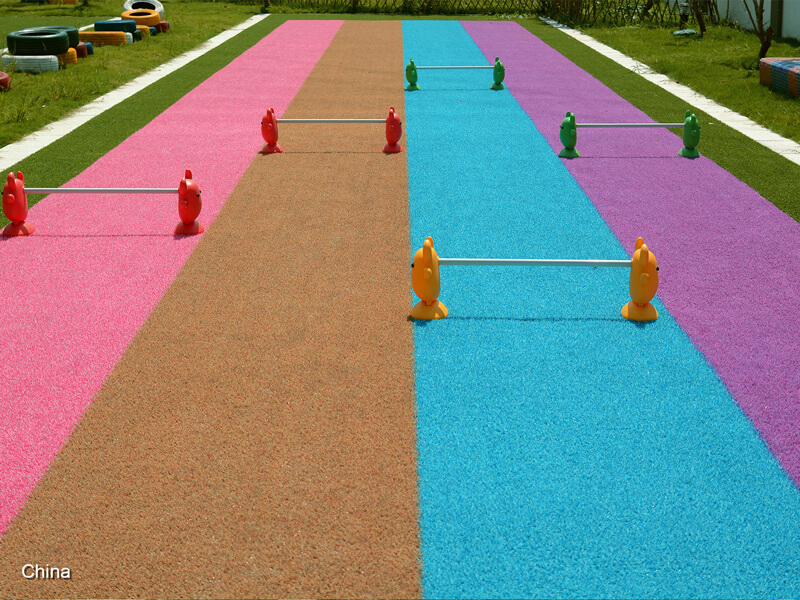 Vibrant, colorful rainbow runways capture kids' attention and enhance their play experience. Our artificial grass for playground has a life span of up to 10 years and can be used continuously throughout the year yet maintains a good condition.
Model: Rainbow Track Grass
• Bright and cheerful colors
• Soft and skin-friendly
• Customizable
• Terrific drainage
Artificial grass for indoor play areas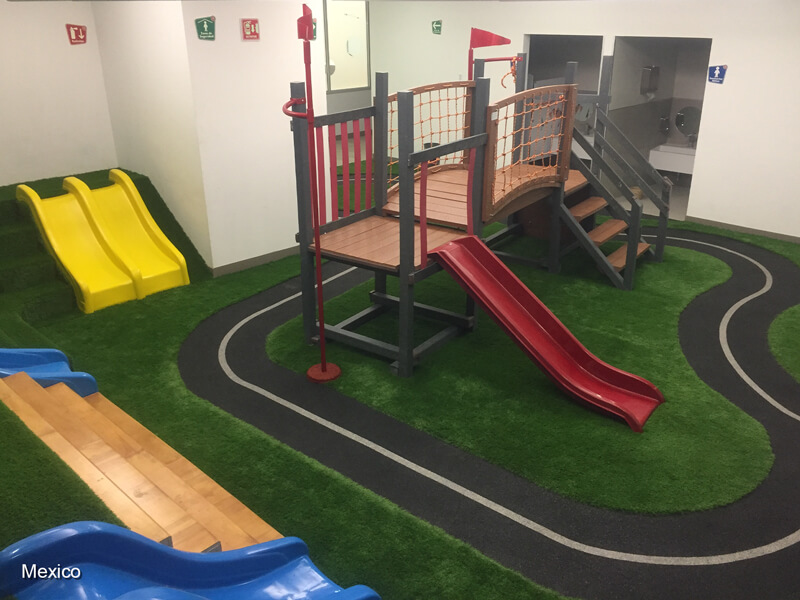 One of the great things about artificial grass for indoor play areas is that it's much quieter than tile and wood floors and won't disturb neighbors when the kids run around. You can use artificial grass to create feature spaces, such as decorating a room as a charming forest.
Model: YEII
• Unique fibrillating structure
• Color choice
• Soft touch
• Antibacterial