Discover the Installations of Artificial Grass Putting Green
Artificial grass is great for those requiring a long-lasting and cost-effective solution. Highly durable, flexible and adaptable to any given situations, it is found that an increasing number of sports fans, clubs and schools are starting to invest in installing artificial sports surfaces.
Golf is a challenging but rewarding sport that requires a lot of practice and patience. Artificial grass putting green can withstand intensive use, allowing players to practice without worrying about the quality of the surface. On top of that, quality artificial putting green turf is designed and manufactured from real putting green experience, offering unmatched realism in terms of appearance and performance.
Advantages of installing artificial grass putting greens
Easy installation
Just choose an existing area no matter indoors or outdoors such as your backyard, garden, patio or balcony and roll out the grass! Then, your putting green surface is ready. Begin your training on the lush and natural-looking artificial grass putting green all year long. You will no more need to go to professional sport club or golf course every time, excellent for the golfers to practice their golf anytime and anywhere.
Virtually maintenance free
Artificial grass putting greens have no mud or puddles, providing excellent appearance and putting experience all year round without spraying medicine, irrigation, and mowing, which is environmentally friendly and saves the expensive maintenance costs of natural greens. You'll have more time to focus on having fun and honing your golf skills.
True ball roll for great playability
Our putting green turf FastPro series is perfect for both professional and amateur golfer to practice their putting techniques. It features the latest technology texturised monofilaments with dense stitch for a true and consistent golf ball roll on the surface. You can design the turf surface according to your personal preference to match your preferred speed.
Increase home value
The aesthetic appeal of a perfectly manicured putting green can increase your pride in your home and add value to your property. This is a great way to increase the sale price of your home if you were to move. Potential home buyers often view artificial turf as a value-added and household luxury.
Different applications of artificial grass putting green
CCGrass artificial grass putting green can be installed virtually anywhere, no matter the size of your area. We offer premium putting green turf solutions for golfers of any skill level, whether you're looking to improve your short game or create a fun recreation area in your house or office, here are a few application scenarios for reference.
Backyard putting green
Installing an artificial grass putting green in your backyard means you can improve your golf skills at home without having to drive to the golf course frequently and pay a lot of money. You can customize an artificial putting green to turn your backyard into your own personal putting green oasis. Backyard putting greens also allow you to enjoy golf with family and friends, making you the toast of your neighborhood.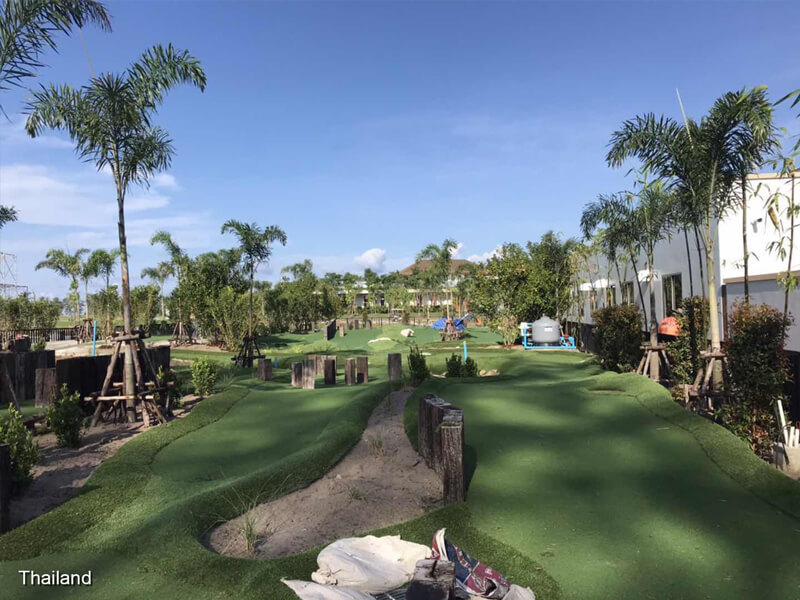 Professional synthetic turf golf courses
When it comes to professional-level synthetic putting greens, the design and installation are particularly important. The golf course engineers putting greens by creating slope variations and undulating surfaces. Our artificial grass putting greens are hard-wearing and durable with high UV resistance, making them extremely cost-effective for their long service life.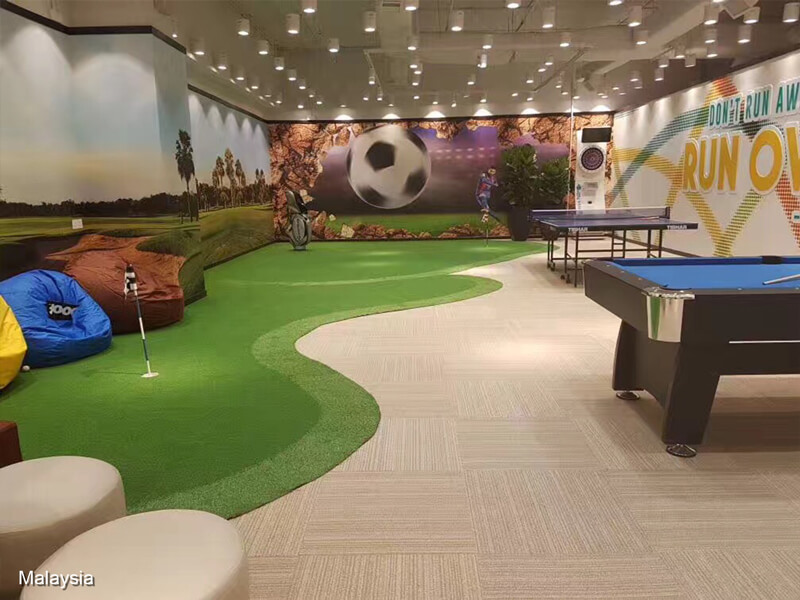 Artificial putting green for commercial areas
We provide the perfect artificial turf putting green solution for commercial properties such as office spaces, residential complexes, sporting goods stores and more. For offices, this is a great way to boost company morale and bond with colleagues over a lunch break or afternoon tea. Artificial grass putting greens can be installed indoors and outdoors, and using them in sporting goods and golf stores can impress customers and allow them to test products before buying.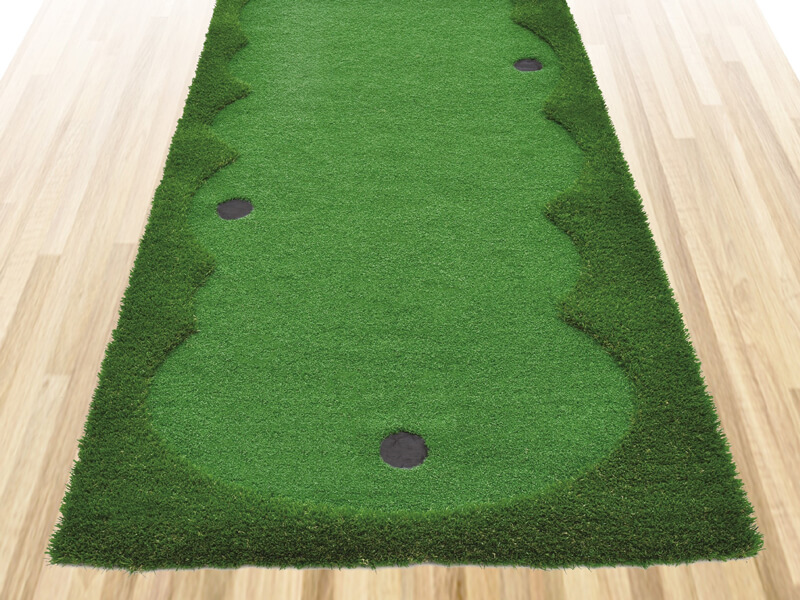 Portable golf putting mat
Realistic portable artificial grass putting greens that can be rolled out indoors or out so you can practice your putts almost anywhere. Our golf putting mat is versatile for home practicing, backyard sporting, family entertainment, and office relaxing. We offer delicate patterns and shapes in various sizes, which can perfectly realize your customization requirement.