Artificial Turf Landscape
Landscape leisure artificial turf is widely used, suitable for indoor decoration, garden landscape and building construction. Artificial turf is the best substitute of natural turf. Regardless of seasons, with artificial grass you can enjoy the green of spring forever. With artificial turf, no mud and dirt will annoy you.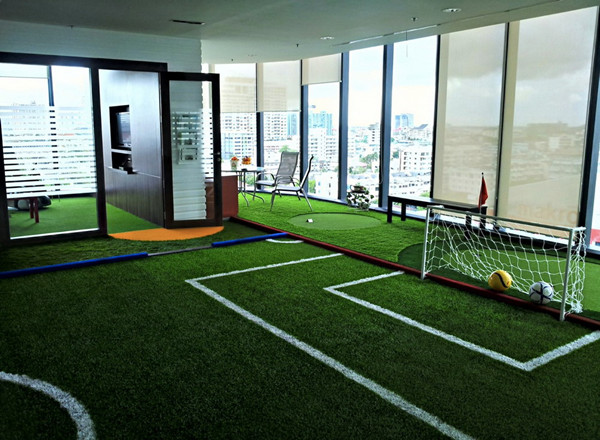 The modern life pressure asks for relax. The artificial grass landscape can not only make people feel comfortable, but also do help establish environmental society. The scope of application of artificial grass is very wide, and in future the use will become wider and wider, even into every indoor use. In fact, the construction of artificial turf stadium has a history of several decades, with the development of science and technology and sports, artificial turf have become the best partner of professional and amateur sports venues, it not only can be used in the court, but also can be laid on the track and field sports venues, is a multifunctional paving material. The resulting turf is a batch of artificial turf, artificial turf basketball courts, tennis courts, artificial turf stadium gate.
There are a lot of city constructions using green lawn. The lawn not only beautify the city but also bring relax for people in the city. With a very wide range of applications, in the family, community, stadium, tennis court, stadium gate, shopping malls, besides, artificial turf has good integrity, strong drainage, long service life, and low maintenance cost.