Artificial turf basic knowledge for landscaping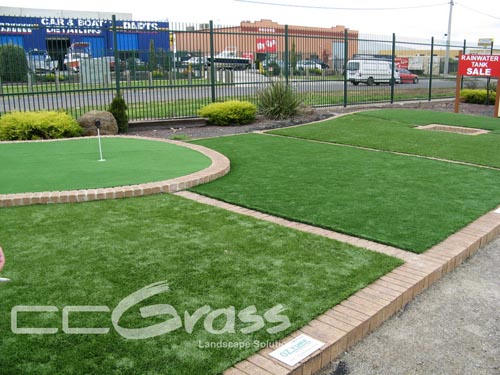 As we all know, artificial grass is environment-friendly. With the development of nowadays technology. it is also a symbol of living condition. Traditionally, such turf is a great solution for outside sport fields, especially those areas where professional and international activities are held. The synthetic turf is also popular because of varieties of advantages, easy installation and longevity.
Need less maintenance and water are two overwhelming advantages over natural grass for us to know.
With less maintenance, your cost, energy can be greatly saved. So, various football fields, hockey courses, most outside tournaments turn to artificial turf. If you have residential artificial turf, your kids and your pets will also love it, for the soft and clean appearance. When it comes to water, fake lawn complies with the development trend at the time of water absence. It has been proved as a very successful solution in domestic and international countries.
Easy installation.
Waiting natural grass to grown green requires patience and when it is winter, our yard will turn to bare field. To solve this matter, replacing artificial turf landscape is a better choice. Nowadays, artificial turf has rather easy installation steps. You just need to weight your budget to prepare the types and color of new turf. During the installation, pay attention to lawn edge, where boards are suggested to be applied to make grass edge perfect. In order to improve drainage function, pea gravel, crushed granite should be laid under your turf. Moreover, use weed barrier or some weed killer to prevent weed popping up. Then, cut proper size and shape turf carpet to fit the space. You can make it with the instructions.
Longevity.
CCGrass turf surface has been known to last for up to ten years. Equipped with high quality and sophisticated technology, synthetic turf is weather, temperature, sun, rain resistant. Besides, rigorous test and UV treatment make synthetic turf no fade and long lasting if use properly.
Kids and pets security
Synthetic turf is so realistic and soft, very similar to natural grass. Generally, kids and pets can't realize the difference between real grass and artificial turf. They play on its surface and then react with fake lawn. At this time, you should do the cleaning and disinfecting job well. New lawn is also required to disinfect to kill any bacterial if you have a concern.
For further information on artificial grass for landscaping, please click the following link and contact us: https://www.artificialgrasslandscape.com/contact/