Artificial Grass Can be Good for Environment
With China's accelerating environmental governance and environmental construction, people's awareness of environmental protection is increasing. Because the environment, economic development and people's physical and mental health are closely related, the green environment has gradually become the people's crucial pursuit. Artificial grass carpet will become the first choice. As the producer of artificial turf, CCGrass is a professionally engaged in the design and construction of artificial lawn landscape, artificial golf greens, artificial turf for athletic field and playground turf. The production of artificial grass carpet has been praised by countless families. Since the company founded, we have accumulated great manufacturing and installing experience. Our production of artificial grass carpet all adopts high-quality raw materials, so they have real appearance, pure color, and are with the advantages of long service life, but with competitive price.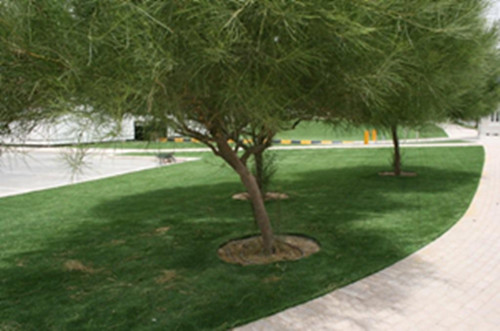 Artificial grass material adhere to the principles of environmental protection, it is good at water permeability, laying on hard soil or concrete on the basis, you do not need to be afraid of any cracking, delamination, and they are really simple and economic. Filled with quartz sand to protect the grass, the grass will be more durable.
Artificial turf has the appearance of bright green, vivid for four seasons, and have good drainage properties, long service life, easy maintenance and low cost. There are a lot of city constructions using green artificial lawn, not only beautify the city but also make people living in the city feel relaxed.