10 Surprising Ways to Use Indoor Artificial Grass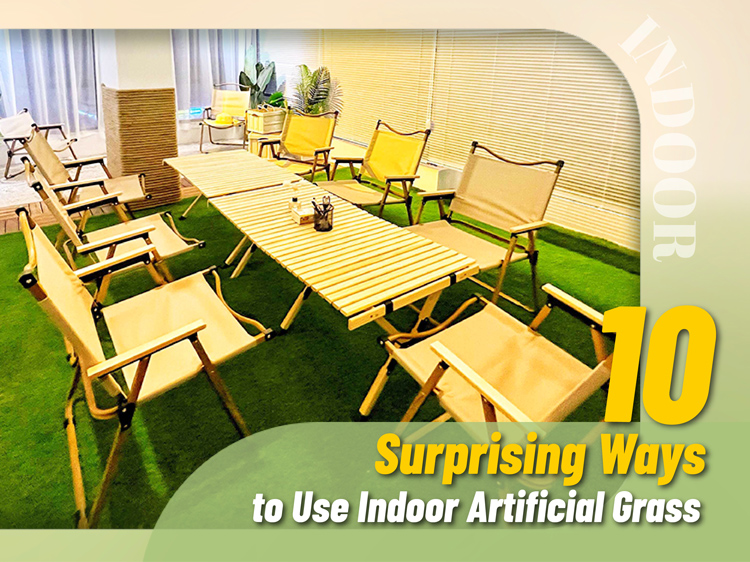 Artificial grass is an excellent option for adding a natural touch to your indoor spaces while keeping maintenance low. In this article, we'll explore 10 creative and inspiring ways to use indoor artificial grass, which can transform both residential and commercial spaces.
Whether you're a homeowner, an interior designer, or a business owner, these ideas are sure to spark your imagination. From creating a cozy reading nook to designing immersive displays, the possibilities are endless with indoor artificial grass. So let's dive in and discover how you can bring a bit of the outdoors inside!
Indoor putting greens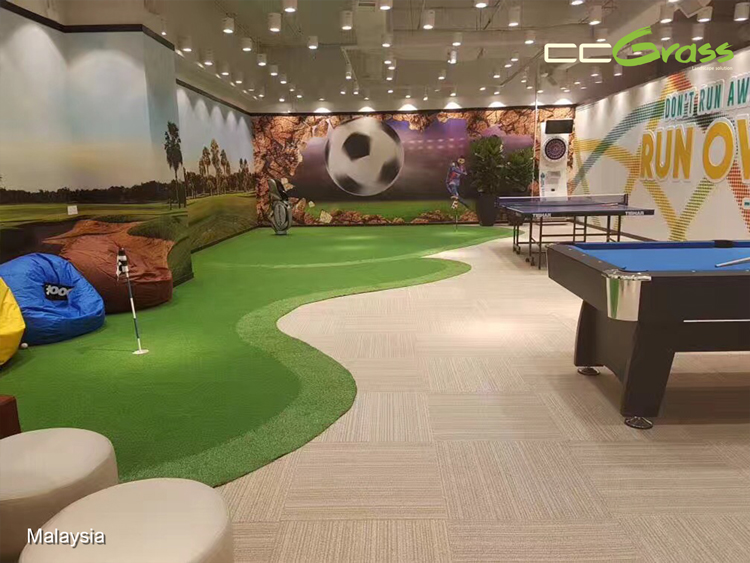 Artificial turf indoor putting greens are a versatile and entertaining addition to both commercial and residential spaces, offering endless fun whether added to a corner of a home or an entertainment venue.
Indoor putting greens are great for improving golf skills and spending quality time with friends and family. Plus, they can be enjoyed all year round, no matter the weather outside. They come in various customizable sizes and styles to fit any space and complement any decor.
Gyms, fitness studios & health clubs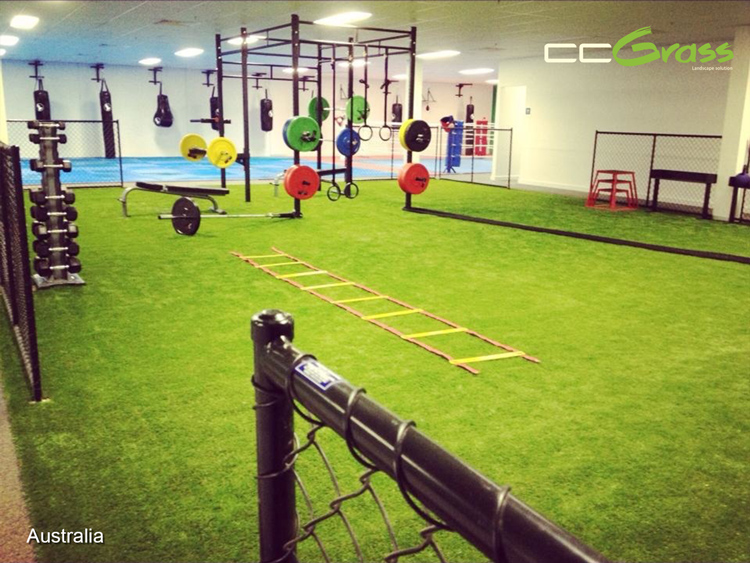 Synthetic turf is an ideal gym and fitness studio flooring option for its durability, shock absorption, and aesthetic appeal. It reduces noise and protects the floor from heavyweights, making it perfect for high-intensity workouts and weight lifting.
Its soft and smooth surface is also suitable for body-weight exercises and stretching. Gym owners can choose from various colors and styles to match their facility and even add their logo to showcase their brand.
Office and workspace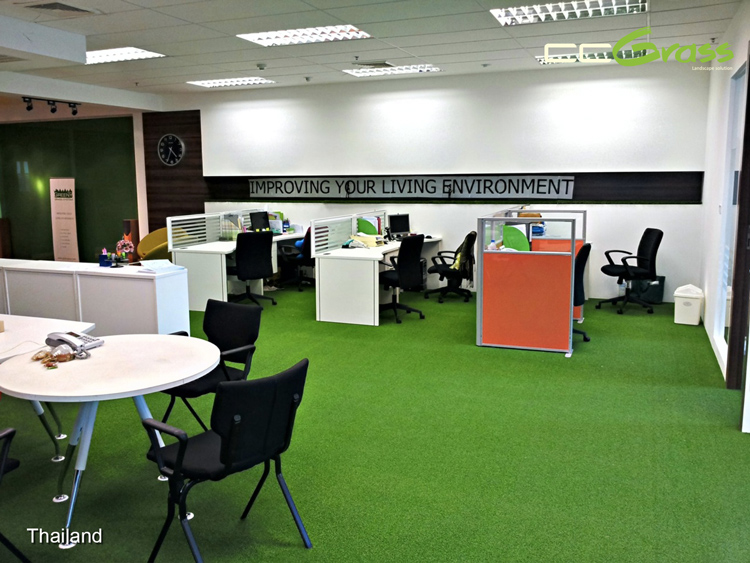 Indoor artificial grass is an innovative option for creating a unique and lively workspace. By providing a fresh, natural atmosphere, employees' morale can be boosted, leading to increased inspiration and relaxation.
Additionally, it helps to reduce noise levels, resulting in a more comfortable work environment. To withstand heavy foot traffic, it is recommended to select artificial turf with a short pile height as it will retain its shape over an extended period.
Dress up your walls with artificial turf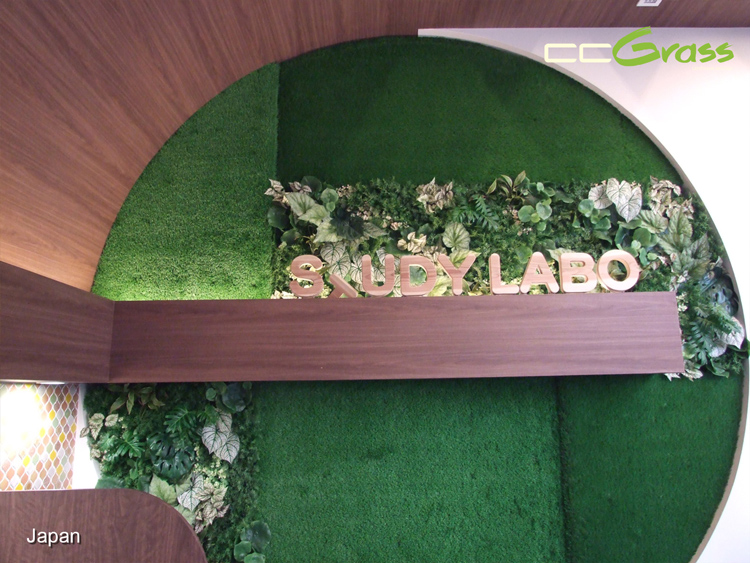 Synthetic turf can serve as an eye-catching and memorable wall covering for commercial spaces such as companies, shopping malls, and restaurants. It can create a welcoming and relaxing ambiance, adding a touch of nature to the environment.
Incorporating brand-specific elements into the turf design can also reinforce the brand image and improve recognition among visitors.
Flooring for a vacation hotel room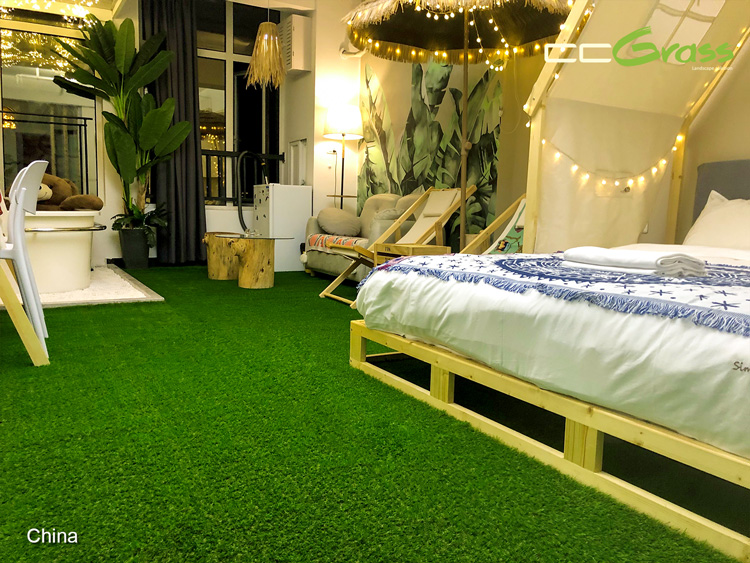 If you're seeking to elevate the ambiance of your vacation hotel room, you may want to consider the distinctive and creative option of using artificial turf as flooring. This choice provides a natural and rustic look that's perfectly suited for a cabin or rustic-themed bedroom.
The faux grass texture and verdant hue lend a fresh and inviting feel to the space, making it an ideal choice for those who appreciate the beauty of nature. Moreover, artificial turf is an extremely practical option, offering durability and easy maintenance.
Mini balcony oasis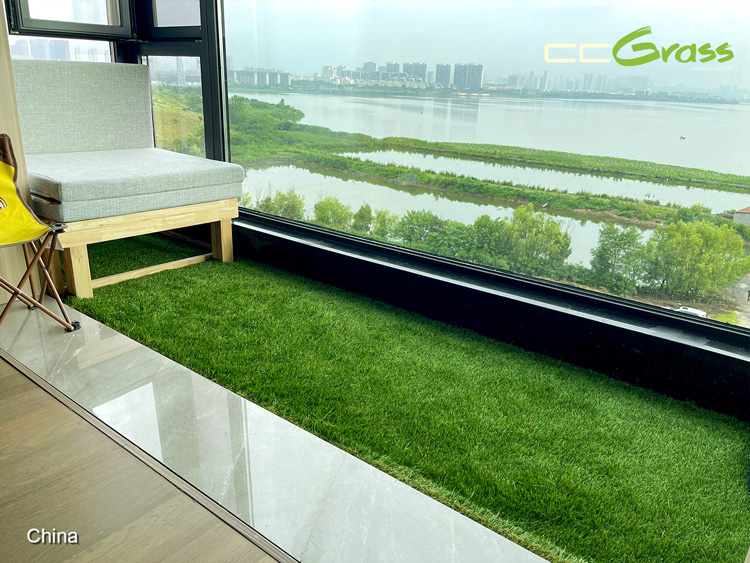 Transform your balcony into a low-maintenance and durable mini oasis with synthetic grass. Create a soft and green surface that is comfortable to walk on, and add the right decor and furnishings to make your balcony a cozy and inviting area to relax and unwind.
Don't let your balcony go to waste – use indoor artificial grass to turn it into a functional and enjoyable space.
Indoor pet mats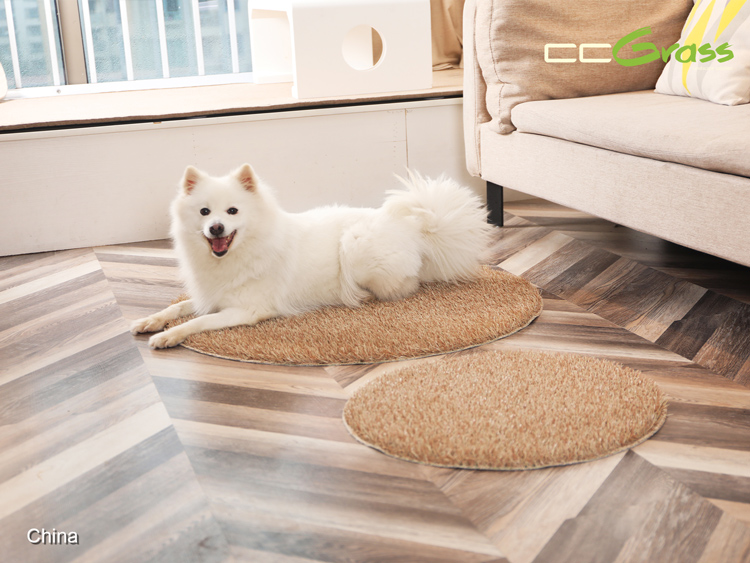 Artificial grass pet mats offer a convenient and durable solution for indoor pet areas. With various sizes and colors available, you can easily find one that suits your pet's size and complements your interior design.
The grass-like texture encourages pets to play and unwind on the mat, and it can endure wear and tear, making it ideal for pets that love to scratch or dig. Cleaning is a breeze, as you can easily rinse the surface with water to remove any dirt or pet hair.
Unique home decor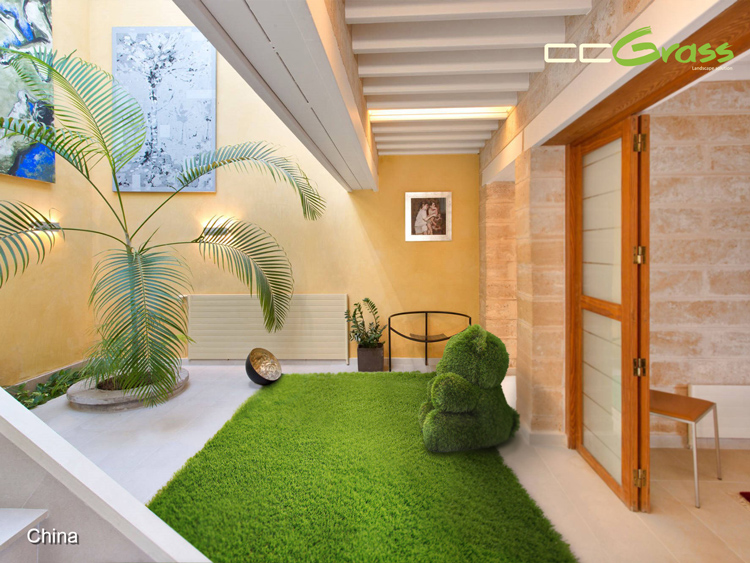 Incorporating artificial turf into your home decor is a creative way to improve your interior design. One idea is to make cute plush toys or dolls covered in artificial grass. The grass-covered ornament can add a playful touch to any room and look great when paired with a turf rug.
It creates a cozy and inviting atmosphere that your guests will love. This unique addition to your decor allows you to express your personal style with charm and imagination.
Children's indoor play area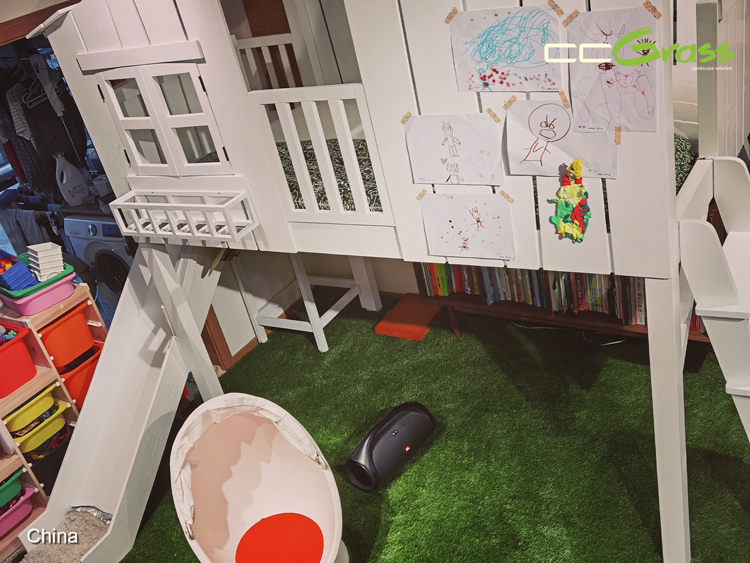 Creating an indoor play area with artificial grass is a fantastic way to promote a safe, comfortable, and engaging environment for children to play and explore. Unlike hard surfaces like tile or wood floors, synthetic turf can absorb impact and reduce the risk of injuries.
Additionally, its natural appearance can spark kids' imaginations, encouraging imaginative play. The texture of the turf also helps young children develop their sensory skills.
Displays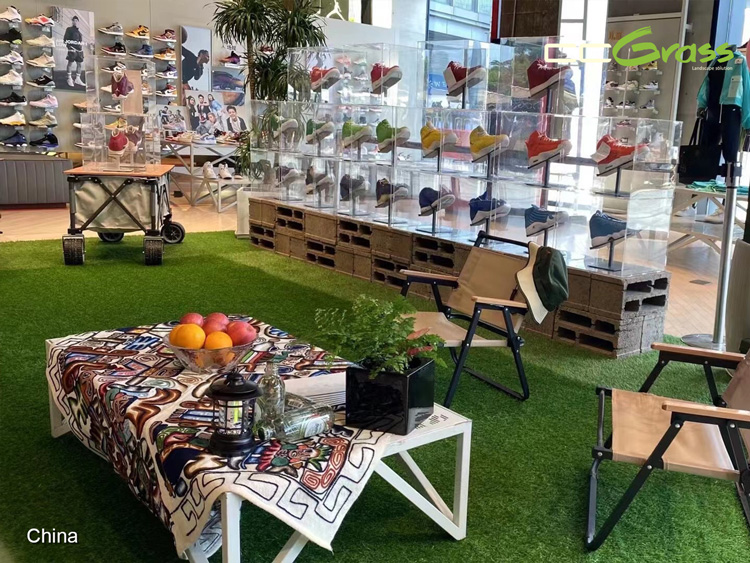 Artificial grass can be used to create immersive indoor displays. For example, a sporting goods store may set up a display featuring an area with artificial turf for customers to try on and test out different types of sports equipment, such as basketball shoes or golf putters, in a realistic setting.
Additionally, fake grass can enhance trade show displays and exhibition booths by adding a versatile and striking element that serves functional and decorative purposes.
How to install artificial grass indoors?
Installing indoor artificial grass is similar to laying a traditional carpet. Clean and smooth the surface, then lay the turf and adjust it as needed. You can use adhesive tape or carpet glue if necessary, but the weight of the turf and furniture may be enough to hold it in place.
If you're using fake grass to cover furniture or other objects temporarily, a staple gun can be a great tool for attaching the turf securely. When attaching the turf to walls, it's best to use screws and an electric drill to hold it in place.
Be sure to trim any excess turf with a sharp blade for a clean finish. With these tips, you can easily incorporate synthetic grass into your indoor space, transforming it into a fun and unique environment.
Conclusion
In conclusion, indoor artificial grass is a versatile and stylish solution for a wide range of indoor spaces. With the 10 inspiring ideas we've shared in this article, we hope you're feeling inspired to try something new and add artificial turf to your next indoor project.
If you are interested in exploring further, CCGrass can provide you with high-quality indoor artificial grass solutions. As a premier synthetic turf supplier owning three world-leading factories, our advantages lie in wholesale and factory direct prices.
Our products have been installed in over 140 countries and are trusted by millions of households worldwide. If you're interested in wholesaling our synthetic turf products or have any questions, please don't hesitate to contact us at 86 25 6981 1666 or email us at [email protected].