The Ultimate Buyer's Guide: How to Choose the Best Artificial Grass for Balcony
Effortlessly transform your balcony into a breathtaking green oasis with the latest sensation in landscaping—artificial grass. Whether you live in a high-rise apartment or have a small outdoor space, artificial grass for balcony offers a low-maintenance and visually appealing solution.
Not only does it add a touch of nature to your balcony, but it also provides a comfortable surface for relaxation and recreation.
Amidst the vast array of choices flooding the market, we understand that selecting the best fake grass for balcony can be overwhelming. Worry not! Our complete buyer's guide will take you through the essential factors to consider, ensuring that you make an informed decision and create a balcony space that you'll love.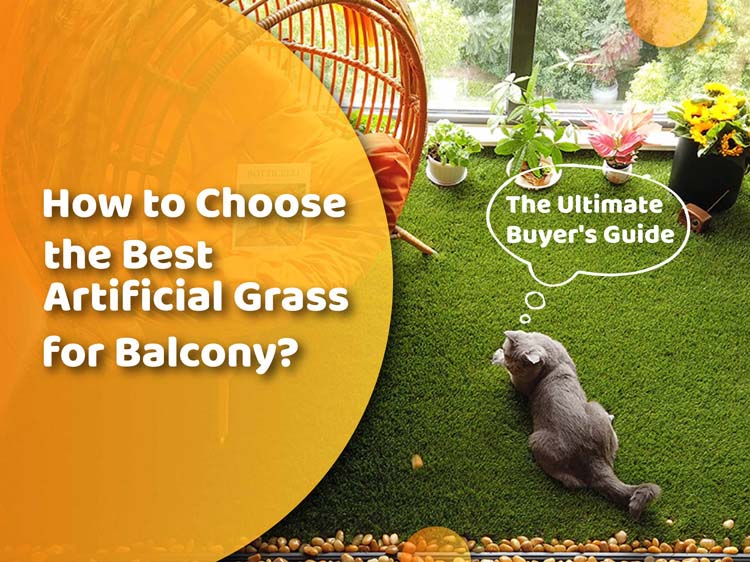 Why install artificial grass on balcony?
Relaxation and enjoyment
Transform your balcony into a mini oasis with the addition of artificial grass for balcony. Its soft and inviting surface provides the perfect spot to read a book, sunbathe, or simply unwind.
The lush green appearance adds to the tranquil atmosphere, creating a soothing and peaceful environment that encourages relaxation and rejuvenation. Complete the experience with lounge chairs, pillows, and other suitable furniture to enhance your overall comfort and enjoyment.
Versatile design options
Personalize your balcony with versatile artificial turf options that cater to your style. Choose from various types, colors, and lengths to effortlessly complement your decor. Whether you favor a vibrant and lush aesthetic or a sleek and minimalist design, synthetic grass grants you the freedom to craft a balcony space that truly embodies your individual taste.
Additionally, its effortless installation and adaptability make it the perfect choice for small or irregularly shaped areas.
Comfortable and safe
Say goodbye to hard balcony flooring options and embrace the comfort of artificial grass. Not only does it provide a pleasant sensation underfoot, but it also offers an added layer of cushioning for a more enjoyable walking or sitting experience.
What's more, artificial grass for balcony creates a safer play area for kids and pets, alleviating concerns about dust, mud, pests, or other outdoor elements. Moreover, it effectively cushions accidental falls, ensuring peace of mind.
Long-lasting and easy-to-maintain
Synthetic fibers are built to withstand wear or fading, ensuring long-lasting durability without significant wear or fading. Maintenance of artificial grass is minimal, requiring only occasional brushing or gentle sweeping to keep the surface clean from debris.
In case of accidental stains, simply spray some water and gently wipe with a cloth or paper towel. For stubborn stains, a mixture of water and vinegar can effectively remove them.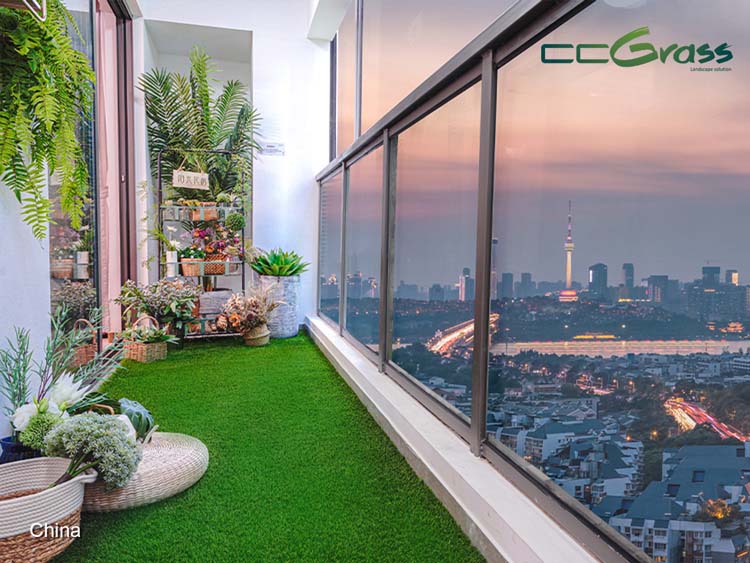 How to choose the best artificial grass for balcony?
Now that you're aware of the advantages of having an artificial lawn on your balcony, it's time to pick the perfect one that suits your requirements. With a myriad of options available, it's important to consider a few key factors. Here are some expert tips to assist you in selecting the best artificial grass for balcony.
Balcony grass fiber material
Artificial turf is made from synthetic materials, with three main types available:
Nylon: Nylon is costly, and durable in high temperatures and heavy use, but its stiffness often makes it unsuitable for balconies.
Polypropylene: It is the cheapest option, but it is less durable when subjected to frequent foot traffic and pressure from furniture.
Polyethylene: A moderately priced synthetic fiber, offers the durability of nylon and the softness of polypropylene. It is a popular choice for artificial grass.
The optimal balcony turf option for realism and durability would be a mix of polypropylene and polyethylene.
Choose the right pile height
Pile height refers to the length of grass blades, which directly affects the appearance and maintenance of balcony grass. Choosing the appropriate pile height depends on your preferences, usage patterns, and cleaning requirements.
Artificial grass with a higher pile height (30mm and above) has a better carpet effect, creating a lush and luxurious look that can elevate the aesthetics of your home decor.
If you have pets or plan to use the balcony as a play area, opting for a grass height of around 25mm is advisable. Shorter pile height grass is more suitable for high-frequency use and can quickly and easily clean up.
Consider the density
The density of turf signifies the amount of material used per square yard. A higher density means there are more fibers, resulting in a fuller and more natural surface. This enables the grass more durable and resistant to wear and tear, while also maintaining its appearance for a longer period.
Realistic appearance
For a more realistic appearance, opt for artificial grass for balcony with a thatch layer. This layer adds depth and texture, creating a lifelike and natural look by incorporating shorter, brown-colored fibers among the long green blades. It enhances the visual appeal of your balcony landscape, closely resembling real grass.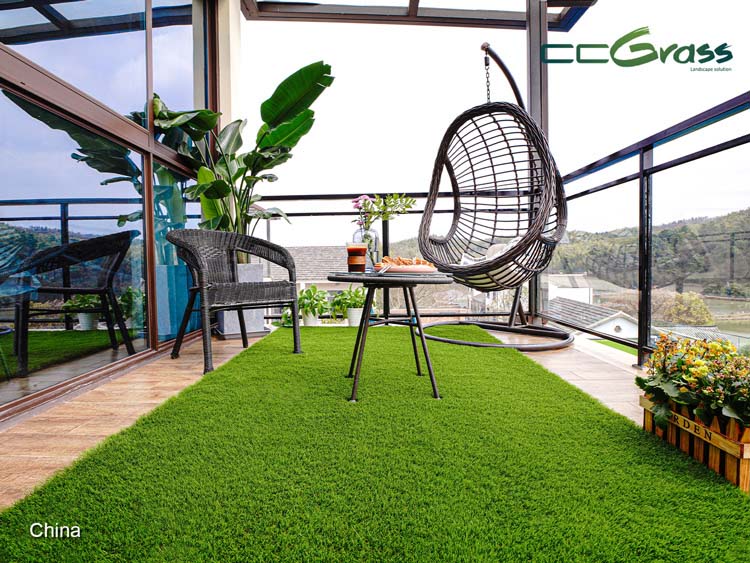 Turf backing material
The backing material plays a vital role in providing stability, waterproofing, and longevity to your balcony grass. CCGrass has different backings to choose from – latex, PU, or RCX. We recommend the PU backing, which is waterproof and durable, ideal for tile and concrete floors.
Antibacterial artificial turf
Antibacterial artificial turf is great for balconies frequented by pets or children, as it minimizes bacterial spread and maintains a cleaner environment.
Our specially designed antibacterial balcony grass features patented technology and has passed SGS laboratory tests. Its built-in antibacterial function prevents the growth of bacteria and mold, providing long-lasting protection.
Open vs. Enclosed balconies
Installing fake grass on an open balcony can be a bit more complex as the wind may cause the turf to lift, and it's important to ensure proper drainage. To prevent wind damage, it is recommended to add a layer of sand infill to provide weight to the surface.
Another option is to place furniture on the artificial lawn, which can help keep it in place. Enclosed balconies, on the other hand, are generally more protected from the elements and are quicker and easier to install.
Top recommended artificial grass for balconies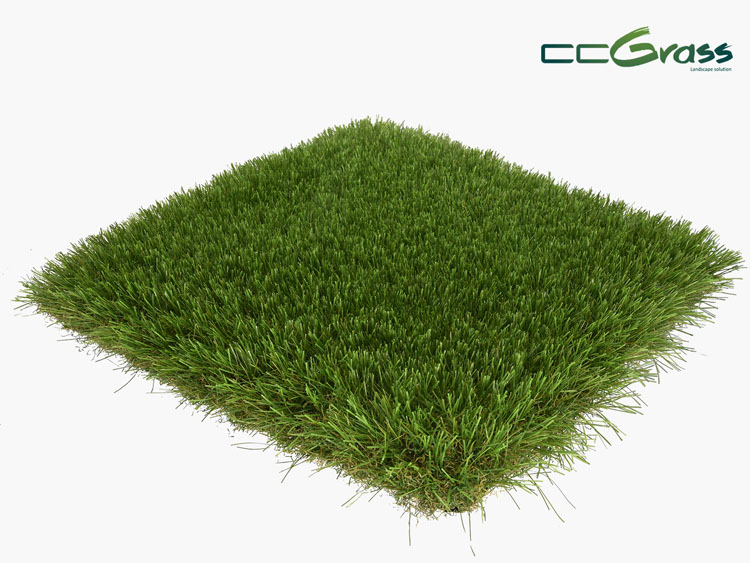 Delicate
Its free direction feature ensures an upgraded natural appearance and enhanced sensory experience. Elevate your balcony oasis with Delicate, the perfect grass that seamlessly blends with live plants, creating a truly inviting atmosphere.
Highlights
Free direction
Ultra-natural look and sense of feeling
Available in a range of sizes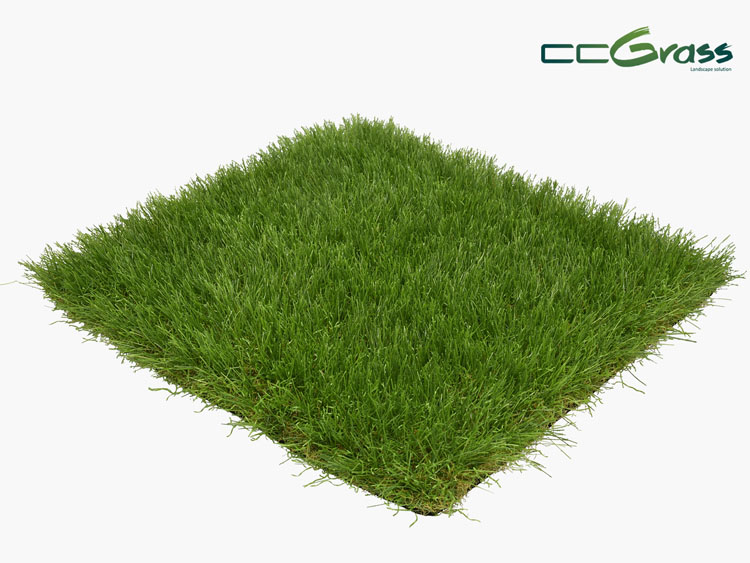 Breathe
Experience ultimate comfort and a natural aesthetic with its Rock Tech thready fiber and utmost non-direction design. This premium-quality artificial grass for  balcony creates a soft and cozy surface, perfect for crafting a playful haven for both children and adorable pets.
Highlights
Rock Tech with thready fiber
Soft and skin-friendly
Antibacterial & mildew proof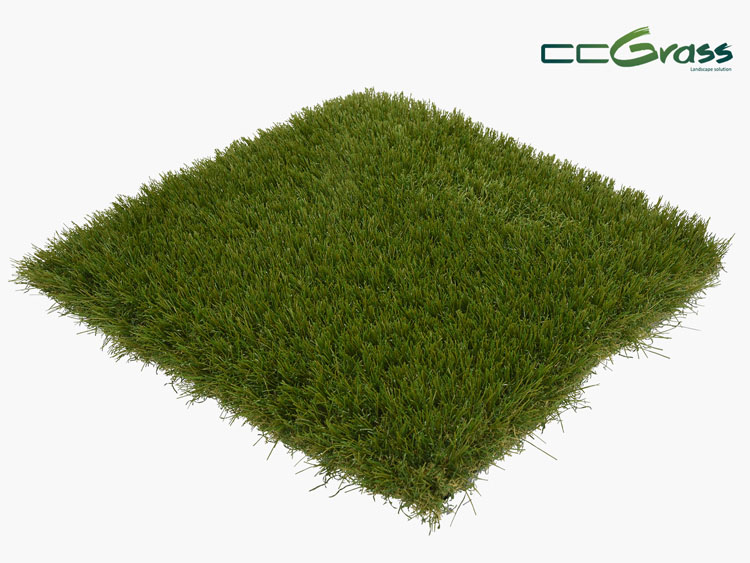 Sunny
Featuring Rock Tech with C-shape, Sunny offers a fluffy and ultra-dense surface. Its outstanding durability and impressive UV resistance make it an excellent choice for terraces and open balconies.
Highlights
Rock Tech with C-shape
Ultra-dense and fluffy
Exceptional durability and UV resistance
Final thoughts: Selecting the best artificial grass for balcony
In summary, choosing the best artificial grass for balcony is a crucial decision that enhances both the beauty and functionality of your living space. By taking into account factors such as material quality, pile height, aesthetics, and your specific needs, you can find the ideal balcony grass that complements your balcony's style and exceeds your expectations.
With the knowledge and top recommended synthetic turf options provided in this buyer's guide, you can now embark on your journey with confidence and transform your balcony into a verdant haven. Discover more inspiration for remodeling your balcony with artificial grass, please click on "artificial grass on balcony" to see more cases.