Don't Know How to Clean Artificial Turf Stain?
Whenever installing artificial grass for commercial or home purpose, keeping its great condition and nice appearance will be necessary. If you have no idea on how to clean the rubbish, such as mud, chewing gum and other things, you need to read the following parts. It's a kind of basic knowledge that you should acquire.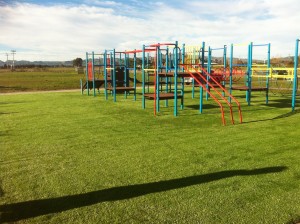 The mud is the most common stain. If you want to clean it, clean up the mass mud away firstly. Then the rest tiny mud can be settled with a piece of wet towel. Spray some neutral detergent, which is mixed in one liter of warm water, and then uses toilet paper to suck up mud shadow. This is an effect way that I have tried for many times. If it is oil stain, use Perchloroethylene to clean. However, if it comes to printing ink, you need to be more patient. Dilution of a neutral detergent is required. After scrubbing the stain with a diluted solution, usually 30-40 grams of neutral cleaning mixed in one liter of warm water.
Have you find the rule of cleaning the stains. Yeah, detergent is necessary for different types blot. Not only for your artificial turf, but also for other fabric stuff. Let us think about other common stains appear in our life. Chocolate stains, right? Chewing gum? Blood? Yes, they are all hard to deal with. Don't worry, we get the secret. If putting green turf is stained by chocolate, remember to use benzine and neutral detergent. Firstly, use benzine to brush, and then neutral detergent, which is mixed in one liter of warm water. Chewing gum can be removed with ice. For blood, salt solution will be okay. Just add half a cup of salt to one liter of water, and then scrub bloodstained section.
Actually, ways to clean artificial putting greens are diverse that we need to know at least one to deal with them. Anyway, your synthetic turf should be high quality and durable. If not, try to click https://www.artificialgrasslandscape.com to find a proper type turf. Long history, good fame, considerate service are all provided. Good luck, friends.