Artificial Putting Green Grass Is Dog Friendly
Pet is friend of human, and currently many families raise dogs. A competent master should care every aspect for dog, including its health, eating, and living. How to make a comfortable and cozy home for pet? Green grass may be a nice choice, but they are difficult to mow and maintain. Artificial turf may be the best alternative.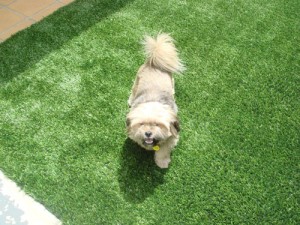 Dog friendly synthetic grass
The artificial grass commercial is healthy without any fertilizers and pesticides. The irritating smell will make your dog sick. With artificial turf, bare and burnt spots are no longer existing. Your pet can have fun alone or children on the turf without worry. They can quickly get used to the new synthetic putting green grass. Compared to gravel, sand and other abrasive materials, synthetic grass surface will better acceptable.
Never need to mow grass
The artificial grass can keep good shape for a long time. It needs no mowing and no regular watering. Such advantage has been elaborated many times and it works when you are tired and busy, especially when there is a sudden visit from friends. Easy installation will save you lots of energy and trouble. To your lush landscape yard, everybody will love it. For you, the cost saved from maintenance can be used for other ways.