Green Paradise: 9 Enchanting Artificial Grass Backyard Ideas
Transforming your backyard into a beautiful and functional space can be an exciting endeavour. Artificial grass offers a versatile and popular solution for enhancing your backyard, whether it's a sprawling area or a compact outdoor space.
With modern synthetic grass options, you can enjoy a lush, green landscape year-round without the hassle of regular maintenance.
If you're looking for inspiration to revamp your backyard with artificial grass, you've come to the right place. In this article, we present nine creative artificial grass backyard ideas that will breathe new life into your outdoor area.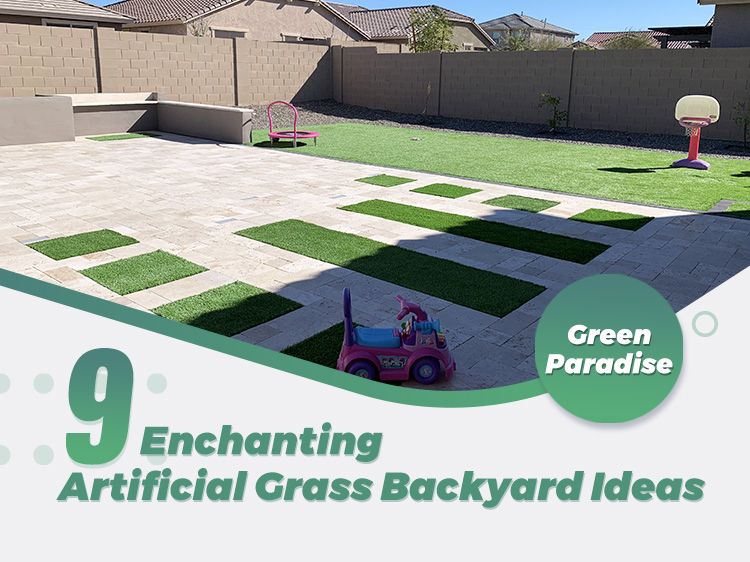 Backyard artificial grass and pavers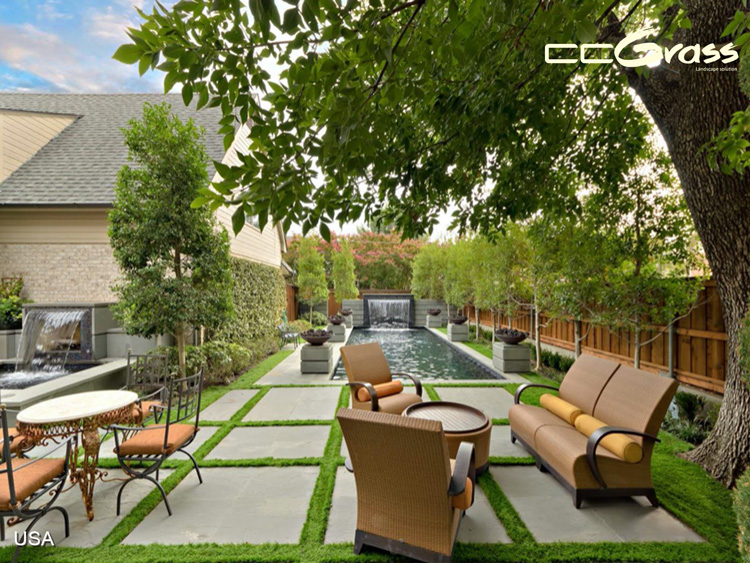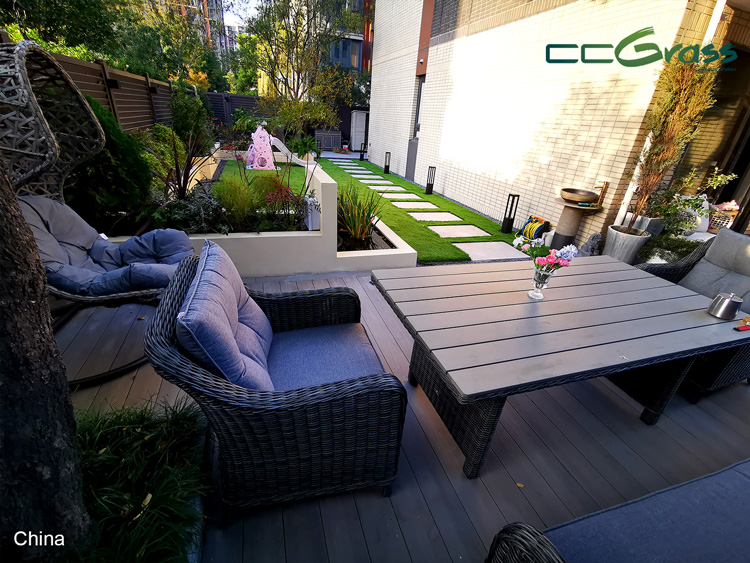 Having a small patch of greenery between pavers can be visually appealing, but how do you trim and maintain such perfectly shaped grass patches and strips? Artificial grass in these areas offers a solution by eliminating the need for trimming and upkeep.
By combining the elegance of pavers with the convenience of artificial grass, you can create a backyard that seamlessly integrates natural elements and modern design.
Cover larger areas with artificial grass to provide a soft and green surface for relaxation and play, and incorporate pavers to create defined pathways, seating areas, or patio space. This combination is especially beneficial if you plan to include outdoor furniture, as the pavers can serve as a stable foundation.
Customize your dream backyard putting green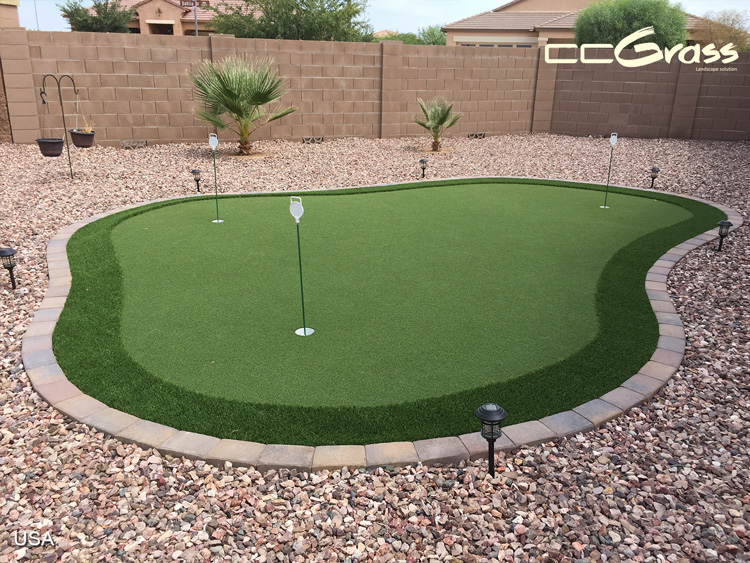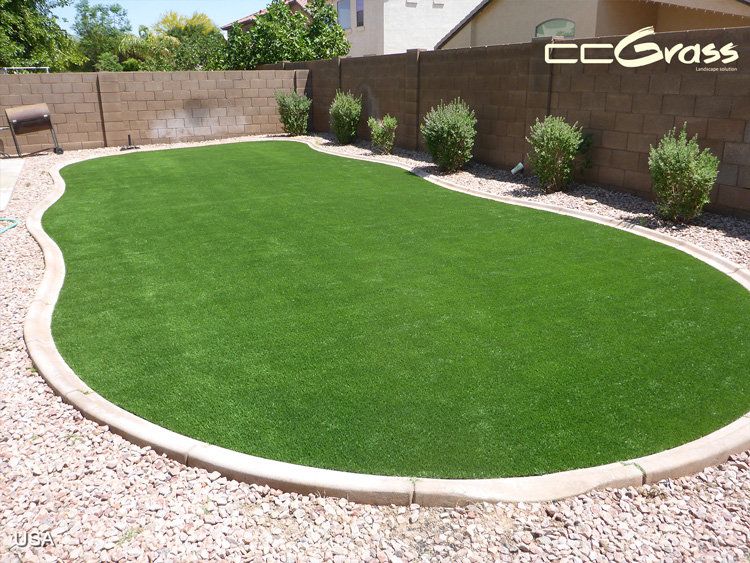 Turn your backyard into a golfer's haven with a custom putting green featuring top-notch artificial grass that replicates real terrains and provides an authentic golfing experience. Elevate the ambiance with stylish flags, a mini bunker, and a selection of quality golf clubs.
This dream retreat is just steps away, allowing you to practice your short game at your convenience and witness your skills soar. Beyond adding value to your property, it's perfect for hosting fun competitions and socializing with friends and family.
Achieving a low-maintenance garden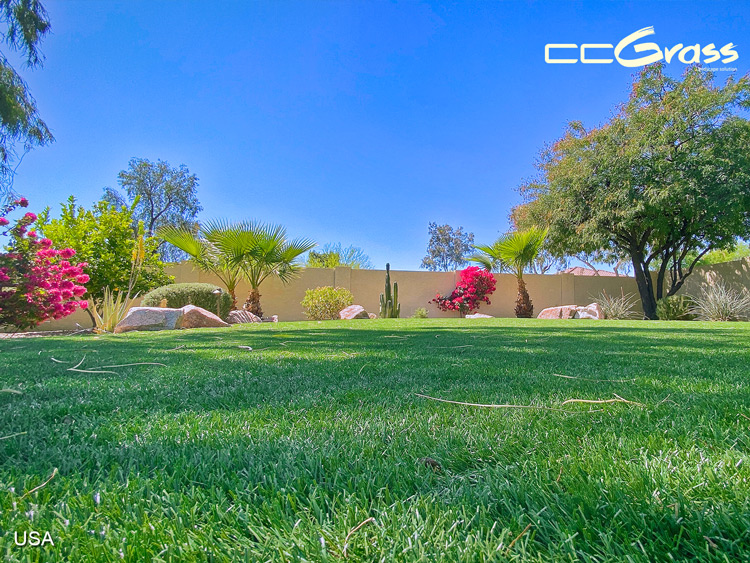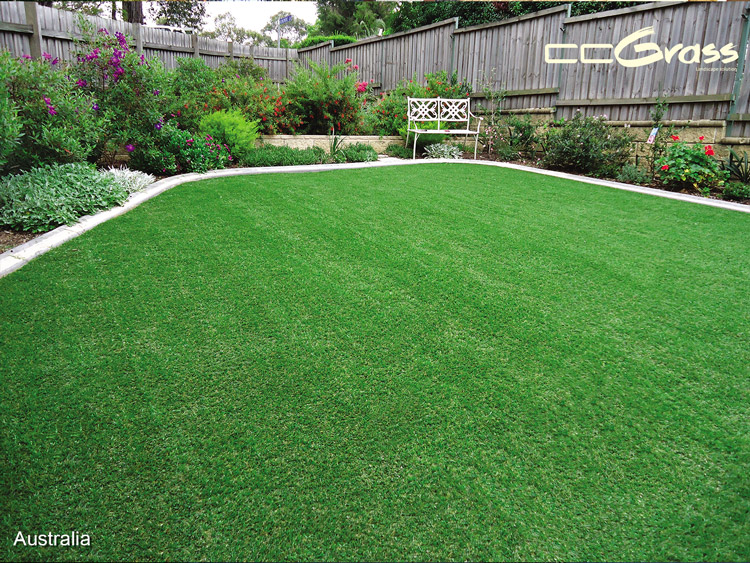 Say goodbye to the tedious upkeep of natural lawns and welcome a low-maintenance backyard garden with artificial grass. You can now enjoy the lush and green appearance all year round without the need for constant watering, fertilizing and weeding.
The lifelike and plush synthetic lawn adds a verdant energy to your garden oasis, blending harmoniously with the existing flora. Revel in the effortless charm of artificial grass and relish the serenity of your tranquil backyard, freeing up more leisure time for you to enjoy.
Backyard turf is paw-fect for your furry friend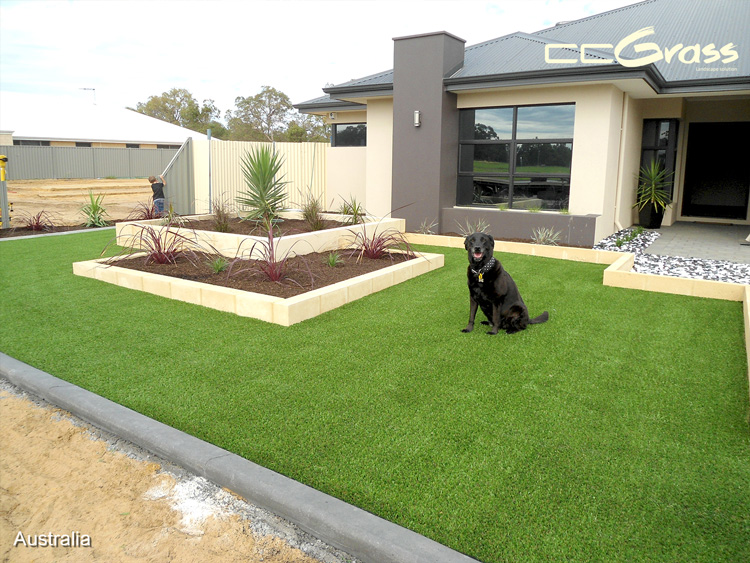 Unleash a pet paradise right at your doorstep with artificial grass backyards! Create a safe and enjoyable dog run, offering your furry friend a soft, durable surface to play and explore, while you enjoy the convenience and low-maintenance benefits.
Some options even come with specialized grass designed for pets, featuring efficient drainage systems and built-in antimicrobial technology, ensuring a clean and hygienic play area. If you're interested in pet-specific grass, explore our "Artificial Grass for Pets" page for more information.
Create a children's backyard playground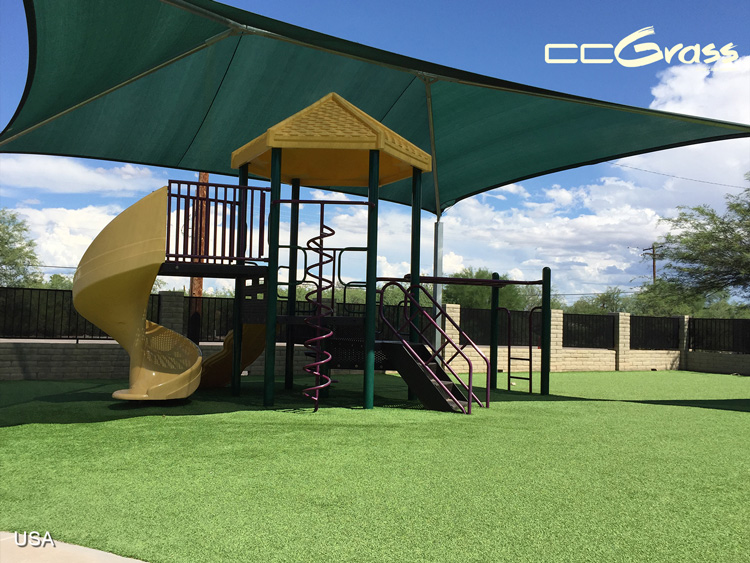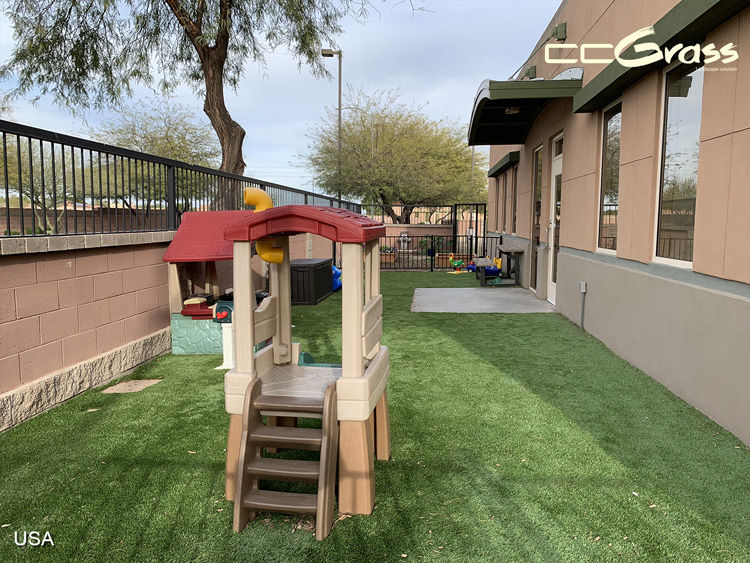 Synthetic grass provides a safe and enjoyable play area for children right in your backyard. To ensure extra safety, install a shock-absorbent underlay beneath the grass.
Then, let your creativity flow as you add exciting elements like an exhilarating slide, a fun-filled climbing frame, or a bouncy trampoline that will keep the kids endlessly entertained.
Not only does this design encourage physical activity and imaginative play, but it also offers parents peace of mind knowing that their little ones can play freely in a soft and secure environment, away from potential hazards.
Design a pool paradise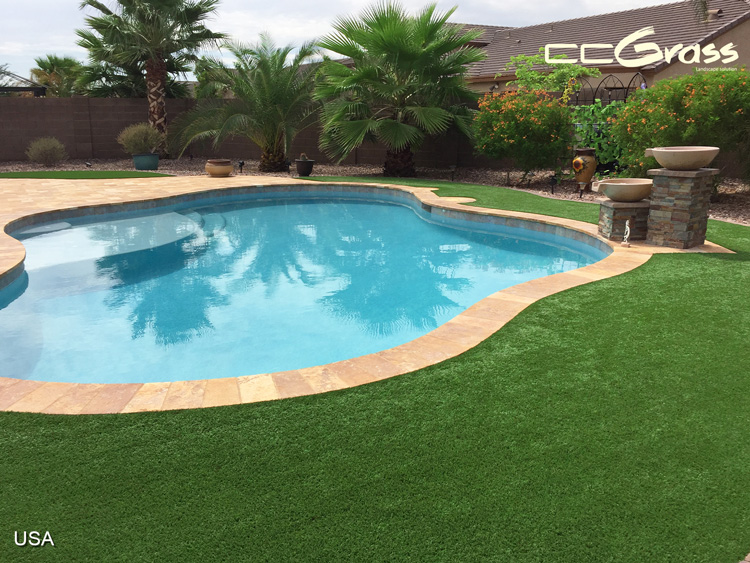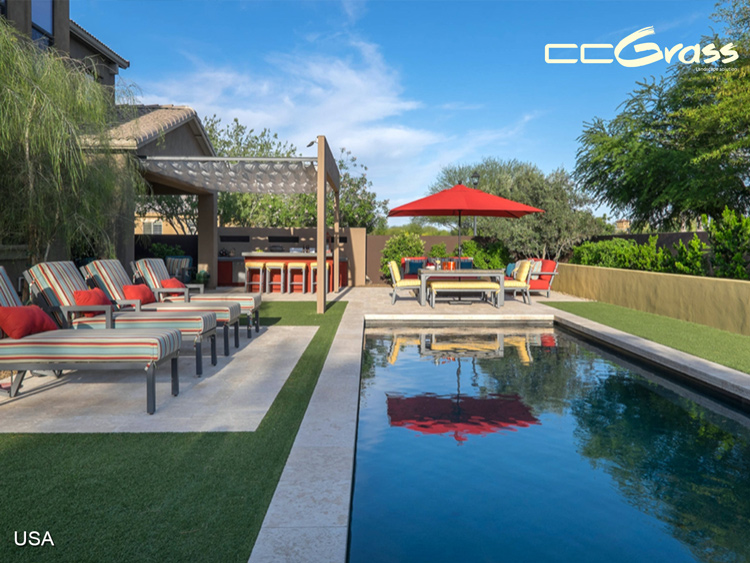 Artificial grass around the pool provides a comfortable and slip-resistant surface for barefoot enjoyment after a refreshing swim. Its excellent drainage ensures a clean and tidy pool area, free from water puddles or mud. This not only maintains the pool's water clarity but also creates a clean and pleasant swimming environment.
Whether swimming or relaxing on the grass, the artificial turf enhances the pool area with its comfort and beauty. To learn more about best artificial grass for pool areas, please check out the article: Artificial Grass Around Pools – Low Maintenance Pool Area Landscaping.
Craft a cozy backyard retreat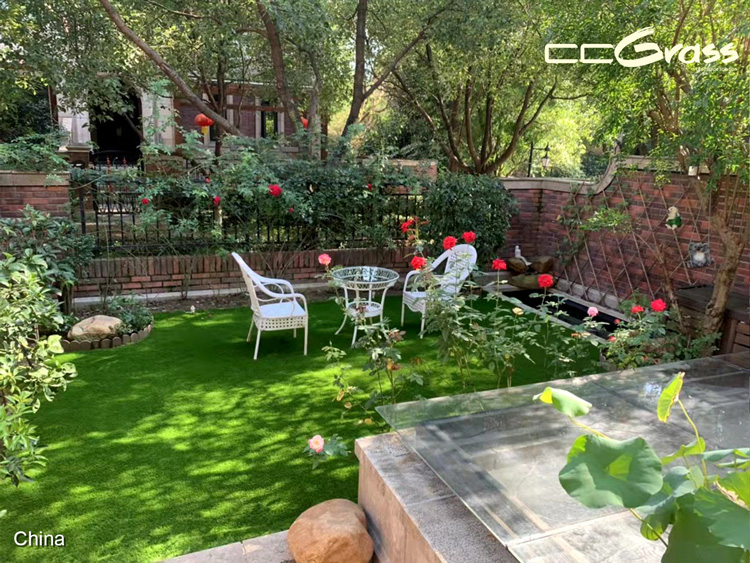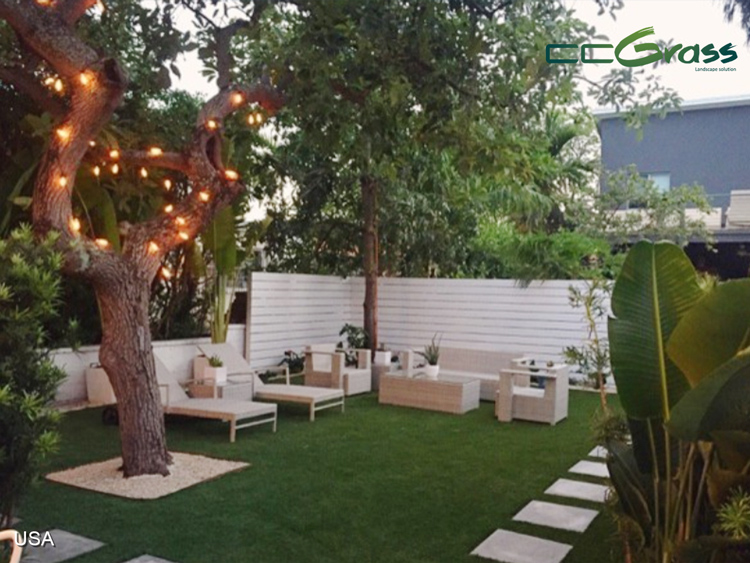 Transform your backyard into a cool and cozy resting area! Opt for a spot under the tree canopy and lay artificial grass for comfort. A relaxing retreat is fashioned with comfortable outdoor seating like hammocks, lounge chairs, or a hanging swing.
Create a lush surrounding by filling the area with potted plants and flowers while enhancing the ambiance with string lights for evenings. This delightful haven provides a refreshing escape from the summer heat, perfect for unwinding with family and friends.
Build your own backyard mini sports arena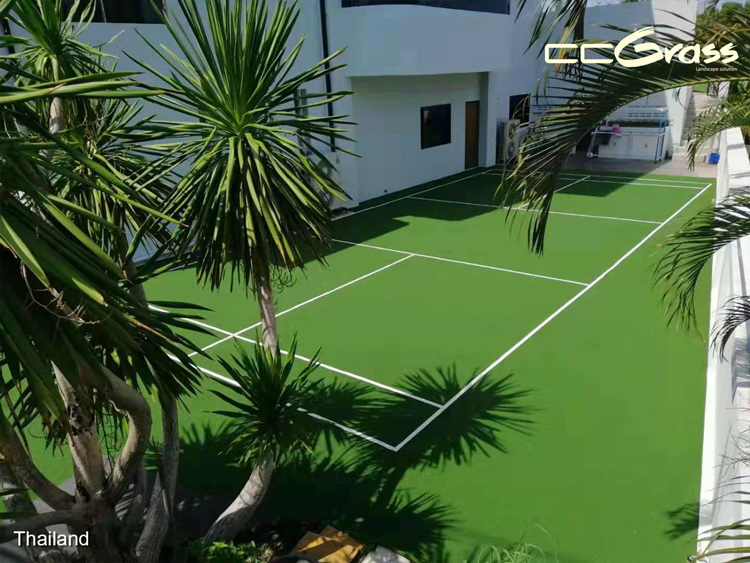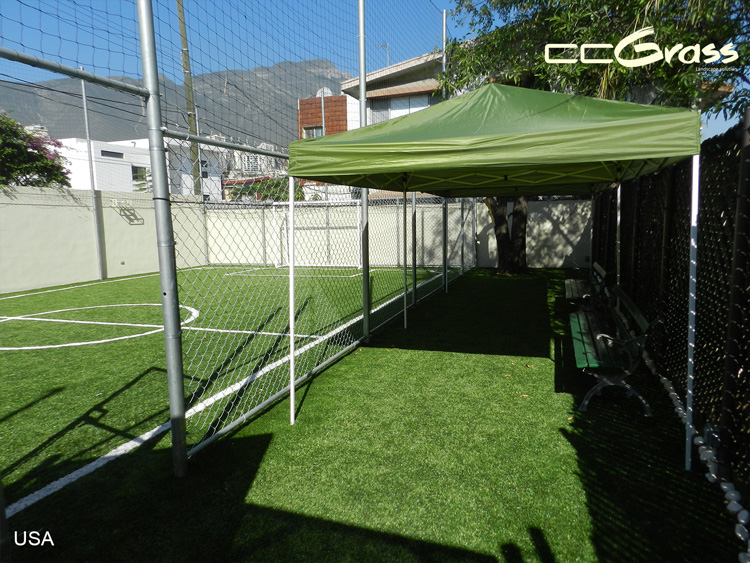 Artificial grass is popular in professional sports stadiums and school football fields. Although these large venues might not be feasible for regular backyards, homeowners can create mini soccer fields, and tennis or badminton courts on their properties.
The versatile and durable turf surface ensures a reliable playing experience for recreational sports, with painted lines and designated zones enabling the enjoyment of various outdoor games.
Whether you're a sports enthusiast, looking to encourage family fitness, or having fun matches with friends, this transformation fosters a lively and sports-centric atmosphere for everyone involved.
Small backyard oasis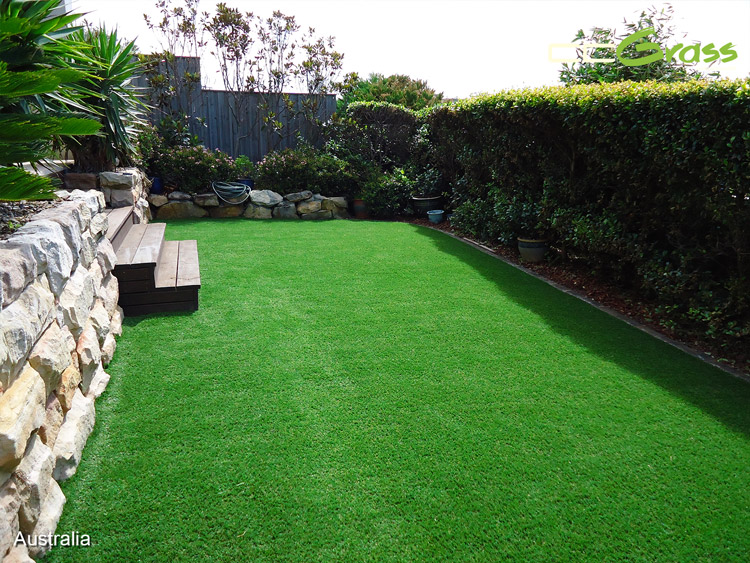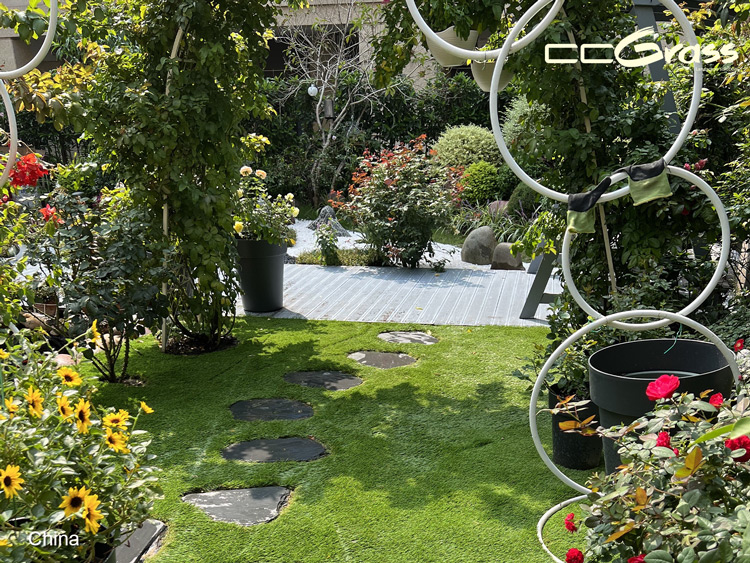 For small backyards, opting for fake grass often makes economic sense. Investing in lawnmowers, trimmers, and other equipment can be expensive.
Moreover, with limited space, storing bulky lawnmowers becomes impractical, taking away valuable square footage. Artificial grass eliminates the need for mowing altogether, providing a hassle-free solution.
Embrace creative options like vertical gardening with wall-mounted planters to create a vibrant green haven, adding a refreshing touch to your compact outdoor area. The combination of artificial lawn and vertical gardening maximizes space, crafting a visually appealing oasis for plant enthusiasts and relaxation.
Find more artificial grass backyards ideas
Artificial grass can be precisely cut into any size and shape, maintaining its form flawlessly. This opens up a world of delightful possibilities not only for your backyard but also for side yards, front yards, courtyards, and even apartment balconies.
Unlock the full potential of your backyard and bring these creative ideas to life with our diverse line of artificial grass products. Whether you envision a putting green paradise, a playful kid's area, or a pet-friendly oasis, we have the perfect solution for your landscaping needs.
Explore more backyard turf ideas and inspiration by visiting Artificial Grass Backyards to create your perfect outdoor oasis!