The Essential Buying Guide | Navigating the World of Artificial Grass for Playgrounds
When it comes to playgrounds, safety and durability are top priorities. That's where artificial grass for playgrounds comes in. Whether you are a parent looking for a safe play area for your child, a school or community center requiring a reliable and low-maintenance option, or a park or shopping center needing a visually appealing and creative playground, this guide will provide you with valuable insights to aid in your informed decision-making process.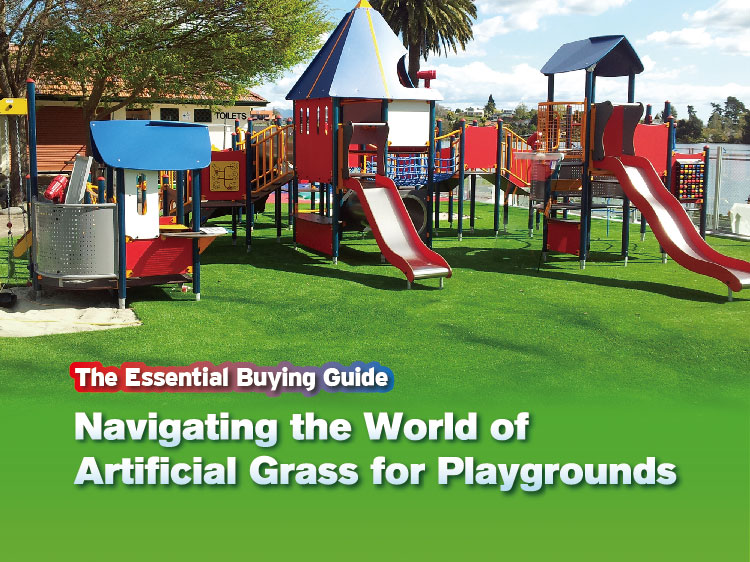 Benefits of playground turf
Safe and comfortable playing surface
Safety is a top priority for any playground, and artificial turf provides a safe and comfortable surface for children to play on. Artificial playground turf is made from durable materials, such as polyethylene, that are designed to withstand heavy use and provide a soft landing for children who fall.
Unlike natural grass, fake grass does not have roots or rocks that could cause injury. Additionally, artificial grass is also less likely to become slippery, reducing the risk of children slipping and falling.
Visually appealing and creative appearance
Synthetic turf playgrounds maintain a consistent and uniform look throughout the year, which can make the playground more polished and professional. Playground turf is available in a variety of colors and textures that can be used to create a unique and eye-catching design for your playground.
Additionally, artificial grass for playgrounds can be customized to suit your needs and preferences, including game lines and patterns, creating a visually appealing and welcoming space for children to play and explore.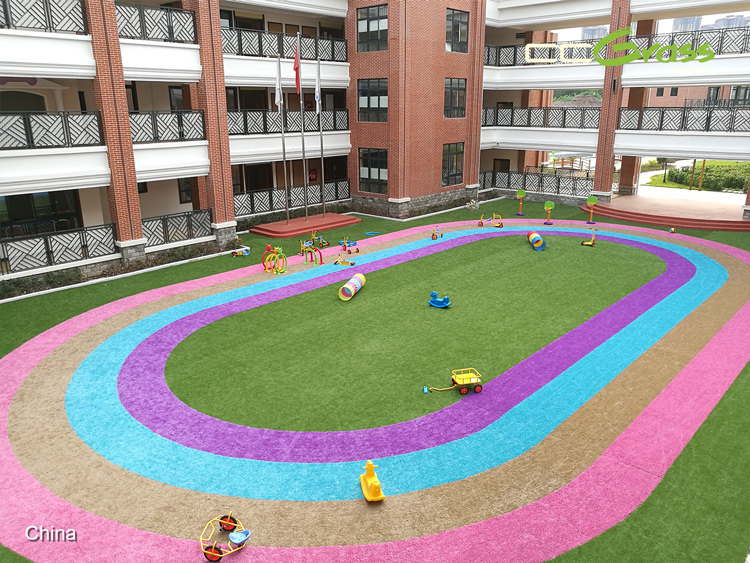 Cleaner and more hygienic play environment
Compared to natural grass, synthetic turf does not leave mud and grass stains on clothing or skin, which helps to keep children and their belongings cleaner. No pesticides, free of allergens such as pollen, mold and dust mites, and not attractive to pests, artificial turf playgrounds provide a healthier and more hygienic play environment for children.
Reduced maintenance work and costs
One of the great benefits of artificial grass is that it requires minimal maintenance. Artificial turf playgrounds do not require regular mowing, watering, and fertilizing, making it an ideal option for those who do not have the time or resources to maintain a natural grass play area. Without expensive upkeep, it is also an affordable choice for those who want to provide a safe and attractive playground for children.
How to choose the best artificial grass for playgrounds?
If you're considering purchasing artificial turf for a playground, there are a few key things to keep in mind. Below are some guidelines to assist you in making the best choice for your needs.
Safety first
Look for turf that has been specifically designed for playground use, and meets relevant safety standards. It should be soft and cushioned to absorb falls, and should not contain any harmful chemicals. You may also want to consider additional safety features, such as shock pad.
CCGrass playground turf products pass the Health Tests including REACH, RoHS, DIN, EN71-3, ASTM, etc., which can prove our grass doesn't contain any harmful components, such as lead, other heavy metals, and substances of high concern.
Durability and UV resistance
Playgrounds are high-traffic areas that are exposed to the elements, thus the grass turf chosen should be capable of enduring constant usage and wear and tear. It is recommended to select turf with a high face weight, which will enhance its durability and make it more resistant to abrasion.
Moreover, it is important to take into account whether the turf has been treated to resist fading and damage from UV rays. Our artificial turf for playground uses the best UV inhibitors, tested by SGS to UVA 5000h and UVB 3000h, exceeding industry standards.
Proper drainage
The drainage for artificial turf playground is designed to allow water to penetrate through the turf backing and drain through the base to the water table, just like regular grass. Good drainage helps to prevent standing water on the turf surface, otherwise it can create a slip and fall hazard and lead to bacterial growth.
CCGrass offers various backing options, including latex, PU, PRT, and RCX. Latex and PU are typical "Hole-Punched" backings, with PU being the recommended option for most playgrounds. PRT and RCX backings are preferred for areas susceptible to standing water due to their superior drainage efficiency.
Antibacterial properties
Antibacterial artificial grass can help prevent the spread of germs, lower the risk of infections, leading to a cleaner and healthier play area for children. However, it comes at a higher cost compared to regular synthetic turf. This is optional, you can decide based on your budget and specific needs.
CCGrass playground turf is designed with patented Antibacterial Tech and has passed SGS laboratory tests. Build-in antibacterial function inhibits the growth of bacteria and mold on artificial turf, providing long-lasting protection for kids.
Recommended artificial grass for playgrounds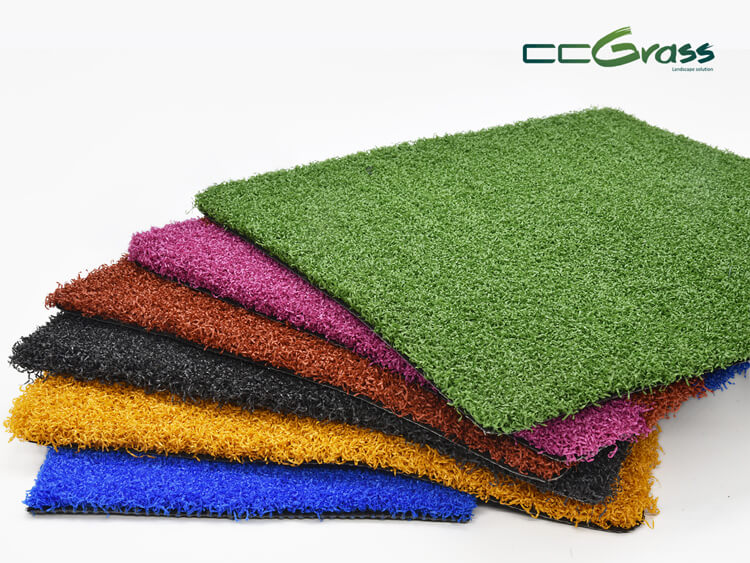 FastPro HF
Our FastPro HF is a perfect choice for your commercial playgrounds, providing a playing surface that is more durable and easier to maintain than any other alternative on the market. The product comes in a multitude of vivid colors that enable its effortless integration into playgrounds with various themes.
Highlights:
Multiple colors
100% PE curly monofilament
Top performance versatile turf
Extreme UV stability and durability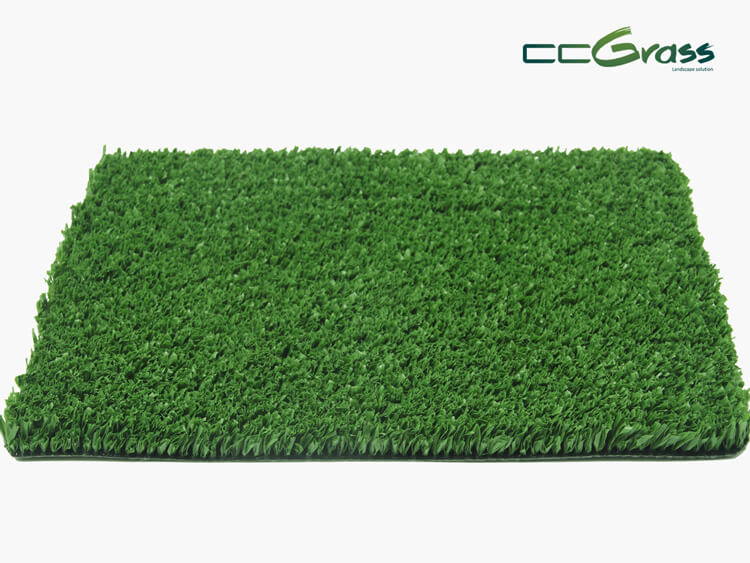 YEII
With its unique fibrillating structure, YEII is a lightweight, low-maintenance, and durable option ideal for personal or commercial playgrounds. This product is obtainable in multiple colors to provide more captivating playing space for children.
Highlights:
Unique fibrillating structure
Color choice
Soft touch
Economical
Classic
Designed as a special C-shaped with brilliant Dual-Arch structure, Classic is soft and resilient, rendering it an excellent selection for backyard playgrounds. The vibrant green and plentiful thatch layers not only enhance the realism but also provide a heavenly cushion for bare feet.
Highlights:
Special C-shaped with Dual-Arch structure
Highly similar to natural grass
Soft and skin-friendly
3D Art Grass – Portable Hopscotch
Incorporating elements like numbers, letter paths, and hopscotch, our vivid 3D Art Grass can be inserted into playground surfaces for added playability. It is great for residential playgrounds and indoor floors.
Highlights:
Vibrant color matching
Soft touch
Children's favorite playground
Childhood memories of adults as well
CCGrass artificial grass playground references
Final thoughts for choosing artificial grass for playgrounds
In conclusion, artificial grass for playgrounds offers a wide range of benefits, including safety, aesthetic appeal, and ease of maintenance over time. By considering factors such as durability, drainage, antibacterial properties and cost, you can choose the best playground turf for your specific needs.
Armed with the information in this buyer's guide, you can make an informed decision and create a safe and delightful play area for children. If you've got any further questions about artificial turf for playgrounds or would like a free sample, please call us at 86 25 6981 1666 or email us at [email protected].