Golf artificial grass is economical and practical
As its name suggests, artificial grass inherits natural grass properties, such as soft surface and green color, but also has more other features and functions that help us improve living surroundings. Anti-aging, waterproof, non-slip and wear resistant characteristics, plus low maintenance cost validate our investment of installing synthetic grass. For golf lover,  the joy of playing golf will not be disturbed.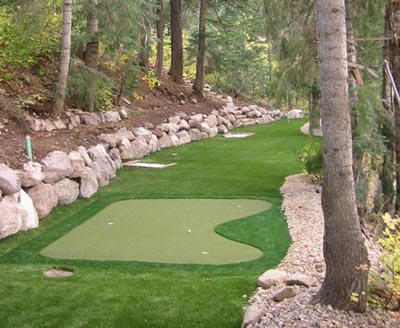 One undeniably fact is that moving golf course from outside to home is a big change and challenge. We cannot decide how the natural grass grows but we can replace it with natural like synthetic grass for indoor golf field. This new solution has delighted many people, especially those golf lovers. Now, golf artificial grass has become a nice alternative in any indoor or residential golf course. They are indeed economical and practical.
For any golf synthetic turf, breathable permeable surface is a basic characteristic. In a very short and quick period, artificial grass can be installed. You need not to consider environment effect, for it meets environment requirements and can be recycled. To help players have a soft, smooth feeling, artificial turf has been specially tackled to equip sufficient buffering capacity and elasticity. This design not only protects players but also brings them real game experience.
Golf lovers prefer artificial turf. It can also increase exercise area and benefits us with landscaping design and surrounding. When it comes to reducing noise, vibration, shock and pressure on the playground, artificial turf can do a good job. Thinking about our environment requirements of water conservation, you shall install an artificial turf.