Artificial Grass – The Nice Choice for Playground
Nowadays, you will find many playgrounds surface are artificial grass, because this surface is considered to be protective and safe for children.
Artificial grass has realistic appearance and very soft base with shock pad underneath.
In the past, schools are usually feel worry about the building clean especially in rainy days when children walked into classroom with muddy shoes. The worry also becomes parents' who get headache for washing soiled cloths. But with artificial grass playground, these problems are gone now.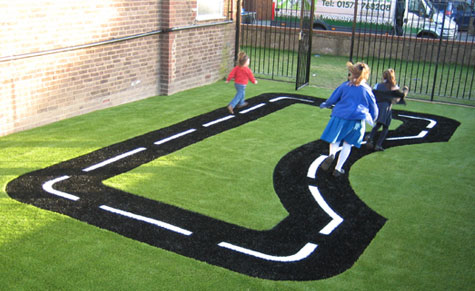 Except for the common advantages of artificial grass, the color flexibility can be the powerful decisive element making this possible. Natural grass cannot be varied in color, but only green, while children are so anticipate for colorful world. Artificial grass makes it success. Thanks for multiple colors of artificial grass; the playground can turn into a bright and lively environment for our children now.
Maintenance of artificial grass is minimal with just occasional brushing recommended by most manufacturers. You can treat it with traditional carpets, like using vacuum to move off leaves or other drops. Washing regularly can keep artificial grass green and clean, help protecting children's health.
Find a bright and lively playground surface for our children. They will love it.